The scene unfolded in benign fashion when a Louisiana sheriff's deputy pulled over the driver of a Toyota Tacoma for speeding on State Highway 371 Tuesday.
But then the plot quickly thickened.
Turns out the pickup had been reported stolen in Shreveport, KTBS-TV said. Which would spell bad news for the 23-year-old driver, Durioki Deshone Hawkins and his passenger, 18-year-old Kevonte DeKorey Austin.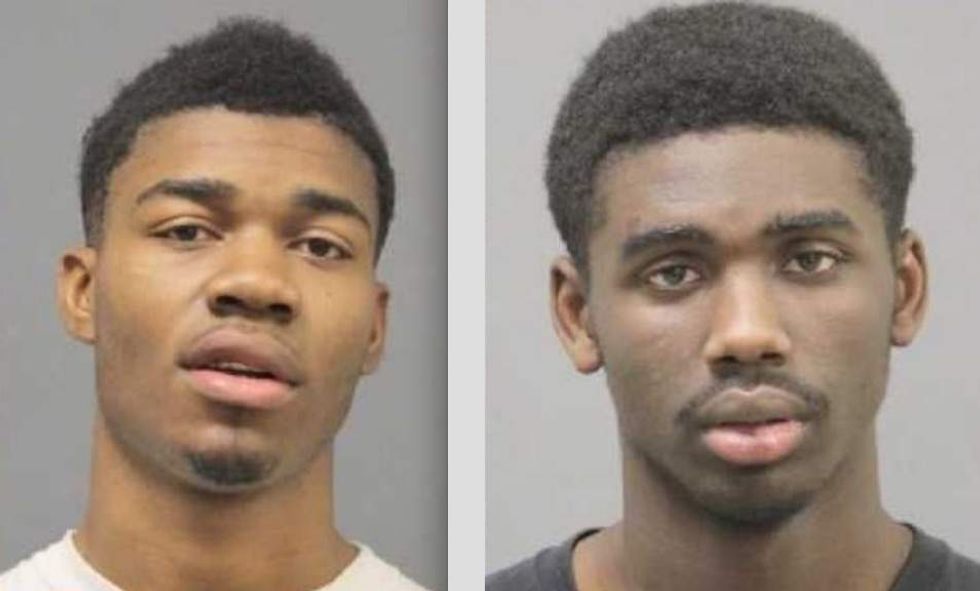 Durioki Deshone Hawkins (left) and Kevonte DeKorey Austin (Image source: Caddo Parish Sheriff's Office)
Hawkins then exited the pickup and began to approach the deputy, Chief Deputy Bobby Igo of the Webster Parish Sheriff's Office told the Minden Press-Herald — and the pickup sped away again.
Austin, deciding not to stick around, just slid from the passenger side to the driver side, KSLA-TV reported.
So deputies cuffed Hawkins, the paper said, and the chase was on. Austin ran several vehicles off the road, the Press-Herald reported, citing a police report — and apparently hit a deputy's patrol car in an attempt to push it off the road as well.
More from KTBS:
Deputies and state police pursued Austin — at speeds in excess of 100 mph — to Springhill. Austin then looped around and zoomed south down Highway 371 toward Dixie Inn.

The highway was blocked and spike strips were set up across the highway just before its intersection with U.S. Highway 80. Austin hit the spikes, veered to the right, went down an embankment then vaulted into the air about 8 to 10 feet before bouncing off a parked vehicle that was occupied by Barbara Harlon of Bossier City. The truck came to rest in the Nicky's Mexican Restaurant parking lot.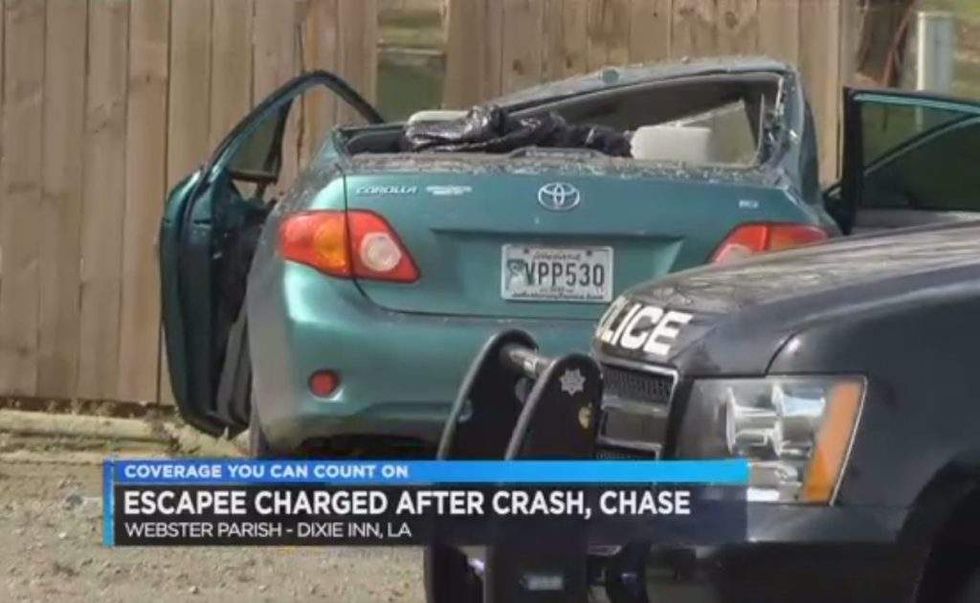 Image source: KSLA-TV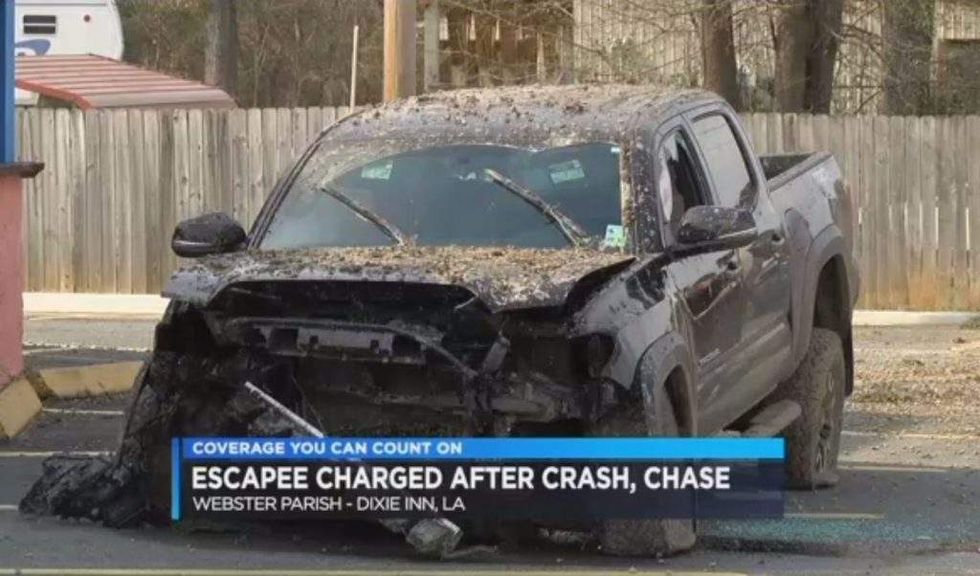 Image source: KSLA-TV
Harlon caught sight of the bottom of the truck flying right at her and leaned over in the front seat. She was unharmed and got out of the car through the passenger side.
"I felt around to see if I was hurt and could tell that I was OK," Harlon told KSLA. "God was with me."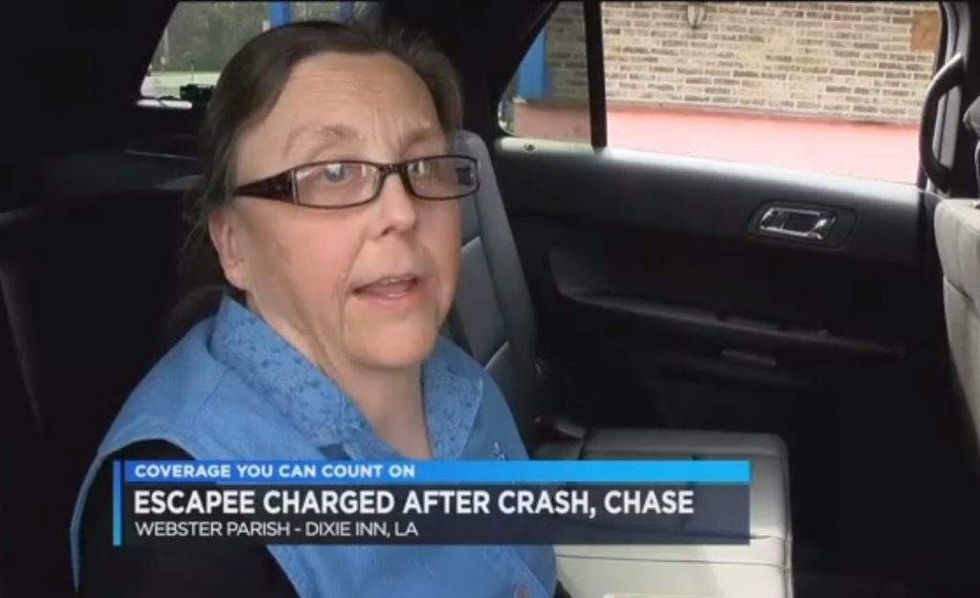 Barbara Harlon (Image source: KSLA-TV)
"It's a wonder it didn't kill her," Webster Sheriff Gary Sexton added to KTBS.
But Austin wasn't finished.
Sexton told KTBS he crawled from the wrecked pickup and tried to pull another woman from her vehicle parked nearby: "He tried to get her out and take her car, too, but we got him."
Austin,  who had walked away from a work-release program Feb. 8 in Caddo Parish, was charged with attempted first-degree murder, aggravated flight, theft of a motor vehicle, aggravated criminal damage to property, attempted carjacking and reckless operation of a motor vehicle. He's being held without bond, KTBS said. Hawkins is charged with speeding and illegal possession of a stolen item, KTBS reported, adding that he has a probation hold out of Caddo Parish and is on an investigative hold for Webster Parish as investigators are looking at what else he may have been involved in.
And what had Austin been charged with that got him in trouble with the law in the first place?
Stealing a car, KSLA reported.