A new study shows that a majority of Americans are on board with women being pastors and priests, though evangelicals remain largely uncomfortable with the idea.
According to a newly released survey by the Barna Group, 79 percent of Americans are comfortable with a female priest or pastor.
When broken down by groups, evangelicals, which Barna described as having "a more traditional interpretation of the scriptures," are by far the most uncomfortable with the idea. Only 39 percent of evangelical respondents said they are comfortable with a woman in the pulpit, while 71 percent of mainline Protestants said the same.
"Evangelicals aside, most other practicing Christians would be comfortable with a woman in the pulpit," Barna Editor-in-Chief Roxanne Stone said. "[T]his is likely to become more of an issue for churches as women continue to gain equality in other spheres."
"We have already seen more churches shifting to allow women in senior leadership, and the number of female senior pastors has grown considerably in the last few decades," she said.
Interestingly, an overwhelming majority of Catholics — 80 percent — expressed being comfortabile with female priests and pastors, despite the fact that in November, Pope Francis indicated that women will likely never be ordained as priests, the Guardian reported.
"Saint Pope John Paul II had the last clear word on this, and it stands, this stands," Francis said, referring to a 1994 document describing the priestly ordination as for "men alone."
When asked by a Swedish journalist if that declaration would last forever, the pope said: "If we read carefully the declaration by Saint John Paul II, it is going in that direction."
Francis went on to say women do "many other things better than men," emphasizing what he described as the "feminine dimension of the church."
Sixty-two percent of those Barna called "practicing Christians" expressed openness about female pastors and priests.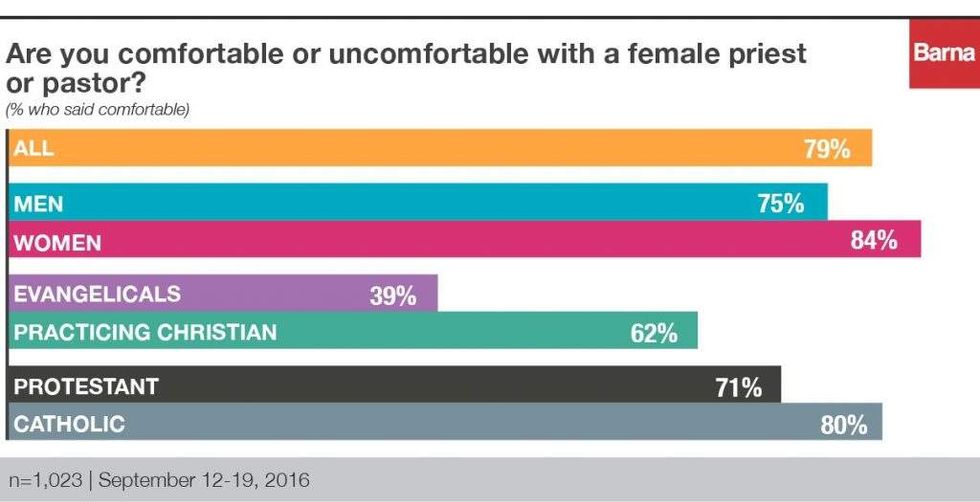 Image source: Barna Group
Despite these numbers, Barna found that only 9 percent of senior pastors are women. That is, however, three times what it was 25 years ago.
"Most of those women lead mainline congregations rather than the evangelical churches that demonstrate lower levels of comfort with female ministers," the study said.
This data follows a January report from Barna that revealed only 1-in-7 senior pastors is under the age of 40. Barna's president, David Kinnaman, described the aging pastorate — and the lack of young ministry leaders — as "one of the most glaring challenges facing the church today."
Thom Rainer, president and CEO of LifeWay, forecasted such a problem, where older pastors would be reluctant to retire when they reach traditional retirement age and, when they do finally step down, it will be difficult to replace those who served for lengthy periods, leaving a lasting impact.
"A number of boomer pastors and staff are struggling to decide what their next phases of ministry and life should be," he wrote in a 2014 blog post, describing those reluctant to step down from the pulpit. "Many had a mid-life crisis of sorts; now they are having later-life crises."
"They don't want the next phase of life to be a stereotypical retirement of rocking chairs and fishing," he said.