A billboard depicting Republican President Donald Trump, flanked by dollar signs that resemble swastikas along with nuclear mushroom clouds, has led to death threats, the billboard's creator said.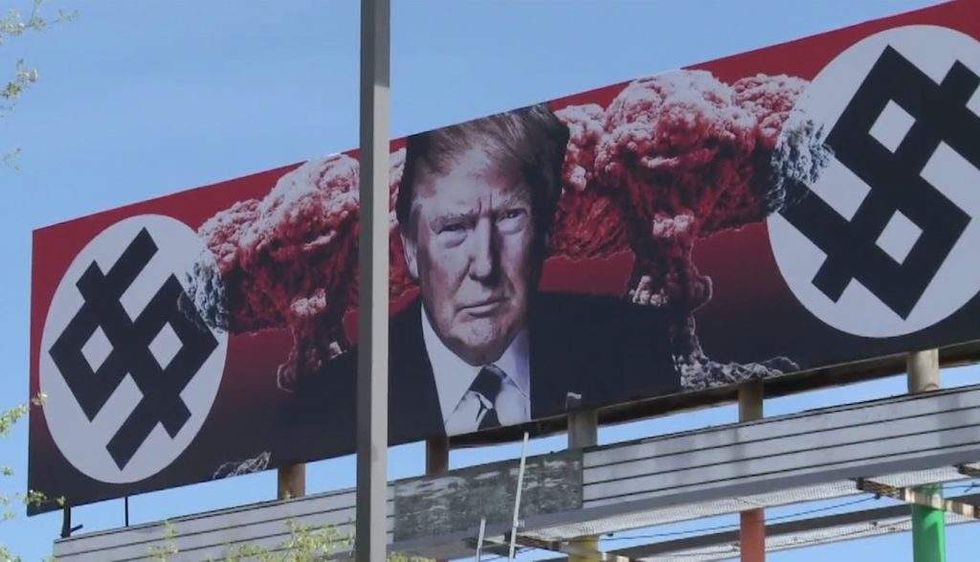 Image source: KPNX-TV video screen cap
"A lot of hate," Karen Fiorito told KPNX-TV of reactions to her billboard that went up Friday along a Phoenix street. "Things have gotten a lot more escalated now," she said.
"I got the opportunity to have a platform to say something, and I took that opportunity, and I take full responsibility for it," she said to KSAZ-TV.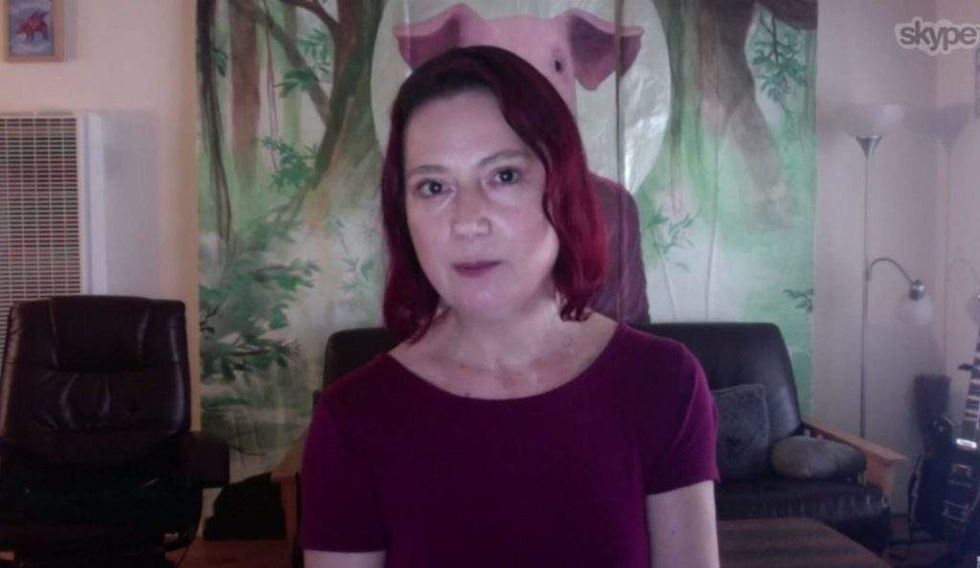 The billboard's artist Karen Fiorito told KPNX she's received "a lot of hate" over her creation. (Image source: KPNX-TV video screen cap)
The billboard was commissioned by Beatrice Moore, an arts patron, who told KPNX that the controversial display will remain standing as long as Trump is president.
"Some of these issues are so important you can't not speak out," Moore told KPNX.
Fiorito, who lives in California, told the station that "I think a lot of people are feeling this way, and I'm just trying to express what I think is on a lot of people's minds these days. Something that really concerned us was this idea of a dictatorship where things were going in a certain direction."
The duo have teamed up for similar billboards in the past.
A 2004 display depicted President George W. Bush with other government officials with the message, "Dear America, we lied to you for your own good. Now trust us." That one was for Fiorito's master of fine arts thesis on political propaganda at Arizona State University, KPNX reported.
As for the heated response to the Trump billboard, Fiorito told the station she hopes "that everyone involved in helping bring this message out is safe and that we all get through this unharmed."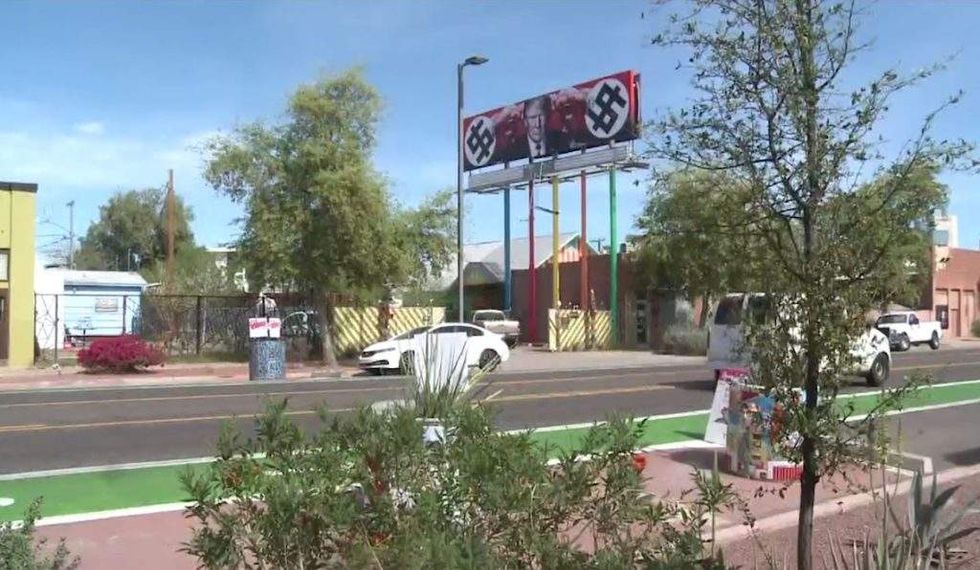 Image source: KPNX-TV
Mike Bolenbach apparently loves the billboard.
"I think this is the greatest thing that I've seen in a long time," he told KSAZ. "I think everything Donald Trump is doing is destroying America from the inside."
Jeff Whiteman had a different take.
"I don't necessarily agree with the leader of our country and all the things going on, but I would not disrespect him or any leader," he told KSAZ, adding that he lives near the sign and now won't look out one of his windows.
"There's a lot of tension right now in the air, and I'm trying to express that for a lot of people who feel they don't have a voice right now," Fiorito told KSAZ. "I do feel like we are headed down a road of destruction. So, that's my expression and I think I have the right to say that, and they do believe me."