After a humiliating rout in an election that pundits widely believed would fall their way, the Democrats are pushing the reset button on their entire organization. And the first thing they're doing is asking everyone for their resignation letters.
NBC News is reporting that Democratic National Committee Chairman Tom Perez has launched a campaign to completely remake the much maligned organization that failed to get its nominee into the White House, and presided over what many consider a disastrous decade of losses at every level of politics.
Perez asked all DNC staff members to submit resignation letters by next month.
Party staff routinely see major turnover with a new boss and staffers were alerted earlier to expect such a move. However, the mass resignation letters will give Perez a chance to completely remake the DNC's headquarters from scratch. Staffing had already reached unusual lows following a round of layoffs in December.

Immediately after Perez' election in late February, an adviser to outgoing DNC Interim Chair Donna Brazile, Leah Daughtry, asked every employee to submit a letter of resignation dated April 15, according to multiple sources familiar with the party's internal working.
Perez replaced the disgraced DNC Interim Chair Brazile, who just recently admitted that she was guilty of the accusations made against her during the election of passing debate questions to Hillary Clinton from CNN.
Brazile replaced Debbie Wasserman Schultz, who was also widely considered a failure at the helm. Former Minority Leader Harry Reid called the DNC "worthless" while under her charge in a scathing criticism offered in December:
"I believe one of the failures of Democratic Party has been the Democratic National Committee, the DNC, has been worthless," Reid told Nevada Public Radio in an interview published Wednesday.

"They do nothing to help state parties. That should be the main goal they have. I developed everything in Nevada on my own. Their help was relatively meaningless."
Perez thus inherits a bloodied DNC with critics on all sides.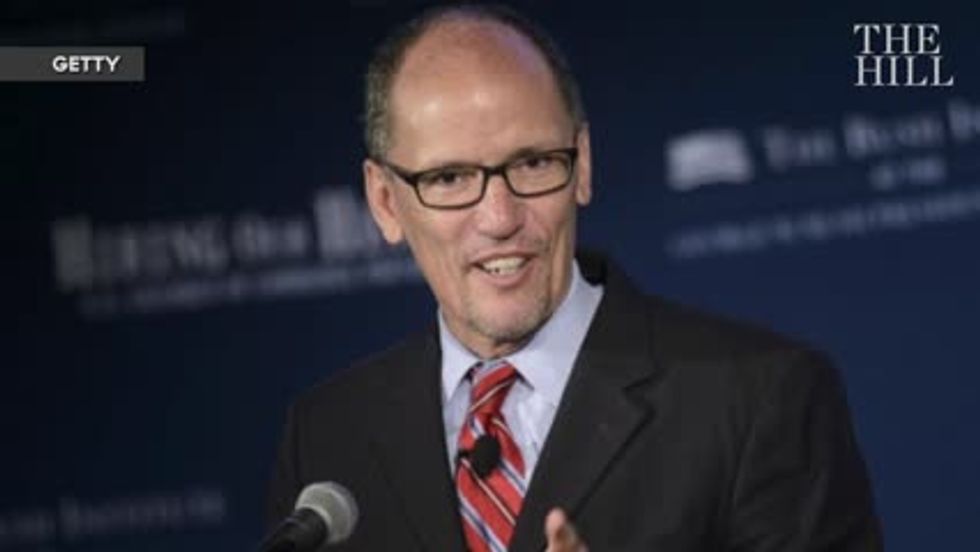 Perez has promised to unite Democrats and make them President Trump's "worst nightmare". Perhaps ironically, it was Trump's election that has led to Perez having to tell every DNC staffer, "you're fired!"