Legendary rocker — and liberal mouthpiece — Bruce Springsteen released a song Thursday blasting Republican President Donald Trump called "That's What Makes Us Great."
The duet with past Springsteen collaborator Joe Grushecky has the Boss crooning lyrics such as:
Don't tell me a lie and sell it as a fact

I've been down that road before, and I ain't going back

And don't you brag to me that you never read a book

I never put my faith in a con man and his crooks
Well, Greg Gutfeld — co-host of Fox News' "The Five" — took issue with Springsteen's newest Trump tirade and ripped the Boss right back.
"So Bruce Springsteen has released a new protest song that condemns the spread of radical, violent jihadism around the world," he began, tongue firmly in cheek. "I kid. It's an anti-Donald Trump song. I mean, why wouldn't it be?"
Gutfeld then skewered Springsteen's "predictable and repetitive" lyrics on the tune, which also employ rhymes such as "hate" with "great."
"He really is the Dr. Seuss for liberals," Gutfeld quipped.
The host also criticized the line "love can conquer hate" as it means "the other side" is "hateful," which Gutfeld said encapsulates "the real lie of leftism. They preach love, but they deem you evil."
More from Gutfeld's hilarious rant:
But it's not Bruce's fault that there aren't any truly radical protest singers. You just don't get rewarded for saying what upsets your peers. Springsteen risks nothing. He only echoes the approved assumptions of everyone in entertainment, and the reward, of course, is pure validation.

It's funny, Donald Trump may connect more with the average American than Bruce, and he's a billionaire.

I truly long for a real rebellious rocker who actually rages against the machine that he's part of. It's not Springsteen. He's now just Dan Rather set to music. It's too bad, Bruce had some really good songs. I loved "Piano Man."

Anyway, either that or "Uptown Girl."
Liberal co-host Bob Beckel later shot back at Gutfeld, "What's wrong with folk singers and protesters?"
Gutfeld replied, "Why don't they write something that actually costs them something? Why don't they go after their own industry, or go after the people that are around them? Because they can't. Because then they're not cool, and they're not invited to the right parties."
The song is Springsteen's latest shot across the bow at Trump. In February, he opened an Australian concert with the song "Don't Hang Up" in reference to Trump's self-described "tough" phone call with Australian Prime Minister Malcolm Turnbull.
"We stand before you embarrassed Americans tonight," Springsteen told the crowd.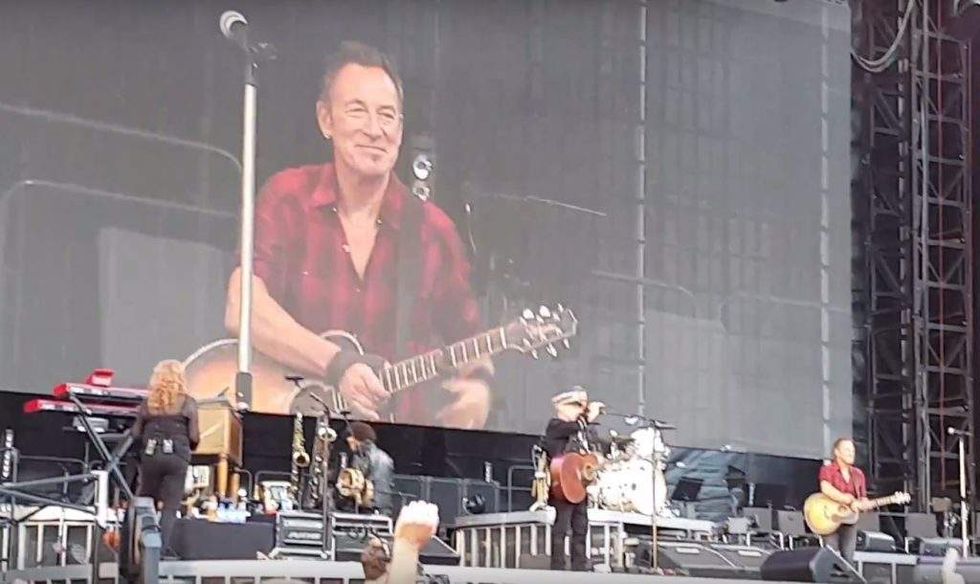 Bruce Springsteen opens his show in Melbourne, Australia, on Feb. 1. (Image source: YouTube screen cap)
However, Turnbull denied in a radio interview that the phone call ended angrily or with a hang up.
Before Trump's inauguration, Springsteen wondered in an interview if Trump is "competent enough" to serve as president — and his anti-Trump reach even affected a Springsteen tribute band, which pulled out of a Trump inaugural ball performance out of "respect and gratitude we have for Bruce and the E Street Band."
Here's the clip from "The Five." Gutfeld's response to Springsteen's song begins after the 29-minute mark:
(H/T: Consequence of Sound)