In an interview with Reuters Thursday, President Donald Trump indicated that there was a possibility of a "major, major" conflict with North Korea.
"There is a chance that we could end up having a major, major conflict with North Korea. Absolutely," Trump said from the Oval Office. "We'd love to solve things diplomatically but it's very difficult."
Trump credited Chinese President Xi Jinping for doing what he could to rein in the "Hermit Kingdom," a nickname for North Korea, from its aggressive missile tests and belligerent statements about South Korea and the United States.
"I believe he is trying very hard," Trump said. "He certainly doesn't want to see turmoil and death. He doesn't want to see it. He is a good man. He is a very good man and I got to know him very well.
"With that being said, he loves China and he loves the people of China," he added. "I know he would like to be able to do something, perhaps it's possible that he can't."
Trump has said that he promised favorable trade negotiations with China as long as it helped with North Korea. Soon after, he touted that China had turned back coal ships from North Korea, pressuring them with economic incentives.
When asked if he believed Kim Jong Un was a rational actor, Trump appeared to praise the totalitarian dictator.
"He's 27 years old. His father dies, took over a regime," he explained. "So say what you want but that is not easy, especially at that age."
"I'm not giving him credit or not giving him credit," Trump said. "I'm just saying that's a very hard thing to do. As to whether or not he's rational, I have no opinion on it. I hope he's rational."
Critics had pointed to his apparent praise for Vladimir Putin, another global strongman, and his reticence to recognize the Russian president's less savory, and possibly criminal acts.
The White House hosted all 100 U.S. senators for a briefing on North Korea Thursday. Most Democrats said that they learned little at the meeting, which they claimed only presented information they could have learned from the media reports.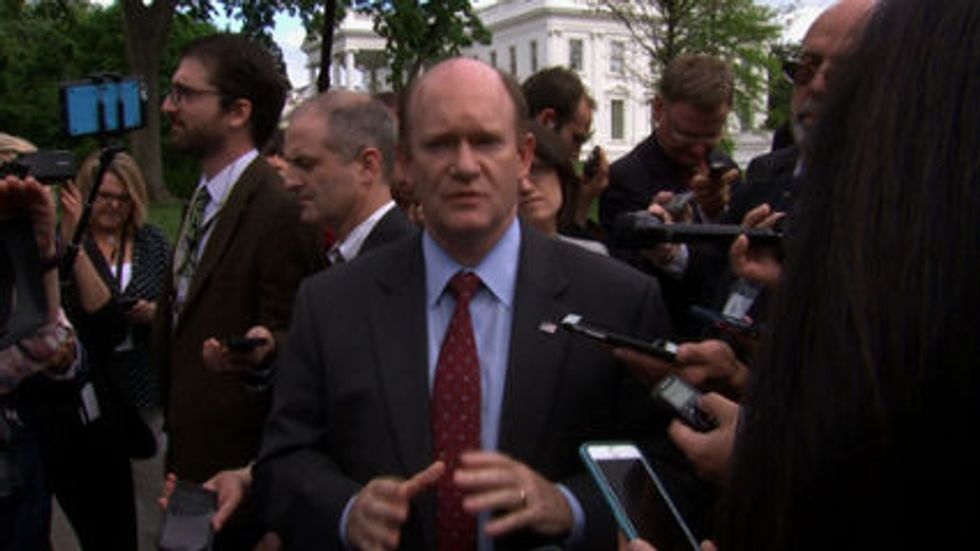 Weighing in the balance is the fate of U.S. ally South Korea, who would be attacked immediately by North Korea, and almost certainly would suffer thousands, if not millions, of casualties.