Last week, a stunning YouTube video showing a car -- with a helpless driver inside -- being dragged down a California highway by an unsuspecting semi tractor-trailer driver went viral.
The clip, reportedly recorded by citizen journalist Brian Steimke, captured the bizarre incident as it was coming to an end.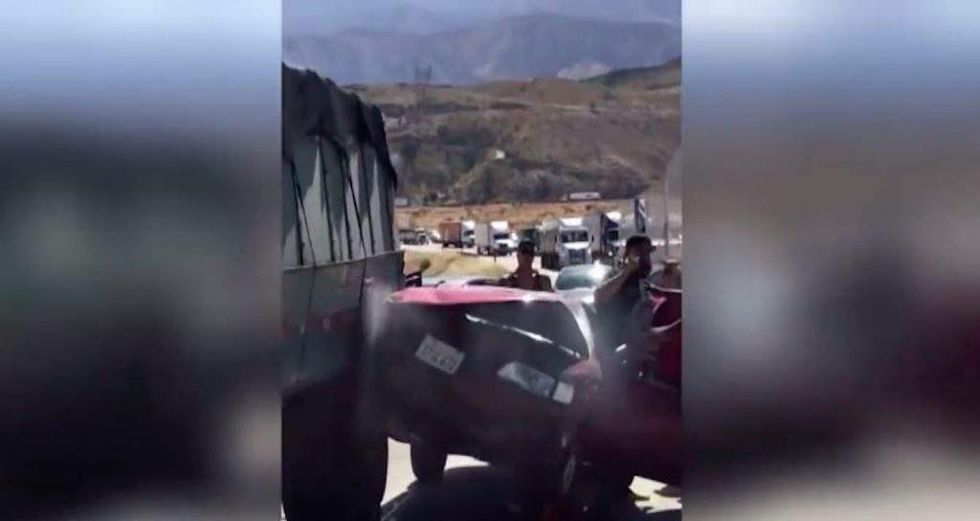 After being dragged for miles, tractor-trailer finally stopped dragging this car. (Image: You Tube)
On Saturday's "Pure Opelka" host Mike Opelka wondered how a driver could not know he was pulling an additional two tons of steel down the highway.
"How in the heck can it happen?" Opelka wondered.
In short order, Greg Anderson, a trucker in California listening to the radio show, called to explain how easily something like this happens to the driver of a big rig. In fact, the caller explained he experienced something similar in the early days of his trucking career.
"When I first started, I was hauling a 53-foot trailer across Wyoming and I got rear-ended by a Ford F-150 (pickup truck) that actually got stuck to my back bumper," Anderson explained.
"I didn't know he was there -- it felt like literally I had gone over a speed bump," said the trucker, adding, "If it hadn't slowed down my truck, I probably wouldn't have pulled over."
Shortly after hanging up, Anderson tweeted a photo of the truck he hooked in Wyoming.
The truck I mentioned hitting me @stuntbrain pic.twitter.com/qfQnDT4B2Q

— Greg Anderson (@ByondF1) April 29, 2017
In case you have not seen the video of the truck dragging the car, watch it here.
To see more from Mike, visit his channel on TheBlaze and listen live to "Pure Opelka" weekdays 12-3 p.m. ET, 7–10 p.m. ET & Saturdays 6–9 a.m. ET, only on TheBlaze Radio Network.