It appears Democratic Rep. Maxine Waters is having quite the time of late dealing with questions she doesn't like.
The California congresswoman was caught on video in late May arguing with one of her constituents — a supporter of Republican President Donald Trump. In the testy exchange, Waters called Trump "the most horrible man I've ever seen in my life" before she got agitated and walked off.
Then a correspondent from the far-left outfit, The Young Turks, briefly interviewed Waters on camera about Trump and Russia during Saturday's "March for Truth" in Los Angeles. Waters appeared calm at first, explaining that "Russia is not our friend."
But when Michael Tracey asked Waters if former President Barack Obama "was mistaken in forming military cooperation with Russia in Syria," she got visibly angry.
"You and I have a different agenda, young man. I'm out to impeach this president. Get that straight!" Waters said as the volume of her voice escalated. "I'm out to impeach the president! I'm not gonna be diverted by people who are Obama haters!"
With that Waters placed her right wrist against Tracey's right wrist — he was holding a microphone in his right hand — and pushed it out of her way as she stormed off.
[caption id="attachment_1326990" align="aligncenter" width="1024"]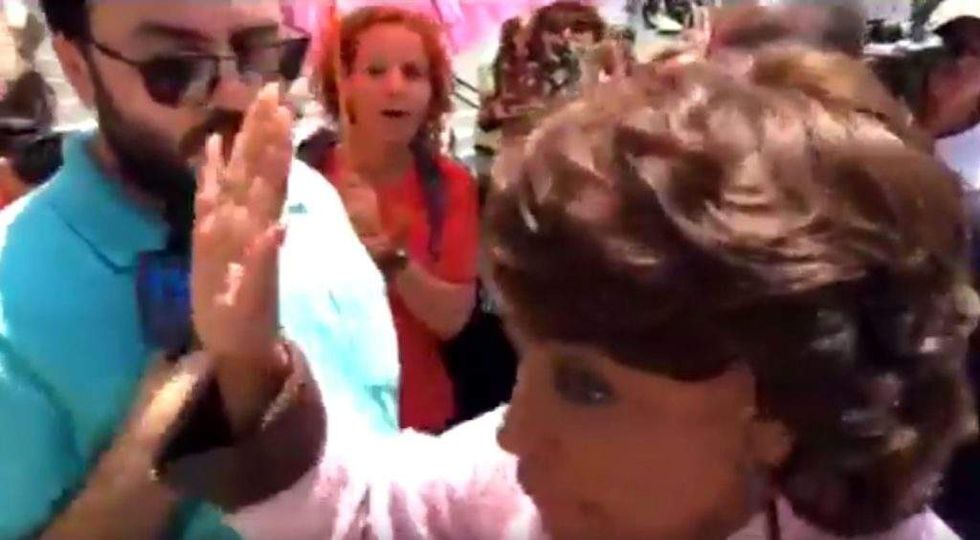 Image source: Twitter video screenshot[/cap