Pop singer and icon Katy Perry apologized during an interview with Black Lives Matter activist Deray McKesson for her "several mistakes" in "cultural appropriation." She made the acknowledgements as part of a YouTube series of conversations and performances.
"I've made several mistakes," she told McKesson, "even in like the 'This Is How We Do' video, about how I wore my hair. And having a hard conversation with one of my empowered angels, Cleo, about what does it mean? Why can't I wear my hair that way? Or what is the history behind wearing the hair that way?"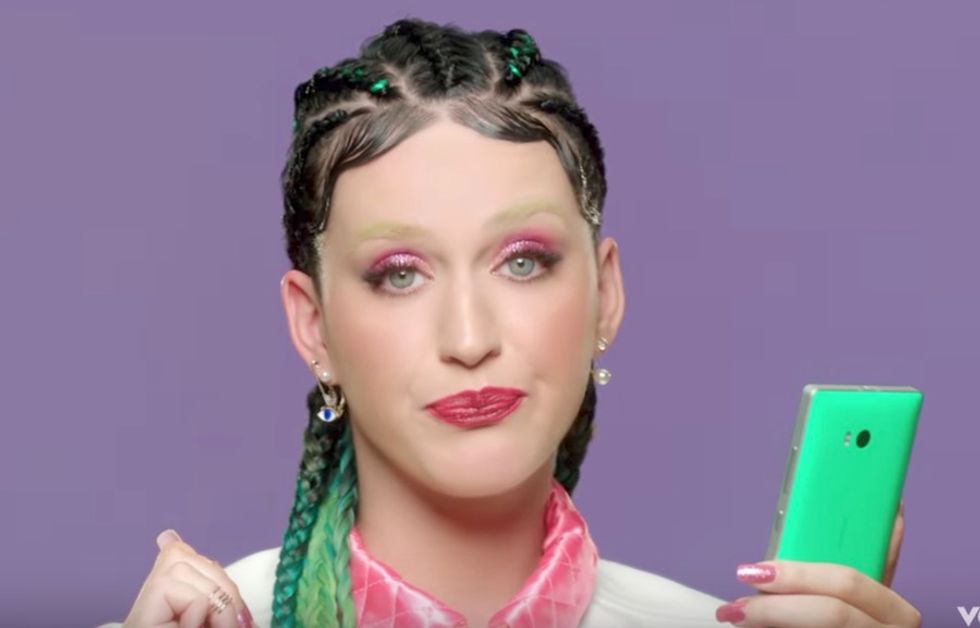 Pop singer Katy Perry apologized for appropriating black culture in the video for her song, "This is how we do." (Image Source: YouTube screenshot)
"And she told me about the power in black women's hair," Perry continued, "and how beautiful it is, and the struggle, and I listened, and I heard and I didn't know, and I won't ever understand some of those things because of who I am. I will never understand but I can educate myself and that's what I'm trying to do along the way."
"And even in, you know, my intention to appreciate Japanese culture, I did it wrong, with a performance," she explained. "And I didn't know that I did it wrong until I heard people saying I did it wrong."
Perry was referring to her 2013 performance at the American Music Awards show that was called "racist" by some because of the Japanese elements she used, including dressing up as a Geisha.
"And sometimes that's what it takes, it takes someone to say, out of compassion," she continued, "out of love, 'Hey do you— This is where the origin is, and do you understand?' And not just like a clap back, you know."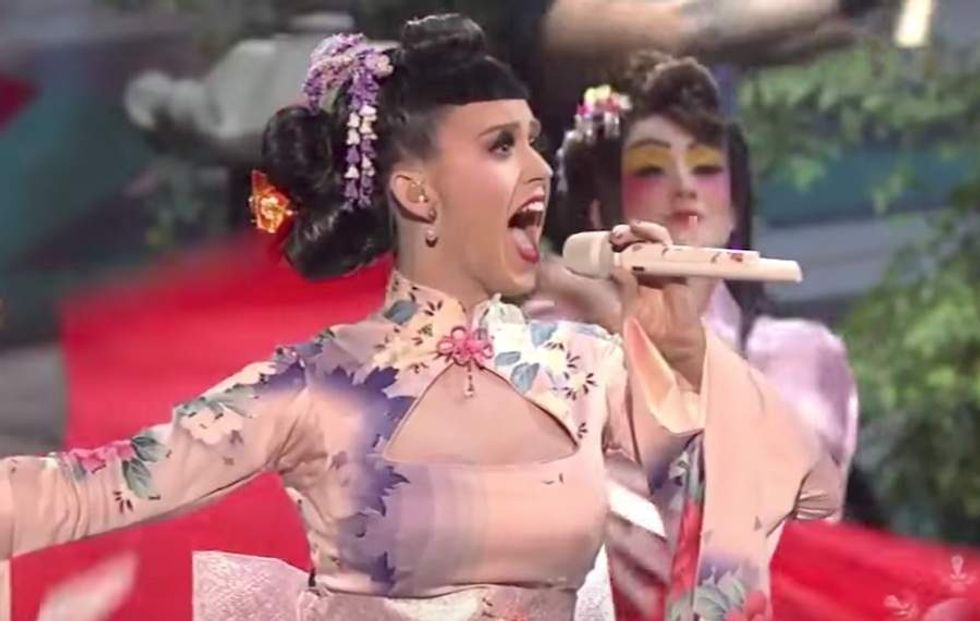 Katy Perry's performance inspired by Japanese culture in 2013 was called racist by some. (Image Source: YouTube screenshot)
"Because it's hard to hear those clap backs," she said. "Your ego just wants to turn from them. And I've been so grateful to have great teachers and great friends who will really hold me accountable. Even when I said that I wasn't feminist because I didn't know what that word meant."
"You know someone pulled me aside," she continued, "in a quiet space, and didn't shame, didn't judge me. My friend Shanon, she just said, 'Sweetheart, I love you, and I just want to show you what the Webster's definition in the dictionary says about what it is to be a feminist. And it's just equality.'"
"And so are you feminist?" McKesson asked.
"Yes, sir, I am! I am!" she answered emphatically.  "I am a feminist, and I think it's a beautiful thing to want equality for all females for all women."
I think it's amazing that Katy Perry can admit when she's wrong and that she's tried educating herself on issues! #KPWWW pic.twitter.com/CaYUrOqElU

— Sarah ツ (@lil_skyscraper_) June 11, 2017
Perry has been maligned by both right and left for her clumsy forays into politics, including a recent misventure where she appeared to mock liberals pining for former President Barack Obama's tenure in the Oval Office. Perry then angered conservatives when she included "open borders" to her solution to terrorism after the Manchester, England, attack. 
Not everyone was happy with her admissions, however. Some on social media criticized her saying, "Black people been speaking out against cultural appropriation for years and now Katy wants to be babied because she chose to ignore that," and, "Katy Perry wants to be 'woke' all of a sudden because her career is falling down the drain."