Workers are prepping the removal of a controversial Confederate statue known as "Johnny Reb" from a public park in Orlando, Florida, after a petition began two years ago asking to take it down because it's offensive to some people.
"We said it was inconsistent to have this statue here at Lake Eola, our iconic park here in Orlando, at the same time we're talking about Orlando United," David Porter, one of the lead activists against the statue, told WESH-TV. "That is not a sign of unity, OK. It's the wrong place for it."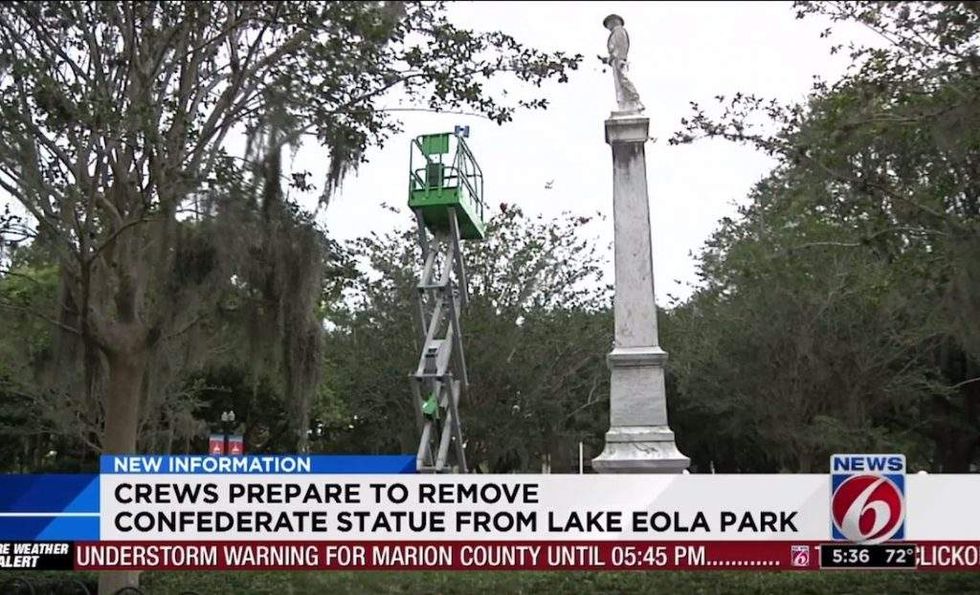 Image source: WKMG-TV video screenshot
Porter and others told the station they had hoped for the removal of "Johnny Reb" — which includes a plaque honoring those who fought for the Confederate states in the Civil War — before Monday's Pulse nightclub remembrance ceremony.
Orlando Mayor Buddy Dyer ordered the transfer of the statue to the Confederate section of Greenwood Cemetery last month, WESH reported.
Among those who watched removal preparations, some were in favor of getting rid of "Johnny Reb" while others weren't so keen on the idea.
"It does represent a bad time, but it's a part of life," Jennifer Irvin told WKMG-TV. "We had to go through that to get to where we are now."
Jesus Rivera disagreed, telling WKMG that the statue "offends some people and that's a good thing that they're going to remove it. A lot of people are offended by it."
(H/T: The American Mirror)