TheBlaze Radio host Mike Opelka explained why TheBlaze colleague Dana Loesch found herself "trending" on Twitter recently.
Angry liberals lit up social media Friday night, spinning themselves into a frenzy over a single misheard word from a recently published NRA video featuring Loesch.
The outrage was triggered (gun pun intended) after NY Times writer Adam Goldman watched the video attached to this tweet from the NRA.
.@DLoesch has a message for the @nytimes: "We're coming for you." One
non-#fakenews story is not enough. #NRA#ClenchedFistofTruthpic.twitter.com/Hm1QkJi5Tp

— NRATV (@NRATV) August 3, 2017
While Loesch actually says "fisk" in the video, Goldman believed he heard "fist" and declared via Twitter "the NRA just threatened" the NYT.
Here is a screen capture of the now-deleted tweet from the New York Times writer.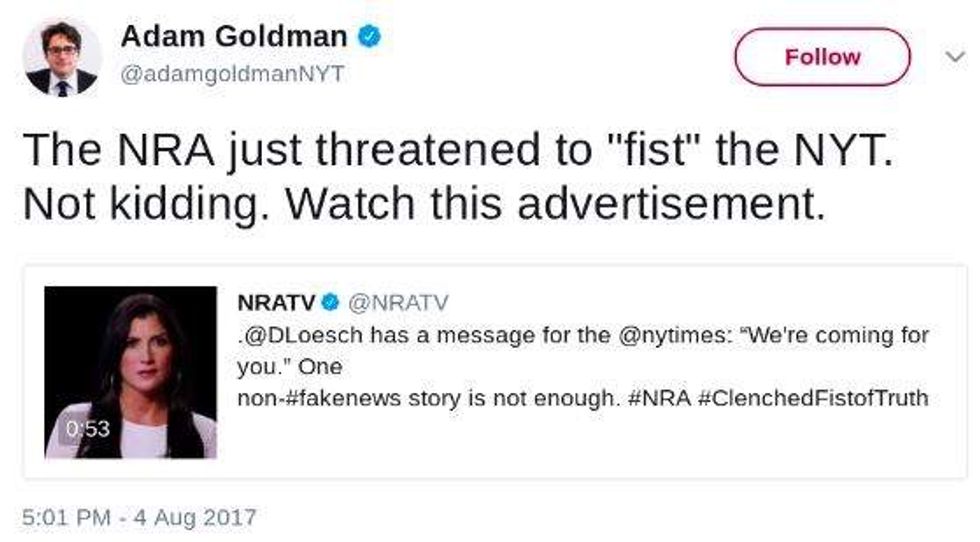 NY Times writer Adam Goldman's now-deleted tweet. (Image source: Twitter)
Goldman appears to have removed the original tweet after Loesch and others pointed out his obvious failure to correctly research the meaning of the word. Several of the vast and unpaid researchers on Twitter offered clarity.
Dana Loesch definitely said "fisk," not "fist." Come on, y'all. Expand your vocabulary. #DanaLoesch#Fistpic.twitter.com/eaoSN8xGov

— #ThePersistence (@ScottPresler) August 4, 2017
Even after Goldman removed his original post, Loesch was peppered with a host of vulgar tweets and "hate mail" which she promised to share with her audience on Monday.
I should probably disclose that I'm collecting the hate to read on air for $ in a sponsored segment I call #MailbagOfHate . #DanaRadiopic.twitter.com/lKlFpzS4u8

— Dana Loesch (@DLoesch) August 5, 2017
I can't wait.
Want more from Mike? Visit his channel on TheBlaze and listen live to "Pure Opelka" weekdays noon–3 p.m. ET & Saturdays 6–9 a.m. ET, only on TheBlaze Radio Network.
Watch the full, original NRA video posted on April 10, 2017.