By now, you know about the 32-year-old woman who died Saturday after a man who his high school teacher described as being "infatuated" with Nazis rammed over her with a car on a Charlottesville, Virginia, street. But you might not have heard about another incident, equally as disturbing, that took place just blocks away.
Inside a Charlottesville parking garage were several white supremacist protesters who nearly beat to death a 20-year-old black man. The chilling encounter, caught on video, reveals the disturbing hatred and racism present at Saturday's "Unite the Right" rally.
"Get out of here," one man is heard shouting in the video, as white supremacists are seen beating Deandre Harris with poles and planks.
Washington, D.C.-based activist Jason Charter said that when he arrived at the scene, he "saw multiple members of a white supremacist group beating senselessly an African American man while the police stood there and watched."
Charter recalled spotting at least one man holding a shield with the National Vanguard logo on it. National Vanguard is a white supremacist group, which is based in Charlottesville, Virginia.
The incident took place just around the corner from the Charlottesville Police Department.
It was not immediately clear what took place before the brutal beating.
Correction: just realized I circled the wrong part of the garage (exit instead of entrance). Point still stands. pic.twitter.com/eAKQUBPM1R

— Kristin Jensen (@khj5c) August 13, 2017
Eventually, at least one white supremacist in the parking garage urged others to "let him up, let him up," referring to Harris, who was on the ground and bleeding.
Harris later told the liberal blog The Root that he had to get eight stitches his head. Harris also said he chipped his tooth and suffered a broken wrist. Harris acknowledged that the beating occurred just across the street from the police station.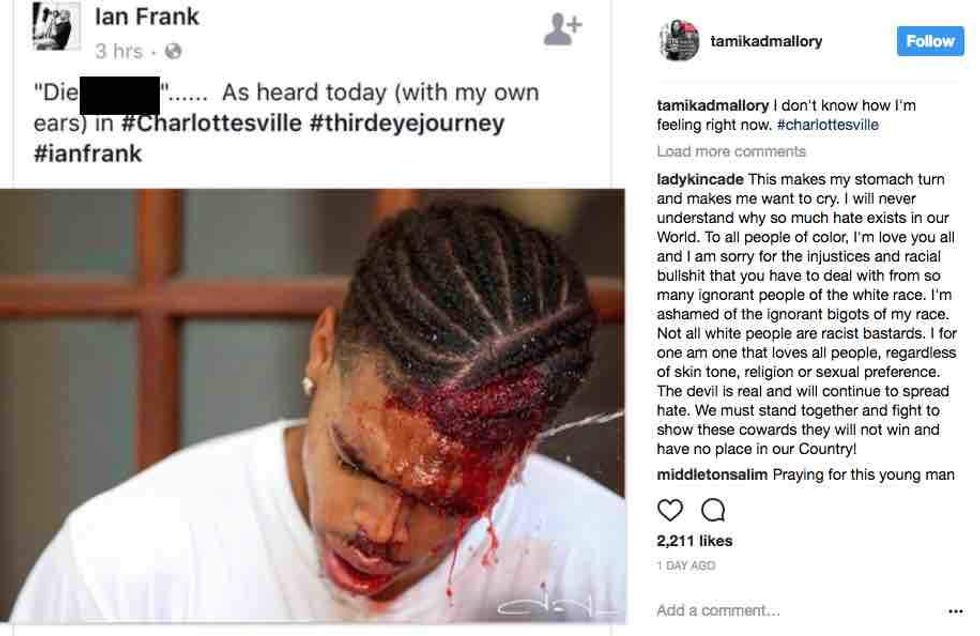 Image source: Instagram/@tamikadmallory
Other than Charter's claim, there is no indication that any police officers were present at the time of the beating.
Fox News' Doug McKelway reported Saturday that he saw Virginia State Police officers "sitting idly by" at nearby Emancipation Park in Charlottesville. McKelway reported that once tear gas started going off, the officers left the area because it was "too dangerous."
Important point by @FoxNews reporter Doug McKelway. Where were the police in #Charolettesville? They left because it was "too dangerous"?? pic.twitter.com/BiJuDa9Azc

— Nick Short 🇺🇸 (@PoliticalShort) August 13, 2017
Charter, however, told the Daily Caller that "the police stood there and watched" as Harris was senselessly beaten.
"[N]o police were there to help me at all. My mother is now thinking about suing the city of Charlottesville," Harris told The Root.
A representative for the Charlottesville Police Department did not immediately respond to a request for comment from TheBlaze on Monday.
.
Harris told WRAL-TV that he went to the rally in Charlottesville on Saturday to "voice my opinion about the KKK and white supremacy."
"I wasn't out here being violent. I wasn't out here to be violent," Harris said.
Harris said that he's thankful just to be alive after the brutal beating — and credited a complete stranger for helping him to stay alive.
Harris said the only thing he knows about that stranger is that her name is Karen. Harris said that as he was going in and out of consciousness on Saturday, the woman "talked to me and kept me calm and really kept me awake. I was fading and she woke me up. I was losing so much blood."
Harris said that once he arrived at the hospital, "the people at the hospital told me I was lucky," WRAL-TV reported.
(H/T: Daily Caller)