New York City's Metropolitan Transit Authority says it will "modify" tiles in a Manhattan subway station after complaints that the tiles resemble Confederate flags, WNYW-TV reported.
The tiles aren't a new addition to the Times Square subway — they've been in place for almost 100 years, the station said.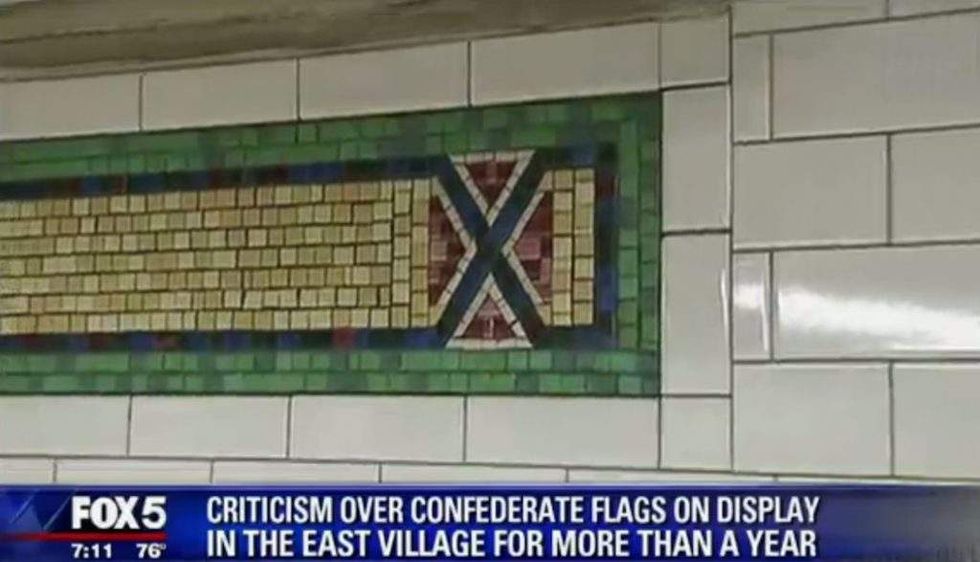 Image source: WNYW-TV video screenshot
The scuttlebutt apparently is that the architects installed the tiles — with a blue "X" and red background — to pay homage to New York Times publisher Adolph S. Ochs' southern heritage, the station said.
But the MTA maintained that the tiles actually reflect Times Square's nickname, WNYW said.
"These are not Confederate flags," the MTA told the station in a statement, "it is a design based on geometric forms that represent the 'Crossroads of the World' and to avoid absolutely any confusion we will modify them to make that absolutely crystal clear."
The subway station sits below the former New York Times building, WNYW said, and Times Square didn't exist during the Civil War.
In related news, residents of an East Village neighborhood in New York City are outraged that a fifth-floor apartment is displaying Confederate flags in a window — which actually elicited a protest in front of the building.
The station said the flags weren't really noticed until days after the deadly Charlottesville demonstrations two weekends ago.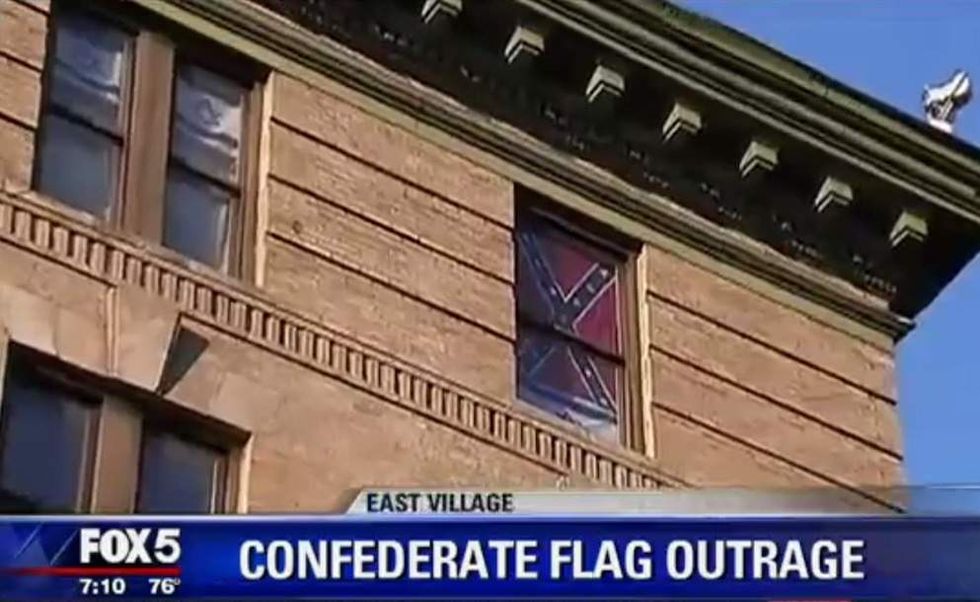 Image source: WNYW-TV video screenshot
"I'm pissed," one woman told WNYW. "I'm born and raised here. I've lived here for 21 years. We don't see these things out here."
Another woman added to the station: "It's weird because it's happening here. In a neighborhood with Latinos, blacks, Asians, Haitians."
In adjacent windows are Israeli flags and what appears to be an older version of the U.S. flag. It isn't clear if the windows all belong to the same apartment.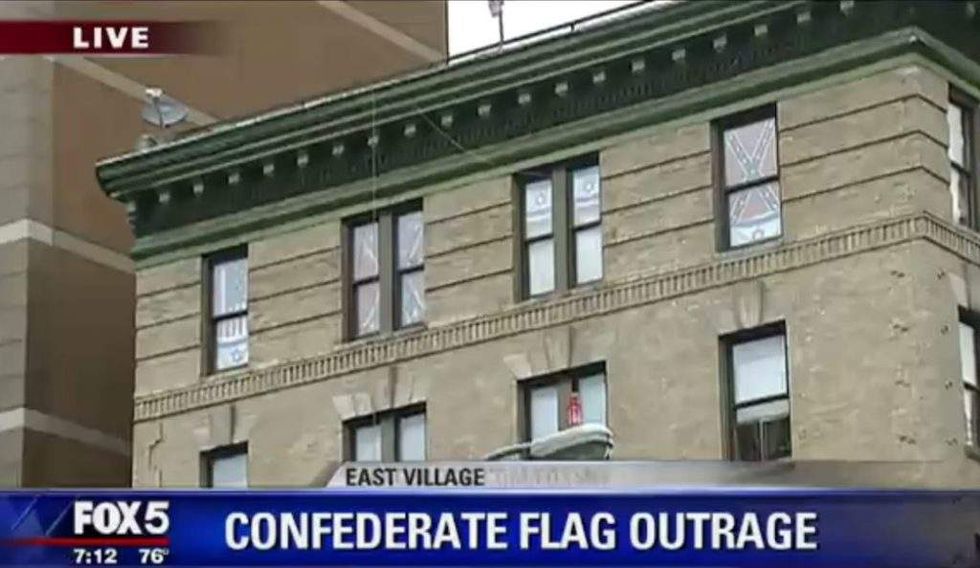 Image source: WNYW-TV video screenshot
But police — who had squad cars parked in the street below the apartment in case things got messy — told WNYW they can't do anything because hanging a Confederate flag is simply exercising free speech.
In addition, Democratic New York Gov. Andrew Cuomo wants Confederate names removed from two streets at an Army base in Brooklyn. The streets in question at Fort Hamilton are named after Generals Robert E. Lee and Stonewall Jackson, both of whom served there decades before the Civil War.
The Common Denominator
And what do these separate issues have in common?
It appears they were so important to so many folks in New York City (and beyond) for so long that they've finally been brought into the light within the last week or so.
One wonders that if leftists are suddenly seeing Confederate flags on subway wall tiles and in fifth-floor apartment windows, where will they see them next? And who will suffer the consequences of what could turn into "Confederate flags under every rock and behind every door" hysteria?
And more than that, when will those in charge put a foot down in the face of minutia outrage and declare that enough is enough?
This story has been updated.