On the heels of the violent protests in St. Louis — specifically a news story about demonstrators blocking off streets — a Pennsylvania state representative tweeted that if protesters ever tried to stop his car with "negative intentions," he wouldn't stop "under any conditions."
If anyone EVER tries to stop my car on a highway with negative intentions... I will not stop under any conditions. https://t.co/Uf62WwhIUk

— Aaron Bernstine (@Aaron Bernstine) 1505535963.0
As you might imagine, some folks didn't exactly take to kindly to Aaron Bernstine's declaration:
.@AaronBernstine ...save this 4 ur allocution when it forces u 2 plead guilty on murder 2 charges to avoid this tweet's proof of murder 1.

— Kurt Eichenwald (@Kurt Eichenwald) 1505585509.0
Another commenter wondered if Bernstine — who represents Pennsylvania's 10th district — was telling a "sick joke" while another called his tweet "truly shameful" and someone else chalked it up to how things are in "Trump's America 2017."
Think Bernstine backed down from the backlash? Not a chance.
Feel free to call my office and let me know if you think it is ok to refuse to stop if thugs try to stop me or my f… https://t.co/5QnYBNKTTl

— Aaron Bernstine (@Aaron Bernstine) 1505565756.0
Difference between me and these snowflakes is that I won't be assaulted in name of "free speech" https://t.co/vKQCOz8h74

— Aaron Bernstine (@Aaron Bernstine) 1505565939.0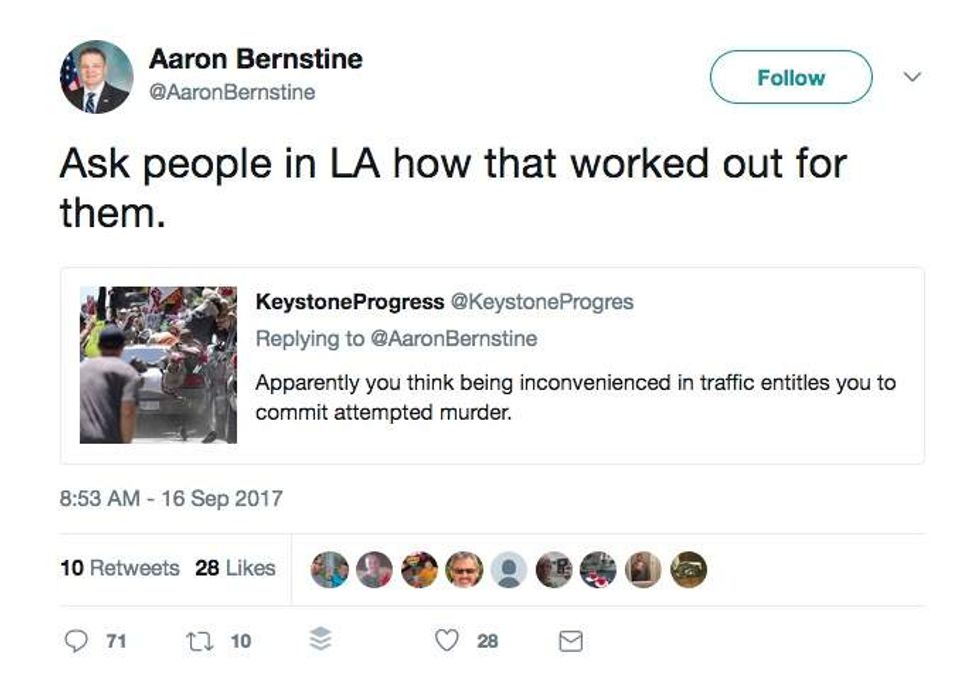 Image source: Twitter screenshot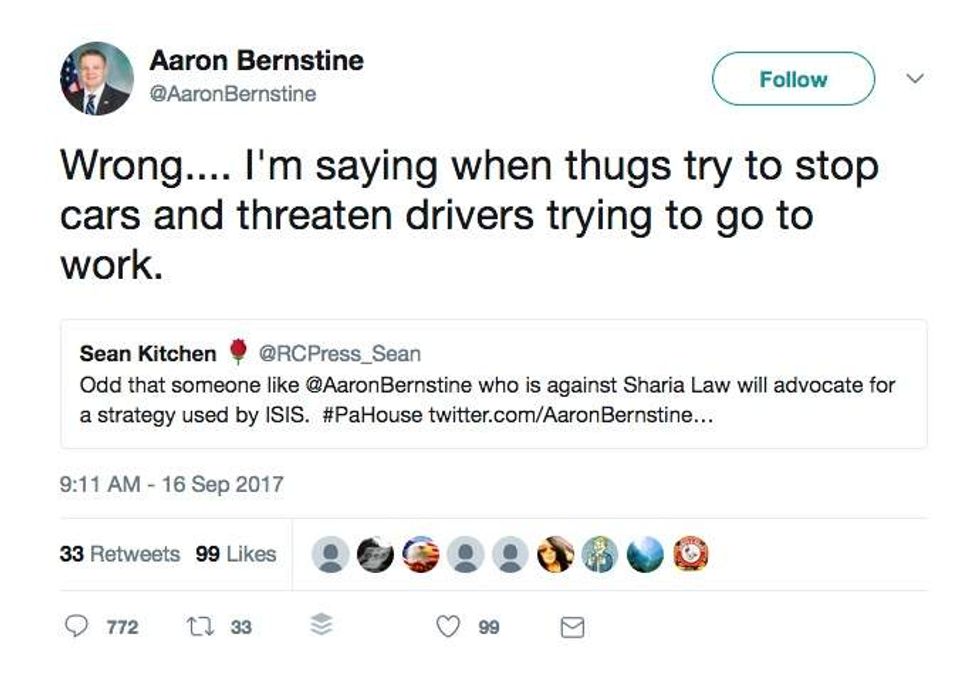 Image source: Twitter screenshot
Not to be outdone, the student newspaper at the University of Pittsburgh — where Bernstine is an adjunct professor at the business graduate school — blasted him in an editorial, saying the university "should not support employees' speech that directly threatens student safety."
More from the editorial:
If Bernstine were driving on Pitt's campus and a demonstration broke out — which has happened numerous times over the past year — his promise to use his vehicle as a weapon would make him a serious threat.

A promise so severe and explicitly violent has absolutely no place on our campus, and our University should not tolerate it.
TheBlaze on Thursday afternoon reached out to Bernstine's office in Ellwood City, Pennsylvania, for further comment on his tweets, but the message was not immediately returned.
(H/T: The College Fix)