A Cambridge, Massachusetts, librarian who rejected first lady Melania Trump's gift of Dr. Seuss books because she sees them as "racist" once dressed up as one of his characters, according to multiple reports.
The gift
Trump sent a gift of books to a school in each state in honor of National Read A Book Day this month. Titles included popular Dr. Seuss books like "The Cat in the Hat," "Oh! the Places You'll Go!," and "Green Eggs and Ham."
The rejection
In an open letter to Trump, Liz Phipps Soeiro, an elementary school librarian, said that her library wouldn't be keeping the first lady's gift because "my school doesn't have a NEED for these books."
"My students have access to a school library with over nine thousand volumes and a librarian with a graduate degree in library science," Phipps Soeiro wrote.
Phipps Soeiro added that "then there's the matter of the books themselves."
"You may not be aware of this, but Dr. Seuss is a bit of a cliché, a tired and worn ambassador for children's literature," she wrote. "Dr. Seuss's illustrations are steeped in racist propaganda, caricatures, and harmful stereotypes."
"Open one of his books ('If I Ran a Zoo' or 'And to Think That I Saw It On Mulberry Street,' for example), and you'll see the racist mockery in his art," she wrote.
Phipps Soeiro wrote that she is "honored that you recognized my students and our school" and that she can "think of no better gift for children than books."
"It was a wonderful gesture, if one that could have been better thought out," she wrote.
A national controversy ensued as the letter and the story of the rejection went viral. A spokesperson for Trump said in a statement that turning the first lady's gesture "into something divisive is unfortunate."
"But the First Lady remains committed to her efforts on behalf of children everywhere," the statement said.
The Cat in the Hat
The Washington Examiner noted that an author's bio accompanying Phipps Soeiro's letter says that she tweets from the accounts @Cport_Special and @ReflectLibrary. The latter has since been taken down, but the former includes a March 2015 tweet that appears to show a smiling Phipps Soeiro dressed as one of Dr. Seuss' most famous characters, the Cat in the Hat.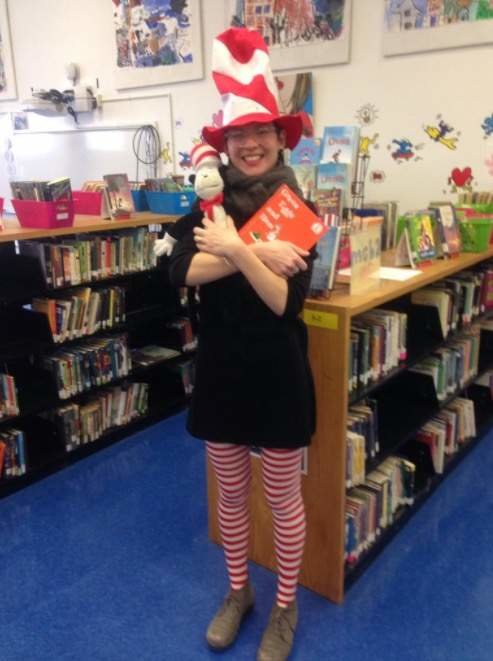 Image source: twitter.com/Cport_Special
The woman in the photo also holds a toy Cat in the Hat and a copy of Dr. Seuss' "Green Eggs and Ham."
"Huh. Happily dressed as a character created by an author whose work is supposedly 'steeped in racist propaganda.' Imagine that," the Washington Examiner's Becket Adams wrote.
The controversy
Many characterized the controversy over the letter as ridiculous, noting that former first lady Michelle Obama read Dr. Seuss books to children she visited with.
CNN's Jake Tapper tweeted, "I'm pro-Seuss and I can't believe this is even a thing."