What's the story?
Texas Rep. Briscoe Cain (R) was removed from Texas Southern University campus during a scheduled speech after students who were affiliated with Black Lives Matter disrupted the event.
Though school officials say Cain's speech was not approved by the university and that was the reason he was removed, TheBlaze has obtained an exclusive email between Cain's staff and the Dean for Student Development and Academic Support indicating the event had been planned for months and at least two school officials knew he would be on campus for the event.
How did it all go down?
Cain attended a meeting of the school's chapter of The Federalist Society Monday evening, where he had been invited to share his experience working in the Texas legislature.  But before he could even take the podium, Black Lives Matter protesters began shouting him down, accusing him of being a racist and holding up signs that read things like "Briscoe You Forgot Your Hood," insinuating he was a member of the KKK.
Ultimately, the protesters-turned-disrupters were kicked out of the event by an assistant dean helping with the event. What happened next left Cain and his staff stunned.
As Cain finally took the podium to deliver his speech, he was again interrupted, this time by TSU President, Dr. Austin Lane, and State Sen. Borris Miles (D), who represents the district surrounding TSU.
Lane boldly took the microphone and asked that the protesters be allowed back in because he would be announcing "changes." Meanwhile, according to Cain, Miles took him aside and told him that Lane was canceling the event because The Federalist Society did not follow proper protocol when scheduling the event.
"Next time call me when you come to my district, man. Next time we'll do it the right way," Miles added before asking campus police to escort Cain off campus grounds "for his own safety."
The university released the following statement on the matter:
Texas Southern University welcomes free speech and all viewpoints on campus as part of our collegiate experience. Today's event, which was scheduled at Thurgood Marshall School of Law, ended early because it was not a registered university student organization event.

Our campus is open and welcoming to all state and elected officials. TSU President Dr. Austin Lane was meeting with a state senator when he received word of the event at the Thurgood Marshall School of Law. Dr. Lane went to the event to see State Rep. Briscoe Cain, students and faculty, and then learned that it was an unauthorized Texas Southern University student organization event. Our vice president of Student Affairs has since met with the student organizer and informed him of university procedures. Several events have been cancelled in the past on campus because procedures were not followed.  We welcome the return of any guest speaker for deliberative dialogue on our campus in accordance with university procedures.
Why shouldn't you believe the school's official story?
Here's where the holes begin:
According to emails obtained by TheBlaze, the event had to be moved to a different room because of a scheduling conflict, at the request of school officials who were obviously aware the speech was taking place.
Upon arrival, Cain was greeted by campus officials and given a guest parking pass.
President of TSU's Federalist Society chapter, Daniel Caldwell, has expressed complete confidence that the protocol he followed was correct. "I know, for a certainty, that I followed every step required for our handbook," he said. In addition, he said it was a school official who ordered the flyer below advertising the event from a graphic designer.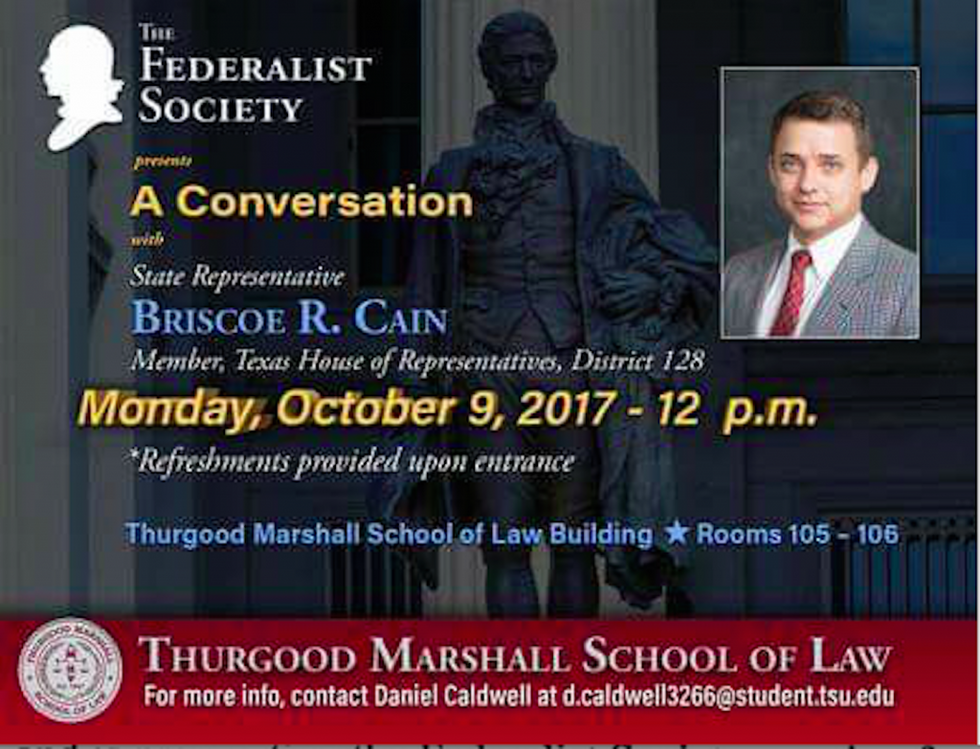 In the emails provided exclusively to TheBlaze, Assistant Dean for Student Development and Academic Support, Virgie Mouton, emailed Caldwell, copying in another school official, acknowledging that Cain would be on campus for the speech and even requesting to meet with him.
"Just want you to know that Briscoe Cain is the State Representative for my hometown, Barrett Station, and all the surrounding communities — Baytown, Highlands, Deer Park, etc. Although I moved away in the early 70's, my family members still live there. I would love to meet him on Monday. Can you make that happen?" the email said.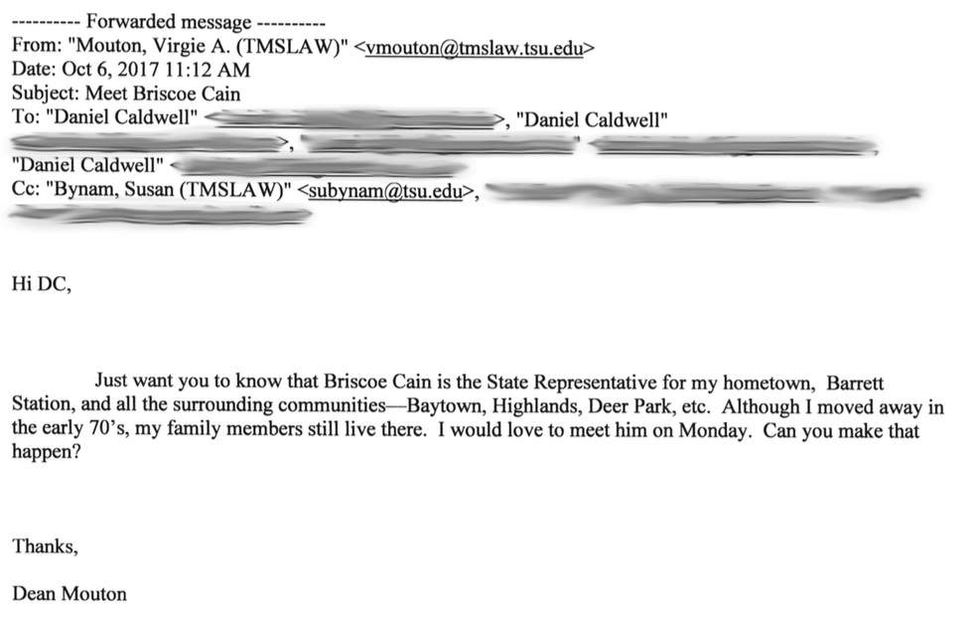 When TheBlaze requested a comment clarifying the discrepancies, TSU communications specialist Kendrick Callis told us the school was working on a response. Several hours later, he replied again that their response was in "final approval" and would be ready shortly. Twenty minutes later, Callis reversed course and indicated the university would only be reissuing the same statement they had issued earlier Tuesday.
"Once campus administrators were made aware by our police department of a disturbance at the law school involving our students, they conducted a check of recognized student organizations, it was determined that The Federalist Society was not a sanctioned University organization and proper scheduling procedures were not followed," the statement said.
What's more, Cain's staff provided TheBlaze with a list of registered university organizations that was sent to their office. The Federalist Society interestingly appears on that list, which is below: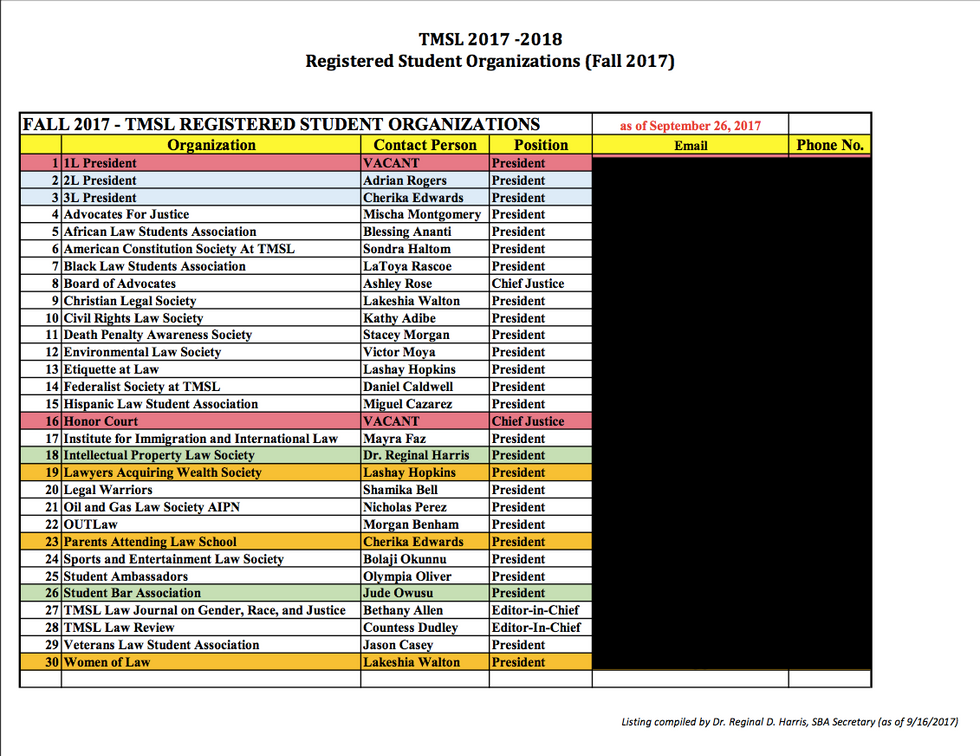 Image provided by Rep. Cain's office.
Cain released a statement criticizing the university for covering up what was a clear case of silencing dissenting opinion.
"The explanation given by the university is blatantly inconsistent with the administration's approval of the event for months.  Black Lives Matter was not protesting the paperwork not being filed properly, they wanted to silence speech they disagreed with, and the University allowed it.  It's disgraceful.  The cover up is worse than the crime and it's time TSU officials come clean," Cain said in a statement provided to TheBlaze.