The Gay Lesbian Bisexual Transgender Resource Center at Texas A&M University is helping students choose just the right Halloween costume this year — all revelers have to do is follow a handy-dandy flowchart titled, "Is My Costume Culturally Insensitive?"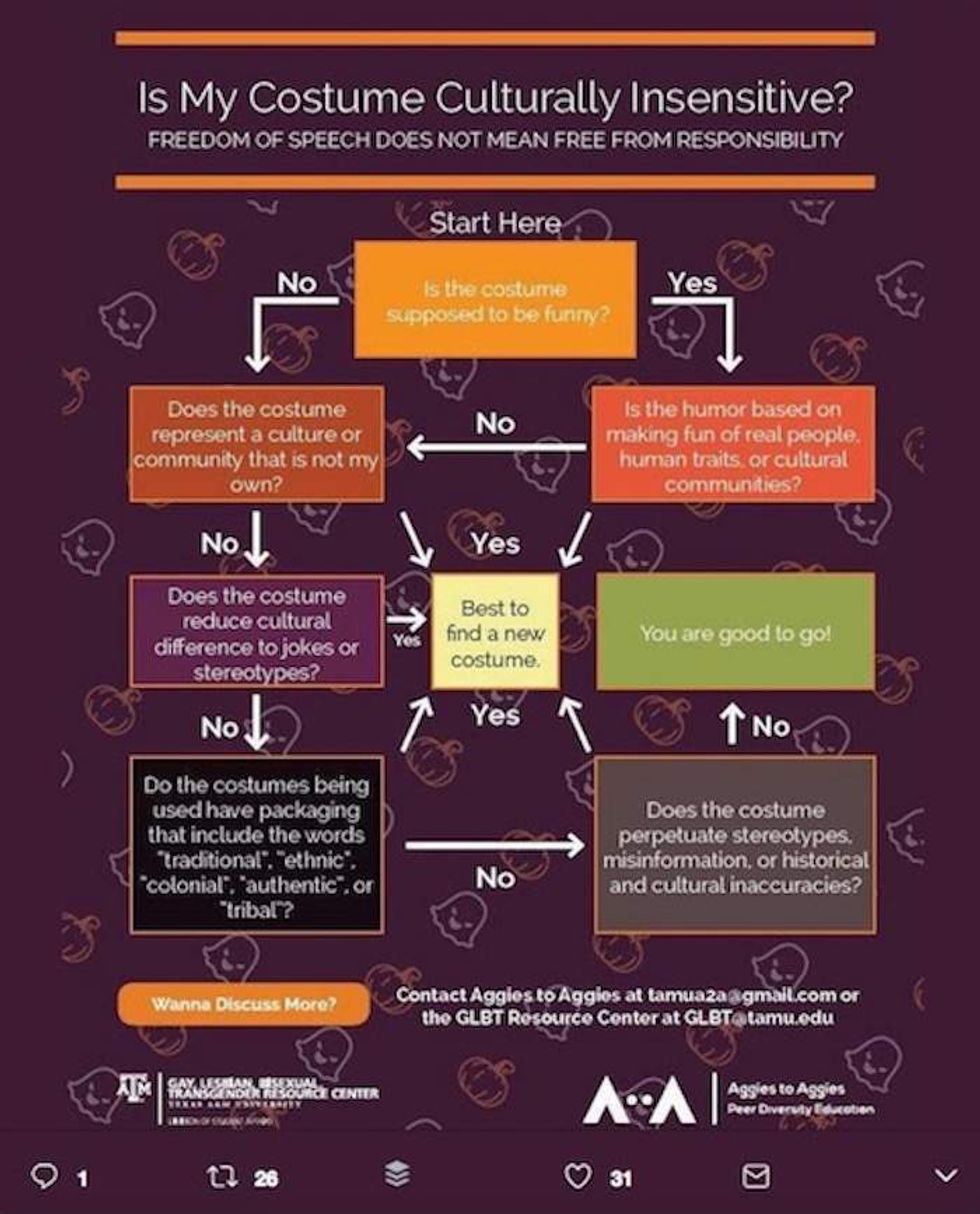 Image source: Twitter screenshot
The flowchart begins with a subtitle reminding students that "Freedom of Speech Does Not Mean Free [sic] From Responsibility" and then launches into a series of questions:
"Is the costume supposed to be funny?"
"Is the humor based on making fun of real people, human traits, or cultural communities?"
"Does the costume represent a culture or community that is not my own?"
"Does the costume reduce cultural difference to jokes or stereotypes?"
"Do the costumes being used have packaging that include the words 'traditional', 'ethnic', 'colonial,' 'authentic', or 'tribal'?"
"Does the costume perpetuate stereotypes, misinformation, or historical and cultural inaccuracies?"
If any answer to any question is "yes" — save for "Is the costume supposed to be funny?" — the flowchart instructs revelers, "Best to find a new costume." But if they make it through the chart unscathed, the answer finally is a hearty, "You are good to go!"
A magazine run by Ohio State University students offered a similar flowchart this month, although it gave a total green light to costumes that make fun of Republican President Donald Trump.
Campus Reform said it reached out to the Texas A&M GLBT Resource Center and related campus groups for comment but didn't get a response in time for publication.