An Atlanta-area 7th-grade boy recently asked his parents if he could buy a T-shirt mocking CNN so he could wear it on his school field trip to the nearby cable news network. They agreed.
But on the day of the field trip last week, officials at Peachtree Charter Middle School got an eyeful of the kid's "FNN" shirt — for "Fake News Network," a play on Republican President Donald Trump's assessment of CNN — and told him to remove it.
The boy complied. But after the school called home to explain what had transpired, Mom and Dad weren't happy.
What's more, the boy's parents are prominent area officials. Nancy Jester is a DeKalb County commissioner, and Stan Jester is on the DeKalb County Schools' Board of Education — and they want the school to apologize to their son Jaxon, WGCL-TV reported.
Stan Jester addressed the issue on his blog, noting that last month softball players from Cedar Grove High School took a knee during the national anthem, and the district backed them up.
"If students should elect to express their free speech rights, we want to create and provide a safe space to do so," the district said in a statement. "The goal is not to interfere with the students' constitutional right to freedom of speech."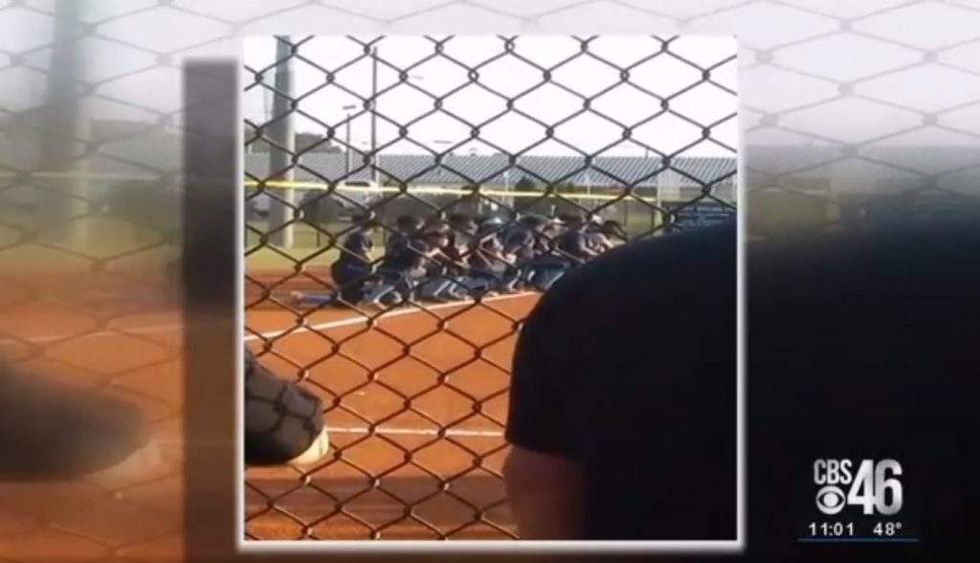 Image source: WSB-TV video screenshot
Naturally Jester believed school officials didn't extend the same backing to his son.
"I'm disappointed by the hypocrisy of this decision," he added on his blog. "Some students are celebrated when they make a controversial display during the national anthem. My student was forced to remove his shirt because someone didn't like it. I defend speech and expression, even if I disagree, or it makes me uncomfortable."
DeKalb County Schools sent WGCL the following statement:
An incident occurred at a DeKalb County school last week in which a teacher asked a student to change his shirt prior to leaving the school for a field trip. The request was out of concern for the student's safety in accordance with the district's Student Code of Conduct, which states . . . . " the wearing of clothing, tattoos or other adornments which show offensive and/or vulgar words, pictures, diagrams, drawings or includes words or phrases of a violent nature, a disruptive nature, a sexual nature, politically/socially controversial words or graphics or words or phrases that are derogatory regarding a person's ethnic background, color, race, national origin, religious belief, sexual orientation or disability is prohibited."

The parent of the student was contacted by the principal and informed that the student was being asked to change his shirt. The student complied with the request made by the teacher.

The safety of all DCSD students and staff is paramount.
This writer's perspective
It probably wasn't the wisest move for these parents to give permission to their son to wear such a T-shirt into CNN — not so much because it's in bad taste, but more because in today's insane environment, you never know how someone might react upon seeing the shirt. Putting the boy in a position where he might be subject to others' anger — or worse — isn't a good idea.
That may have been on the minds of school officials when he was told to remove the shirt, but it stands to reason that their first reaction was probably embarrassment — and rightly so. Wearing the shirt into CNN would not have been courteous, no matter how one feels about CNN's political leanings.
However, Dad has a point. Why was his son's T-shirt verboten when the softball players' kneeling got support from the district? One could argue that allowing the softball players to take a knee also placed them in a vulnerable position in which someone who doesn't appreciate such protests could have reacted with anger — or worse. And what's more, is national anthem kneeling in good taste in the first place? Many don't believe it is.
There's a good bit to iron out here. And those in charge need to get it done.