A psychoanalyst said Republican President Donald Trump has at least one thing in common with Charles Manson, the late hippie cult leader and among the most notorious murderers in American history.
In short — according to Mark Smaller, past president of the American Psychoanalytic Association — both used emotional language to attract their followers, Newsweek reported.
Manson effectively engaged those who felt marginalized or alienated in society, Smaller told the magazine, noting that a "charismatic leader knows how to speak to people in a way that will emotionally engage those people."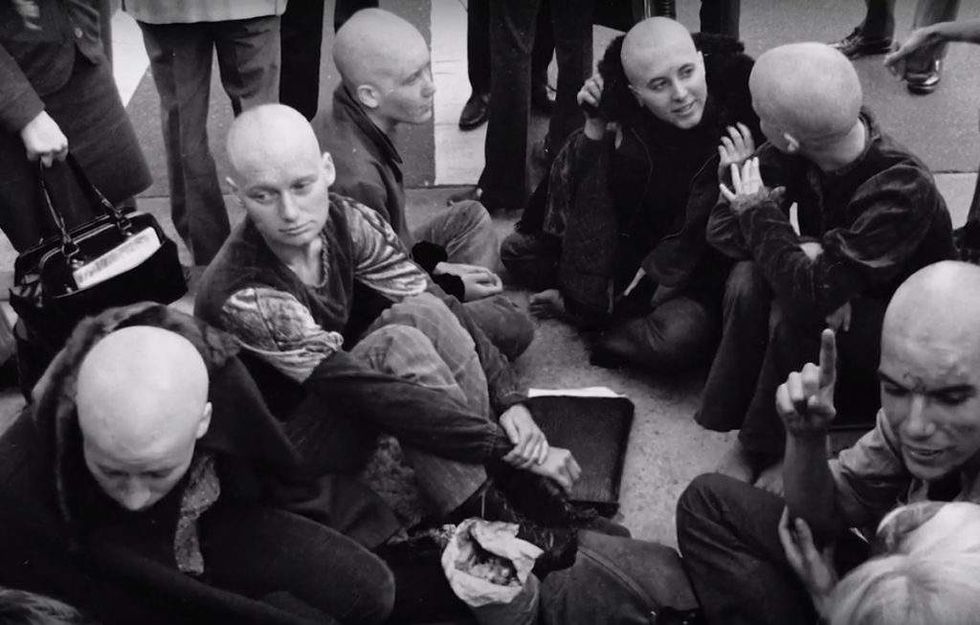 Image source: YouTube screenshot
In the end, Manson — who died Sunday of natural causes at age 83 — convinced his followers to carry out the murders of five people one night in the summer of 1969 in the Los Angeles area, one of the victims being pregnant actress Sharon Tate. Manson's gang killed a couple in their home the following night.
During his trial, Manson was being dragged out of court after he tried running toward the bench and was soon shouting to the judge, "In the name of Christian justice, someone should chop off your head!" the Los Angeles Times reported.
Which brings us to Trump.
Is the psychoanalyst saying Trump and Manson are similar?
Newsweek said Smaller "is clear that he does not believe President Donald Trump is similar to the convicted killer, or that their followers have any shared beliefs or characteristics."
Is there a 'however' in our immediate future?
Yup. However, Smaller noted that Trump "speaks in an emotional or affective way to large numbers of people in our country who feel a kind of alienation or disconnection from the government. They feel very responded to and become his political base," the magazine reported.

Smaller added that gang members employ such communication tactics while speaking to new recruits, Newsweek said: "They can feel like somebody has their back."
Does Smaller have specifics on what Manson may have told his followers?
No, the magazine said. But Smaller told Newsweek that cult leaders may say things like, "Your parents don't really care about you. Your community doesn't care about you. The government doesn't really care about you, but I'm going to not only care about you, I'm going to take care of you. I understand how angry, neglected, and hurt you feel."
What else does Smaller say?
He told the magazine that socioeconomic conditions and social media have led to increased feelings of discontent: "That kind of distance, if not disconnect, creates a mass kind of alienation."

"I've never worried as much about the Donald Trumps in the world as I worry about the large amount of people in our country who feel alienated and disconnected and looking to follow somebody," Smaller added to Newsweek.
This writer's perspective
Had Manson died during former President Barack Obama's time in office, one wonders if Smaller would have offered the same comparison.
And even if he had, would Newsweek have run with a headline — adjusted for the name switch — noting "How murderer Charles Manson and Barack Obama used language to gain followers"?
But we all know the answer, don't we? After all, given that no Democratic leader has ever resorted to engaging listeners' emotions to gain support or allegiance, what would be the point of publishing such fake news?