Exit polling from the special election to fill the U.S. Senate seat for Alabama shows how many voters believe the allegations against Roy Moore, the Republican endorsed by President Trump.
What do the polls say?
In a key indicator, a less than half of Alabama Senate voters say they believe the allegations against Moore are true or probably true (49 percent).
But more Republican voters believe the allegations are true than Democrats voters believe they're false.
Here's a graph from NBC News: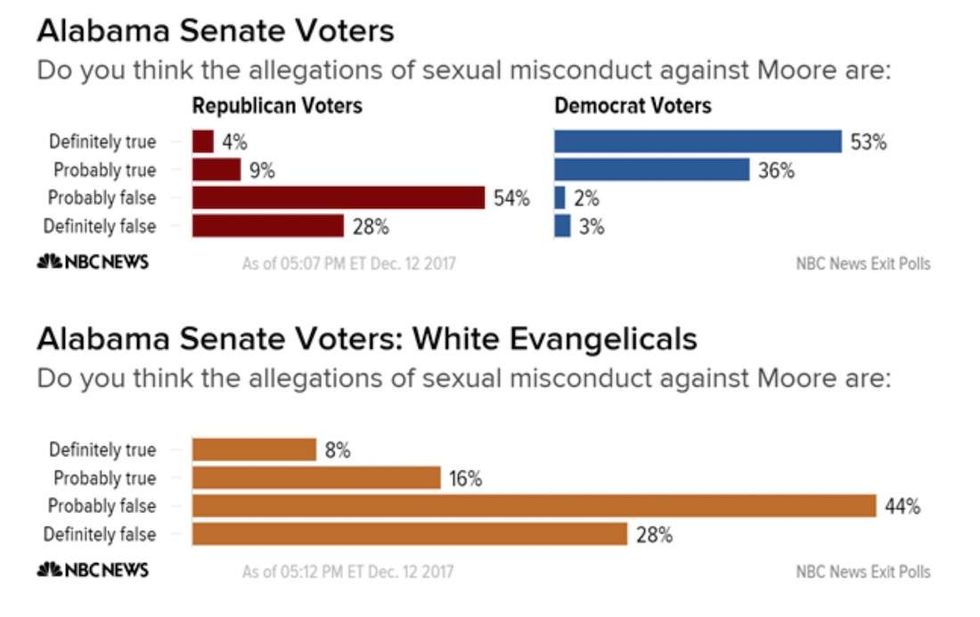 NBC News also reports that more Alabama voters believe the accusations against Moore are true than those that believe the accusations are false - 50 percent to 45 percent, respectively.
Alabama voters so far today said they are split on whether they think the sexual misconduct allegations against Republican Roy Moore are true, according to NBC News' early exit poll results.

About a quarter of voters said the allegations were definitely true, with another quarter indicating they were probably true. Still, 29 percent said they thought the allegations were probably false and 16 percent said they were definitely false.

And while Alabama voters are fairly split on whether or not they believe the accusations to be true, only 7 percent said the allegations were the single most important factor to their vote.
CBS News Exit Polling
CBS exit polling has similar results: while a minority believe the allegations against Moore are false, only 40 percent say it was the most important factor in their vote.
The first exit polls are released, revealing Alabama voters divided on the validity of the allegations against Moore. More than four in 10 believe they are false. Most Jones voters believe the accusations, while most of Moore's voters do not.

For about 40 percent of voters, the allegations were the most important factor in their vote, mostly for Jones voters. Moore voters were more motivated by their support for Donald Trump. Early exit polling shows Jones supporters more staunchly behind their candidate than those behind Moore.
The polls for the election close at 8pm Eastern time.