Maryland's public defender confirmed to TheBlaze that an assistant public defender in his office posted a "F*** the Police" image to Facebook and that the post violated his office's social media policy.
Public Defender Paul DeWolfe on Tuesday added to TheBlaze that "we obviously don't support the sentiment."
The assistant public defender who posted the image is Clare Carlson, DeWolfe also confirmed to TheBlaze, adding that he can't discuss his office's internal, personnel discipline process.
The issue was first reported by Blue Lives Matter.
Carlson in October posted an image of a piece of embroidery with the words "F*** the Police" on it, the outlet reported.
Carlson's comment accompanying the image read, "Ahhhhhhhh the BEST gift from the BEST friend," Blue Lives Matter said.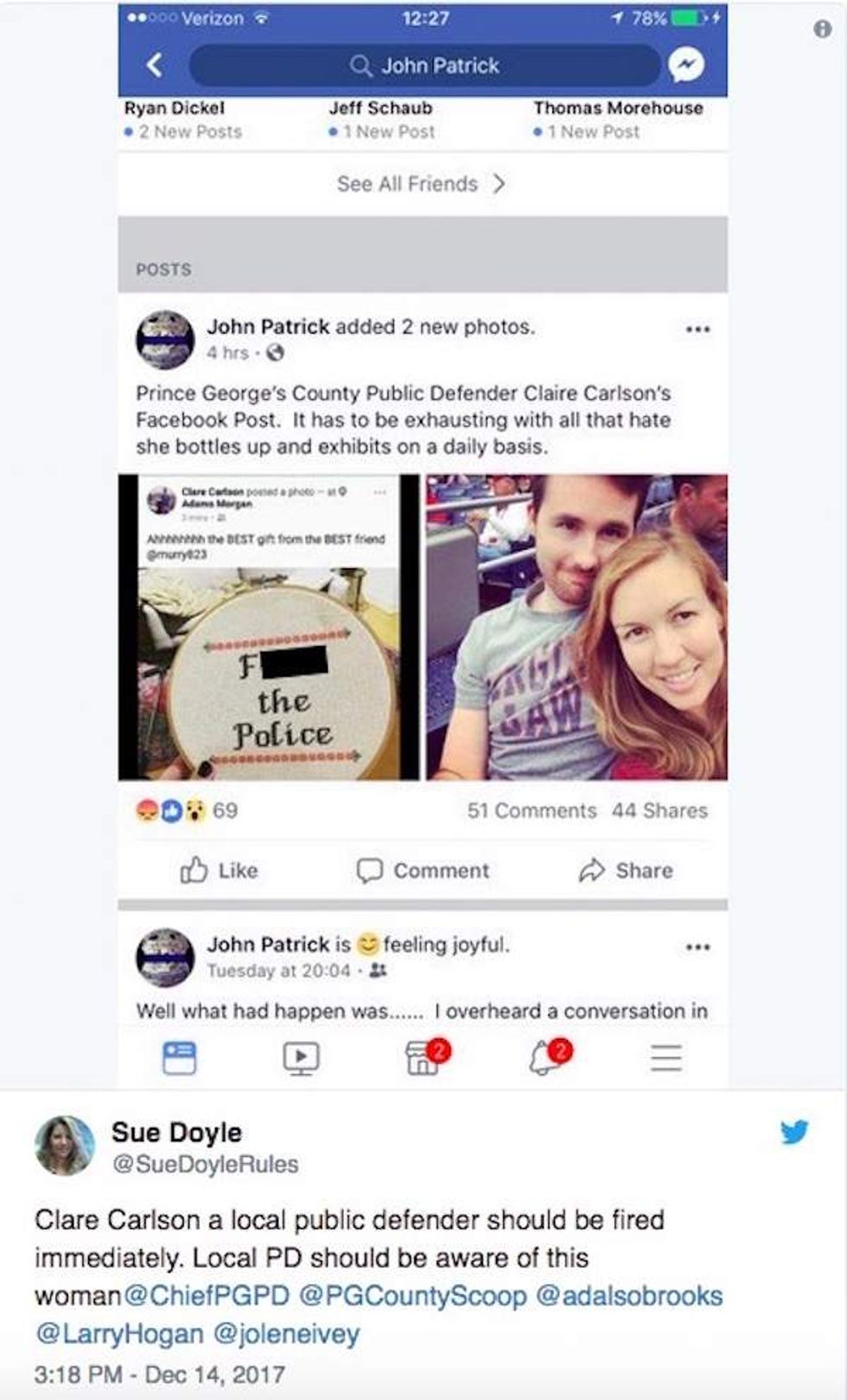 Image source: Twitter, redacted
The outlet reported in a separate story that Carlson took down the post — but not before others shared it.
Several Prince George's County police officers told Blue Lives Matter they contacted the state's attorney's office to complain.
"I think some people in our office may have seen it," John Erzen, the office's communication director, told the outlet. "We certainly don't condone that type of post. That's certainly not a belief that our office shares."
Blue Lives Matter noted several guidelines from the social media policy of Maryland's Office of the Public Defender, which DeWolfe told TheBlaze were accurately quoted. The following are two of them:
The Office of the Public Defender expects their employees to observe a standard of conduct that will not reflect discredit on the abilities or integrity of their employees, or create suspicion in reference to their employees' capability in performing their duties and responsibilities.

Please do not post or link to any materials that are defamatory, harassing, or indecent that may reflect badly on the OPD.
Carlson on Tuesday didn't immediately respond to TheBlaze's request for comment.