The Department of Labor released its latest jobs numbers Friday, and it beat analysts' expectations. According to the report, the economy added 200,000 jobs, and unemployment stayed flat at 4.1 percent in January.
Economists predicted the addition of 180,000 jobs.
January marks the 88th straight month of job growth. For 2017, jobs grew at an average of 181,000 per month, though in December, employers added only 148,000 jobs.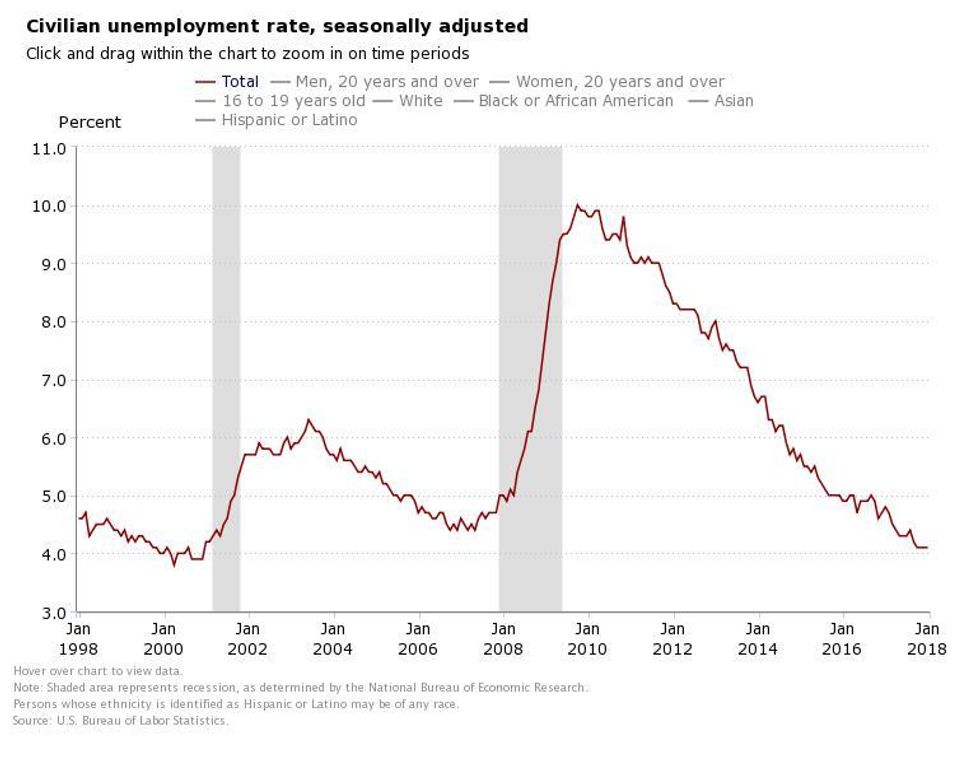 (Image source: Department of Labor)
What industries showed the most growth?
● Food services, which includes drinking places, added 31,000 jobs. The industry has added 255,000 jobs over the past 12 months.
● Health care added 21,000 jobs in January. Hospital employment rose by 13,000 in January with an average of 24,000 added each month in 2017.
● Manufacturing employment continued growing, adding 15,000 jobs. The industry, particularly fabricated metal products, machinery, and computer and electronic products, saw an increase of more than 186,000 jobs last year.
Other industries that showed little change last month include mining, wholesale trade, retail trade, transportation and warehousing, information, financial activities, professional and business services, and government.
What about earnings?
Year-over-year average earnings increased by 2.9 percent from December 2016 to December 2017.
A separate report showed private-sector wages and salaries rose 2.8 percent during the fourth quarter of 2017, compared with a year earlier, marking the fastest growth since the recession, the New York Times reported.
What are the long-term predictions?
Accenture, a global consulting firm, predicts technological advances, especially in automation, will lead to a 10 percent increase in jobs over the next three years, according to Ellyn Shook, the company's chief leadership and human resources officer.
What about the unemployment rates for black Americans and Hispanics?
Black Americans unemployment in December was 6.8 percent but rose nearly a point to 7.7 percent in January.
Hispanic unemployment showed little change, ticking up slightly to 5 percent in January from 4.9 percent in December.
How are the rates calculated?
The Labor Department bases its job growth estimates on a sample of employer payrolls. As new information comes in it will be revised.
The unemployment rate is calculated based on a separate survey of households.