CBS News tweeted a video Monday with accompanying text that stated, "In Florida, it's easier to buy an assault rifle than it is to obtain cold medicine."
In the wake of the deadly mass shooting at a Parkland, Florida, high school last week, the CBS News video offered a series of screenshots with related statements. The clip noted that "some posts on social media are alleging that guns are easier to buy in Florida than some household products."
The next line said, "Here's what's more difficult to purchase than a gun in Florida."
The video noted the cold medicine, Sudafed, which — since it contains pseudoephedrine that can be used to manufacture methamphetamines — can be sold only from behind pharmacy counters to customers with identification proving they're 18 and that there's a limit to how much can be purchased per month.
The video followed with a screenshot saying, "In Florida, you can buy as many guns as you want at one time, according to the National Rifle Association's Institute for Legislative Action."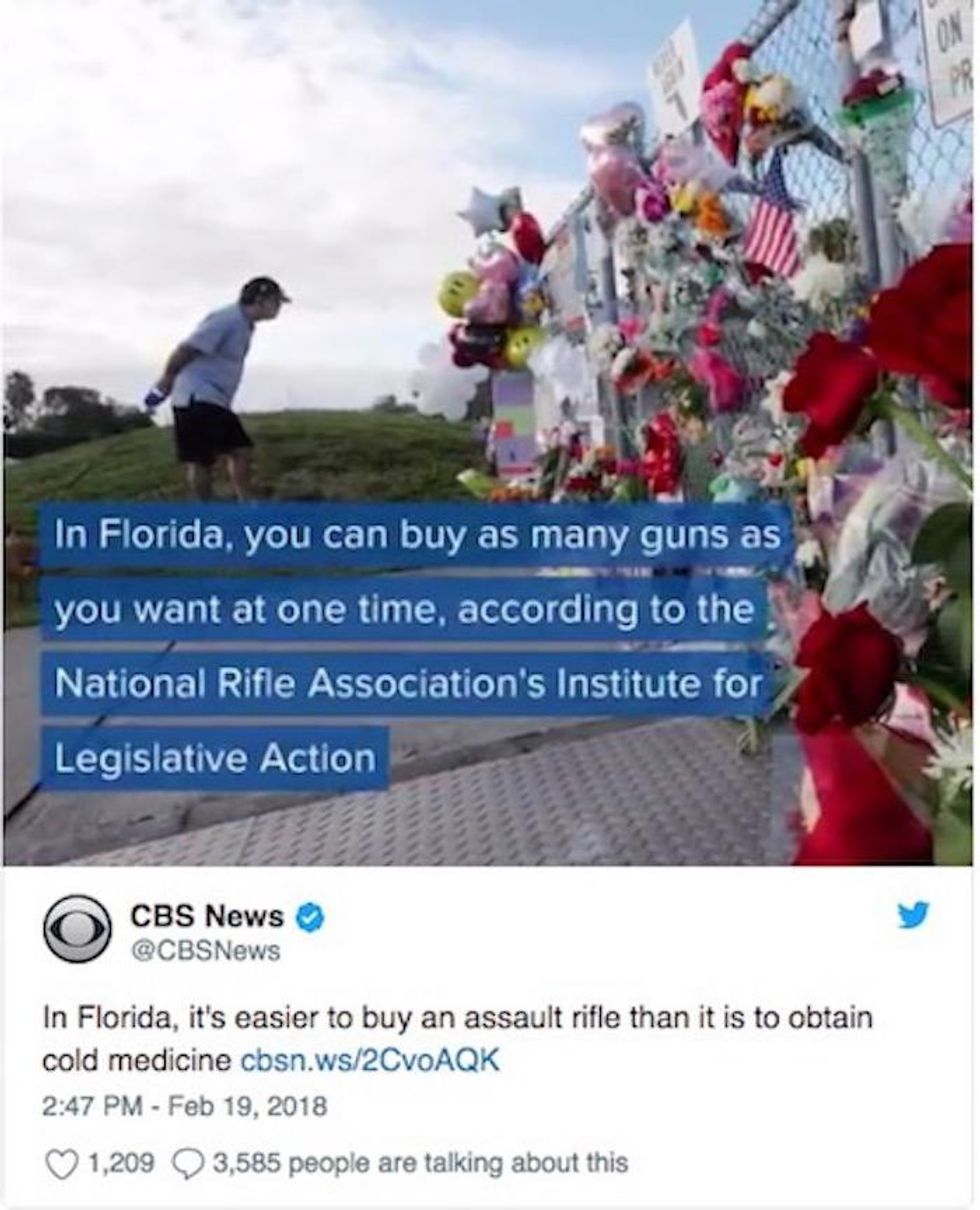 Image source: Twitter screenshot
It added, "You also don't need a permit to purchase a rifle or shotgun."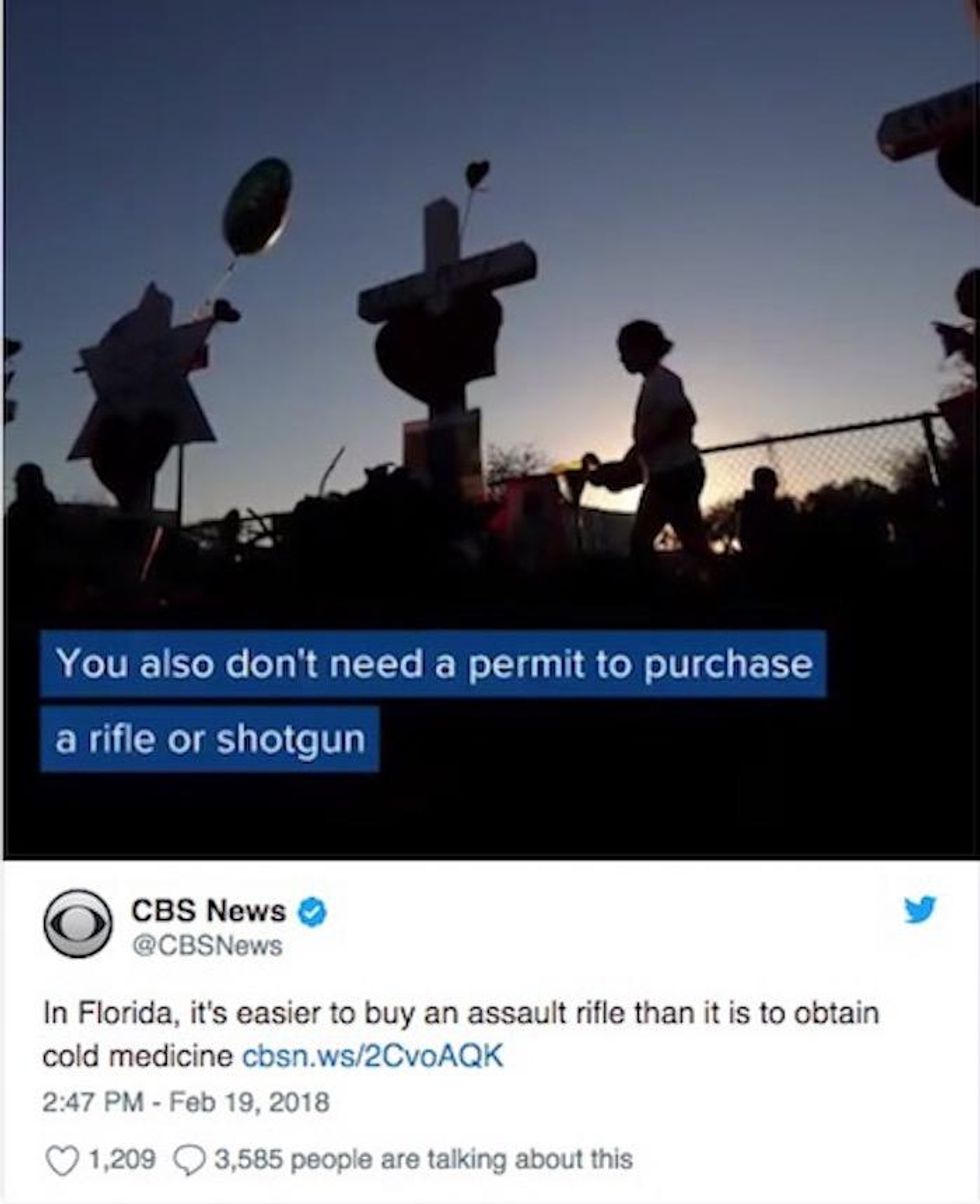 Image source: Twitter screenshot
The clip went on to note the relatively strict regulations on purchasing fertilizer (because it contains ammonium nitrate, which can be mixed with other substances to create explosives) and even anti-diarrhea medication — the implication being that purchasing the latter is more difficult than buying an "assault rifle."
So what's this about it being easier to buy an 'assault rifle' in Florida than purchasing items like Sudafed?
First, if by "assault rifle" CBS News means an automatic rifle, such guns made after 1986 have been almost universally illegal to own for quite some time. Legal fully automatic weapons must be registered with the Bureau of Alcohol, Tobacco, Firearms and Explosives. And private citizen wishing to obtain one must undergo extensive background checks. In contrast, the AR-15, which was used by the Florida school shooter, is a semi-automatic rifle, which can fire only one round per trigger pull. Such guns, because of their cosmetic features, are often called "assault weapons" — not "assault rifles."
Further, the CBS News clip offered two sentences apparently to back up its "easier to buy" claim but failed to mention a host of requirements connected to purchasing a gun in Florida:
You need to prove you're 18.
If you don't already have a concealed carry license, there's a three-day waiting period for handgun purchases.
You can't be a convicted felon, drug addict, alcoholic, mental incompetent or a vagrant, the NRA notes.

And as you probably already know, you have to pass a

background check via Federal Form 4473 and wait for your  name to run through the National Instant Criminal Background Check System.
A related CBS News article with a decidedly broader headline ("5 things that are more complicated than buying a gun in Florida" — as opposed to "assault rifle") also was posted Monday and included an editor's note: "This piece was edited to add details about the waiting periods required for handgun purchases and some rifle purchases, which were absent in earlier versions."
But the "easier to buy an assault rifle" tweet from CBS News? It was still active Tuesday afternoon.
CBS News on Tuesday afternoon didn't immediately reply to TheBlaze's request for comment on why the tweet in question was still active or unedited and why there was a disparity between the tweet and the CBS News article.
(H/T: Truth Revolt)