The Ohio sheriff who offered a free concealed carry class to teachers in the wake of the deadly mass shooting at a Florida high school said there was "a heavy demand" to secure spots for the training — and that the American people can't wait around for the federal government to solve the issue of school shootings.
"We put it online, we thought we'd get 20 school teachers maybe," Butler County Sheriff Richard K. Jones in an interview with "Fox & Friends Weekend" on Sunday. "Within 20 minutes, we had 40. Within an hour, we had 100. Within four hours, we had 200. By the next morning at 300, we cut it off."
If you listen 2 media teachers do not want to carry weapons in schools. We have over 300 said want 2.

— Richard K. Jones (@Richard K. Jones) 1519480173.0
Jones added that time is of the essence.
"We have to do something here because we can't wait for our government to do anything," he said. "All they do is fight, they get nothing done."
Were teachers the only school employees who wanted the sheriff's gun training?
Nope. Jones added that his office received inquiries from secretaries and maintenance people and opened up the training to them as well. He also told the Fox News program that the class starts Monday and that he anticipates training 140 people by the end of this week.
Why does the sheriff support arming teachers?
"We've got four minutes, you guys — that's all we have — before the shooting stops," Jones said. "The police get there in six to eight minutes ... we can't stop the school shootings, we can't stop guns from being manufactured, but we've gotta do something. We've gotta make the schools more of a harder target, and we've gotta make them safe."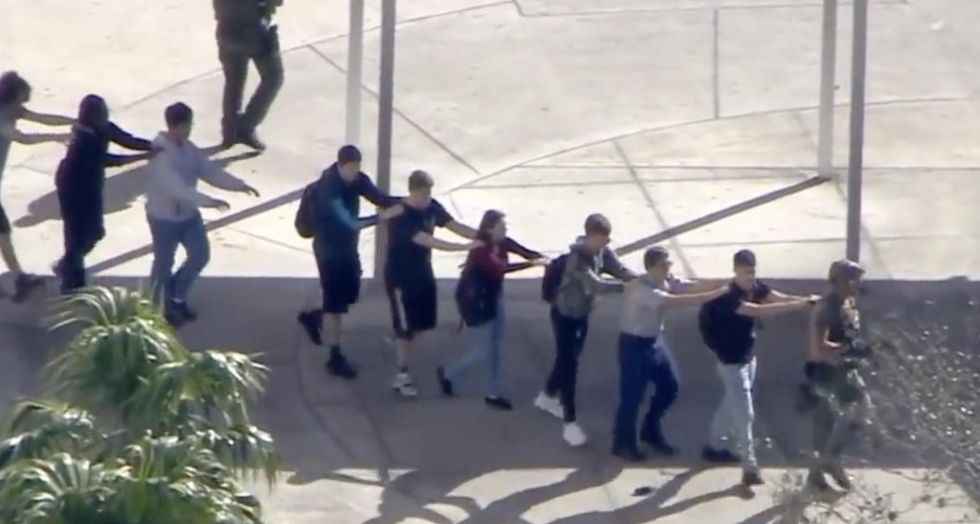 Image source: YouTube screenshot
Jones said teachers who carry in schools must go through training so they know basics such as what gunfire sounds like and where it's coming from.
"It is reality," he said, adding that when one is defenseless against a school shooter "the only alternative you have at that point is to beg for your life or hide."
What does Ohio law say about teachers carrying guns in schools?
Jones said it's legal for Ohio teachers to carry guns in schools — provided that their school boards "have the guts to make it a reality."
He added that about 240 school districts across the U.S. allow teachers to carry guns on campus and that only a few in Ohio allow it.
What about concerns related to arming teachers?
When the issue of gun-related mishaps and accidental discharges were brought up, Jones noted that those same accidents happen with police officers who've been trained.
"Listen, in Florida you found out that the sheriff's deputies, four of them didn't even respond, they were hunkered down behind a car," he said. "If there had been a teacher inside [with a gun] that might have made a difference ... we've got to make our schools safe for the kids — it's a soft target.
(H/T: Zero Hedge)