The handgun used in a Maryland high school shooting Tuesday — which authorities said was not a random act — was legally owned by the suspect's father, the St. Mary's County Sheriff's Office told the Baltimore Sun.
Austin Wyatt Rollins, 17, brought a Glock 9-millimeter handgun to Great Mills High School in Lexington Park and opened fire in a hallway at about 7:50 a.m., injuring a 16-year-old girl and striking a 14-year-old boy, the sheriff's office told the paper.
A school resource officer fired at Rollins, who later died. The officer, Deputy First Class Blaine Gaskill, was not injured, the Sun reported.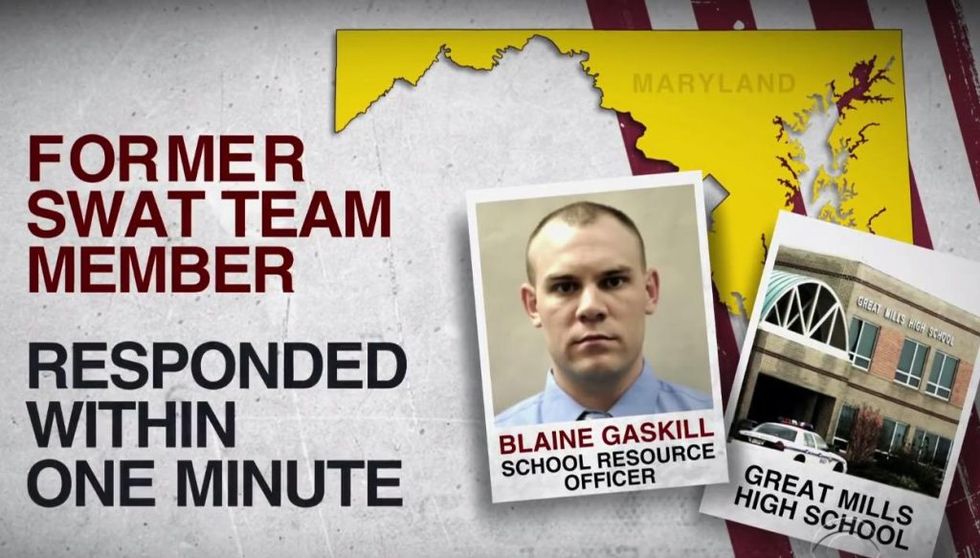 Image source: YouTube screenshot
More from the paper:
The 16-year-old victim of Tuesday's shooting — identified by family as Jaelynn Willey — remained in critical condition Wednesday morning at the University of Maryland Prince George's Medical Center, according to a hospital spokesman. She was "gravely injured," according to the sheriff's office.

The 14-year-old boy — identified as Desmond Barnes — was discharged from MedStar St. Mary's Hospital on Wednesday, hospital officials confirmed. He was shot in the leg.
The sheriff's office also said the shooting wasn't random and that evidence indicates Rollins and Willey had "a prior relationship which recently ended," the Sun reported.
Authorities didn't offer further information about the handgun used in the shooting, the paper said, including when and where it was purchased or how Rollins got hold of it.
But Sheriff Tim Cameron said the investigation would include searching a car and a home, interviewing witnesses, reviewing security camera footage, determining which bullets struck whom and combing through social media, the paper added.
What did a gun control advocate have to say?
Jen Pauliukonis, president of Marylanders to Prevent Gun Violence, told the Sun the incident underscores child access to firearms and that a 2004 report from the U.S. Secret Service and Department of Education found that 68 percent of school shooters used a gun from their own home or a relative's home.
"Adolescence is a time when young people struggle with many different issues," she told the paper, noting anger and depression are among them. "And we have to make sure that as parents, we are protecting our adolescents when they are going through these times of crisis so that they don't have access to firearms that will compound these issues and create a violent end."
What about Maryland's gun-control laws?
State law prohibits individuals from leaving loaded firearms where they know or should know unsupervised children under 16 can gain access to them, the Sun noted, adding that violators face a misdemeanor charge and a fine of up to $1,000.
While Rollins was 17, Pauliukonis told the paper lawmakers should "evaluate" the age "gap" when it comes to older teens.
What's more, the handgun Rollins used is difficult for adults to buy under the state's tough gun-control laws, the Sun reported in an earlier story.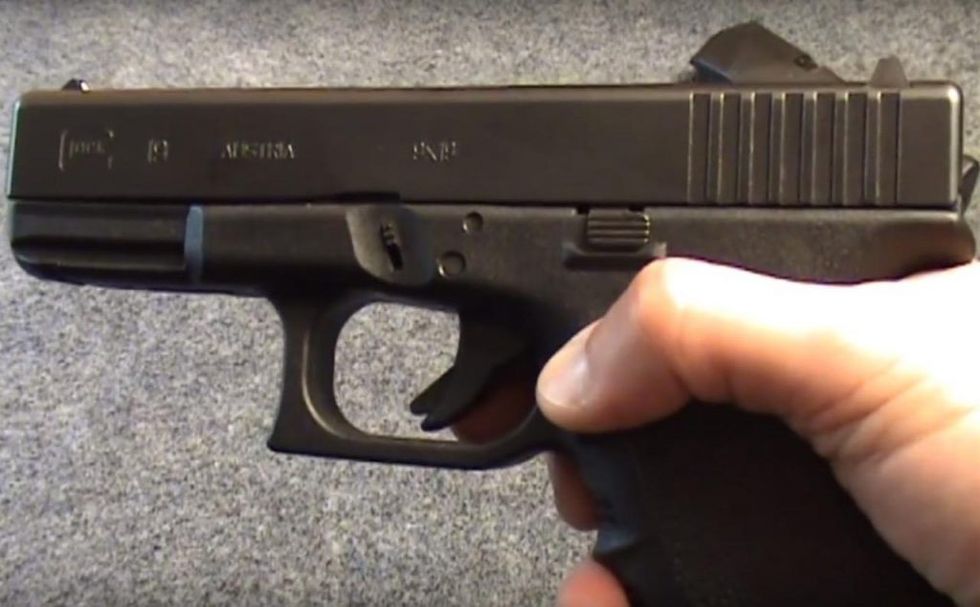 Glock 9mm handgun (Image source: YouTube screenshot)
Maryland's state legislature passed a law in 2013 requiring fingerprinting, four hours of training, a $50 fee and an extensive background check to get a handgun license, the Sun said.
In addition, once buyers have a license, they're subject to the state's other handgun laws, which require buyers to be at least 21 years old as well as a seven-day waiting period, the paper reported, adding that buyers may only purchase one gun per month unless they hold a special collector's license.
More from the Sun:
Gun-control advocates at the time praised the handgun licensing provision as the most effective way to curb gun violence because it would deter so-called straw purchases — when people buy handguns on behalf of those barred from owning them. A dozen states have such handgun permit laws.

The law passed in 2013 also exempts all gun ownership records from the state's Public Information Act laws. Previously, the Maryland State Police would release information about how many and what type of firearms were owned by people involved in crimes. Now they do not.
(H/T: Bearing Arms)