Victor Skormin, an engineering professor for the State University of New York at Binghamton, said he doesn't shy away from making "funny and sarcastic statements" in the classroom, WBNG-TV reported.
But now Skormin may have issued one quip too many.
After receiving a mass email last week from the campus chapter of the National Society of Black Engineers promoting a fundraiser dinner, the station reported that Skormin hammered out the following response: "Please let me know about a dinner of the National Society for White Engineers."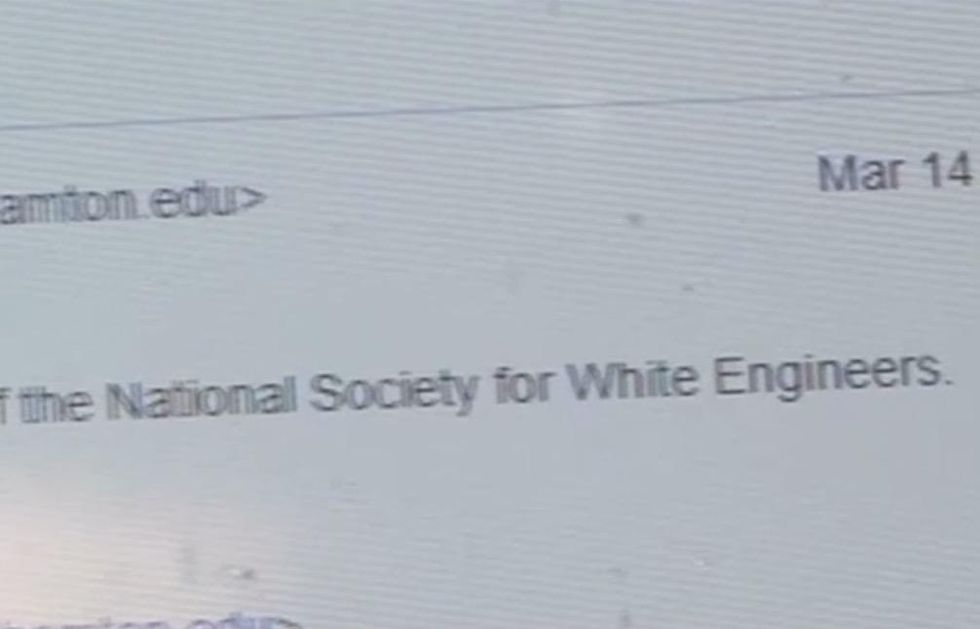 Image source: WBNG-TV video screenshot
And it was on.
"I was very surprised that it was an actual professor in the department who said it," student Austin Ward told WBNG.
Student Gregory Wint added to the station that he was "saddened" by Skormin's remark: "He's the teacher. I think on some things he needs to be taught."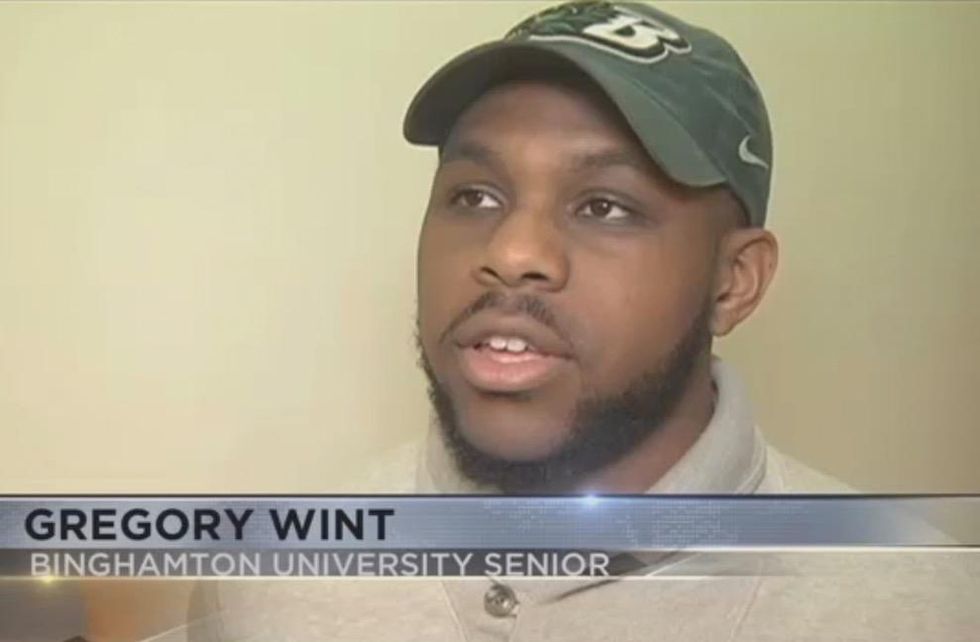 Image source: WBNG-TV video screenshot
Binghamton University President Harvey Stenger released the following statement, WBNG said:
The Provost and I find the email sent yesterday afternoon by Professor Skormin to this department listserv to be deeply offensive. Both Professor Skormin's comment and the platform used are inappropriate. Clearly, this is neither the level of professionalism that we expect from members of the Binghamton University community nor is it compatible with the University's commitment to diversity and inclusion. We support the mission of the students and faculty active in the National Society of Black Engineers and recognize the important contributions they make to the University, their disciplines, and our society. We condemn his commentary and hope that he understands the pain that he has caused.
While Skormin told the station he's confused as to why others considered his words offensive, he did send out the following apology to students and staff:
In my long tenure at Binghamton University, I always enjoy talking to students encouraging them to excel in their education and careers. I always emphasize my belief that all people have relevance in this world and deserve the best chance at opportunities. As the subject I teach is not an easy one, I often make funny and sarcastic statements, helping students to "recharge" their attention mechanisms. People who know me personally, can testify that such statements are never offensive, sometimes funny, and the most important, do enhance the learning experience. Unfortunately, in a recent email, this was not done in the best judgment. I left room for the misinterpretation of the statement, and consequently the statement was grossly misplaced. I did not intend to offend any of my past, present or future student recipients, nor any of my colleagues. Please rest assured that the impact of the message did not reflect my intent. To any and all who have been in receipt of the email, please accept my personal and professional apologies.
Skormin is on the left in the following photo:
Welcome Prof Victor Skormin guest presenter in our Cybersecurity Speaker Series http://t.co/eUr9Q3MTgR

— FedEx Institute of Technology (@FedEx Institute of Technology) 1439495005.0
But Skormin's apology wasn't sufficient for Ward, who told WBNG he found it "pretty despicable. It's not a joke, it's not funny."
And while some have called for Skormin's firing, Siaki Tetteh-Nartey — who's with the National Society of Black Engineers on the Binghamton campus — told the station such a move isn't necessary.
"A dialogue about why these groups are still relevant in this day and age, in addition to what they do, may be more of an effective tool," Tetteh-Narety told WBNG. "We cannot expect people to learn from their misstep if we do not sit down with them. He did apologize and says that it was meant to be sarcastic, but even those words hit a chord with the community enough that there had to be responses. Maybe we can be more mindful of what we say especially when we lose the chance to display tone when the internet is involved."
Skormin posted the following comment Friday to story in the school newspaper about the controversy.
"Thank you for not proposing to lynch me or subject to Holocaust," he wrote. "I am sure that should it be a Society of Fat Engineers, or similar, there will be no unnecessary excitement and wrath. I guess, some people feel so insecure that lost sense of humor. BTW, the sense of humor is the most difficult thing to replicate in computers. As a part of the University, I stand for inclusiveness and if you are looking for segregationists, do not look in my direction. I am very proud of my graduates who are highly productive and successful."
(H/T: The College Fix)