A very, very upset woman spent nearly three minutes huffing, puffing, and screaming at a pro-life demonstrator who had the sheer audacity to meekly, but firmly, state his Christian beliefs against abortion.
The incident was caught on camera and posted to Abolish Human Abortion's Facebook page, which boasts over 50,000 followers. The Christian organization shared the video to its Facebook page on Monday, and at the time of this writing, the video has amassed over 7,000 views.
What are the details of the incident?
The video begins from a first-person filming point of view from a man demonstrating — holding a pro-life sign on a city sidewalk — against abortion.
Three people can be seen engaging with the man, each of whom do not appear to hold the same pro-life values as the man. These three people, however, remain relatively calm while talking with the demonstrator.
Things go quickly awry when a woman — who, at first, cannot be seen in the video's frame — rushes the demonstrator and attempts to grab his sign away from him, nearly tackling him in the process. Almost immediately out of the gate, the woman is screaming and irate.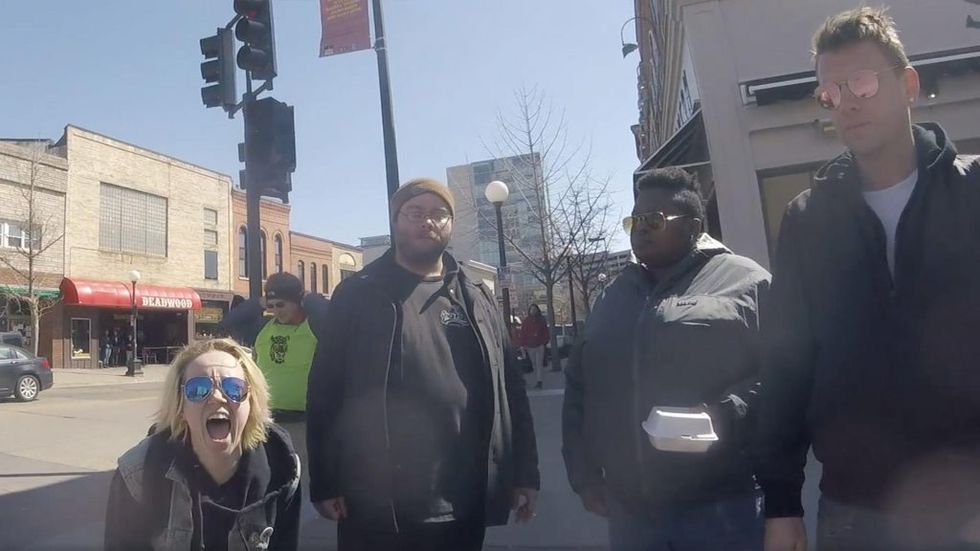 Image source: Facebook video screenshot
The unhinged woman's words are barely intelligible throughout the scuffle, and the only things you can really make out clearly are variations of "F*** you!" and "Go home!"
The man goes on to very calmly tell the woman that she has a lot of anger issues. The woman responded by affirming that she is angry, and the man clearly is not, because he is a privileged white male.
"Why wouldn't I be? You're a piece of f***ing s***!" she screams. "Go home! Pack up your s*** and leave! We don't need that bulls*** here!"
She adds, "I am a f***ing woman of this world!"
When the pro-life demonstrator attempts to reason with her, showing his Christian point of view to her, the unidentified woman goes on to further detail her own selfishness.
"I care about my life!" she screams. "That's not a child — that's a lump of cells that has yet to be born!"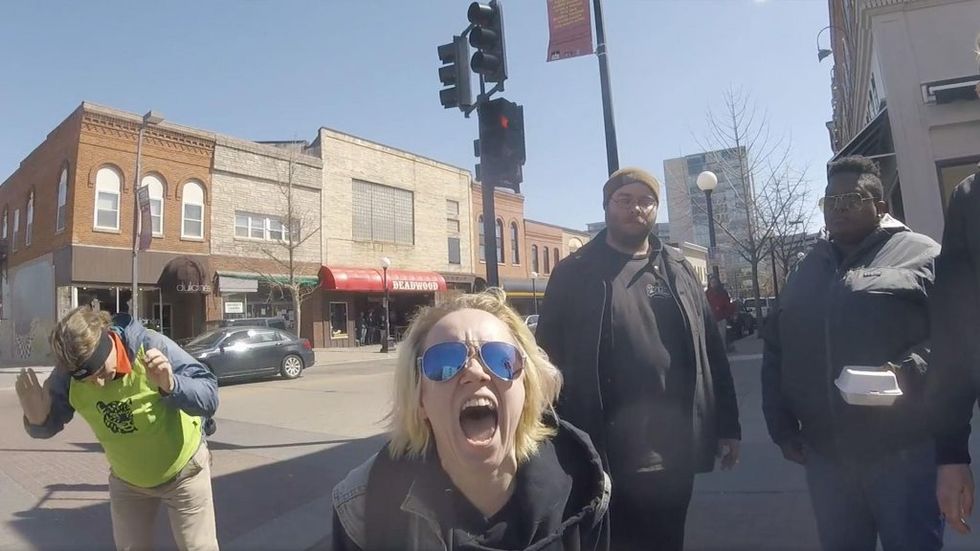 (Image source: Facebook video screenshot)
She continues screaming at the demonstrator, and once again goes after his sign after bringing a spray paint can out from her backpack and nervously and compulsively shaking it for what seems like ages.
She climbs up on top of a bench and starts shouting "Go home! Go home! Go home! Go home!" all while continuing to shake the can of spray paint.
People gathered at the scene begin quickly walking away from the scene after she shouts "Go home!" at least 23 times in succession.
All the while, she continues shaking the spray paint can, as if she's actually going to do something with it.
Throughout the ordeal, the man remains calm and speaks to the attacking, verbally abusive woman in a relatively kind and completely respectful manner.
Toward the end of the video, a man can be seen approaching the pro-life demonstrator — a man who appears to be a fellow Christian — and offers support and prayer for the pro-life demonstrator.