A Pennsylvania Democratic congressional candidate took apart a Smith & Wesson M&P 15-22 rifle and tossed the pieces into a fire as part of a campaign video released Wednesday, PhillyVoice reported.
George Scott — a retired U.S. Army lieutenant colonel and a pastor — is challenging Republican U.S. Rep. Scott Perry in the newly-formed 10th Congressional District, the outlet said.
As Scott began dismantling the rifle in the video, he noted that he was "trained to use guns like these" but "Donald Trump's loyal soldiers like Scott Perry exploit guns and God to score political points."
Image source: YouTube screenshot
Then he began throwing pieces of the rifle into a campfire and said he "believes in common sense and not blind loyalty" and noted that he's for "gun safety to better protect our children and our communities."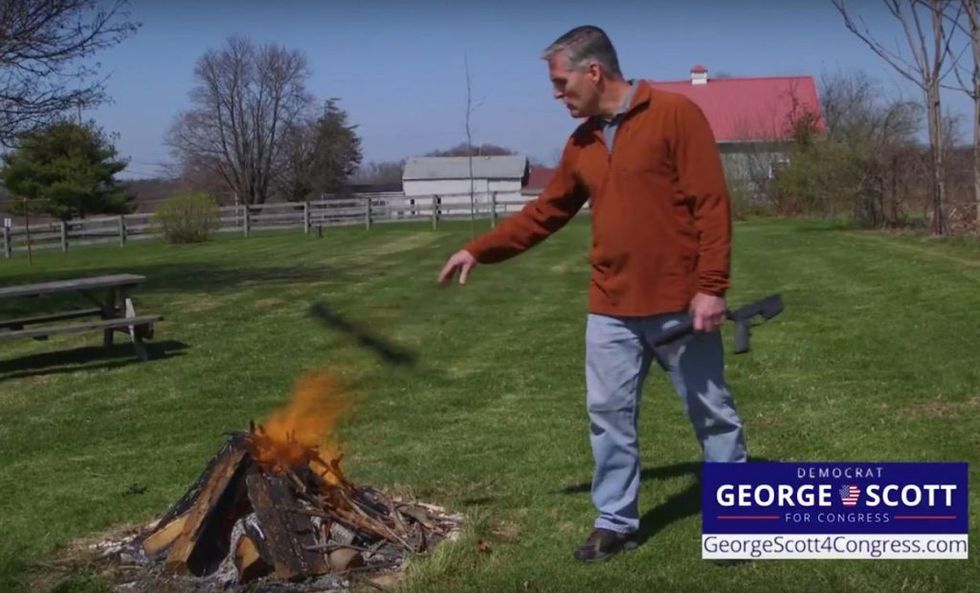 Image source: YouTube screenshot
Accompanying video text indicated Scott also supports "mandatory background checks" and wants to "ban assault rifles meant for war."
Scott is running against three other candidates for the Democratic nomination to challenge Perry, a three-term incumbent, PhillyVoice reported, citing PoliticsPA. The primary election is May 15.