© 2023 Blaze Media LLC. All rights reserved.
Three Americans freed from N Korea meet with President Trump during emotional homecoming
The three Americans who had been imprisoned in North Korea and were released Wednesday arrived in the U.S. early Thursday morning.
When the former prisoners arrived at Joint Base Andrews in Maryland with Secretary of State Mike Pompeo, they met with President Donald Trump and First Lady Melania Trump.
On behalf of the American people, WELCOME HOME! pic.twitter.com/hISaCI95CB

— Donald J. Trump (@realDonaldTrump) May 10, 2018
Who are the former prisoners?
Kim Dong Chul, Kim Hak Song, and Kim Sang Duk — also known as Tony Kim — are the three U.S. citizens who were held prisoner by Kim Jong Un's regime.
Kim Dong Chul, an American pastor born in South Korea, had been detained in North Korea since 2015. In 2016, the North Korean regime sentenced the pastor to 10 years hard labor — after a one-day trial — for allegations that he was attempting to meet with a North Korean ex-soldier to intercept classified information.
Additionally, the North Korean regime accused him of working with a South Korean spy agency.
Chul was reportedly the longest-held U.S. detainee in North Korea.
Getty Images
The North Korean regime detained Kim Hak Song and Kim Sang Duk in 2017 on suspicion that the two were carrying out "hostile acts" while working at Pyongyang University of Science and Technology.
The university is run by an American Christian and is funded by Christian charities.
It is unknown at the time of this writing whether two men had been sentenced for their alleged crimes against the North Korean regime.
What do we know about their return?
As the men exited the plane, they smiled widely, threw peace signs, and clapped, clearly overjoyed to be returned to U.S. soil.
The Trump administration expressed their pleasure with the North Korean leader's action via a statement by White House Press Secretary Sarah Huckabee Sanders on Wednesday.
"[The president] appreciates leader Kim Jong Un's action to release these American citizens, and views this as a positive gesture of goodwill," Sanders said. "The three Americans appear to be in good condition and were all able to walk on the plane without assistance. All Americans look forward to welcoming them home and to seeing them reunited with their loved ones."
The trio of men released a statement of their own, thanking the president for their freedom.
"We would like to express our deep appreciation to the United States government, President Trump, Secretary Pompeo, and the people of the United States for bringing us home," the statement read. "We thank God, and all our families and friends who prayed for us and for our return. God Bless America, the greatest nation in the world."
The three men were scheduled to be taken to Walter Reed for medical evaluations after meeting the president Thursday morning.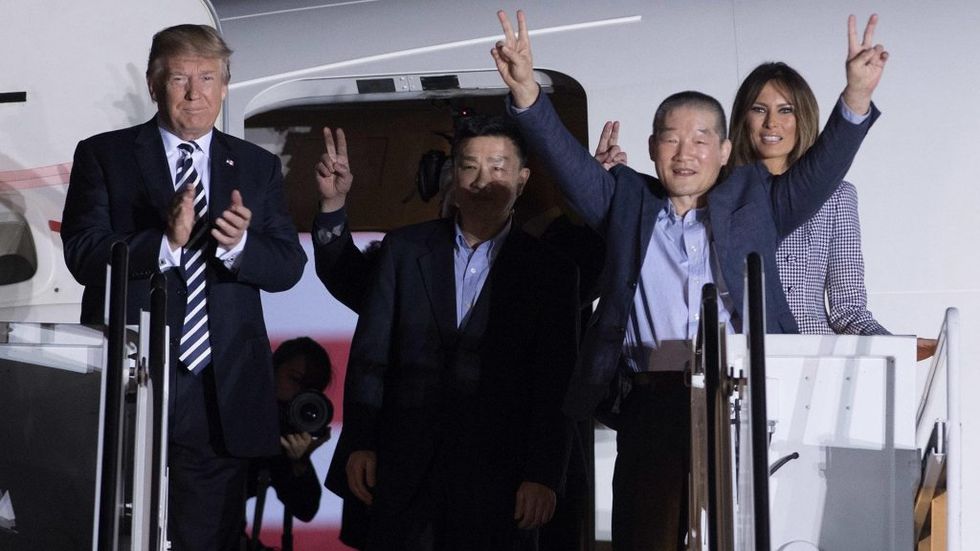 Getty Images
What happened when the men met Trump?
The three former prisoners joined Trump on the tarmac at Andrews and were surrounded by cameramen and journalists eager to get a first glimpse at the joyous occasion.
In his remarks, Trump said, "The fact we were able to get them out so soon was a tribute to a lot of things. I just want to say, this is a special night."
"I'm very honored to have helped these great folks, but the true honor is going to be if we have a victory in getting rid of nuclear weapons," the president continued. "We have a meeting scheduled in a very short period of time. We have the location set. We'll see if we can do something that people did not think was going to happen for many, many years."
Want to leave a tip?
We answer to you. Help keep our content free of advertisers and big tech censorship by leaving a tip today.
more stories
Sign up for the Blaze newsletter
By signing up, you agree to our
Privacy Policy
and
Terms of Use
, and agree to receive content that may sometimes include advertisements. You may opt out at any time.