Matt and Michelle Belliston bought an old Presbyterian church in Pittsburgh's Greenfield neighborhood in 2016 because they had a vision of producing "family-friendly community theater," KDKA-TV reported — and the Palisade Playhouse was born.
"I grew up with a community theater near me that edited shows to make it appropriate for all ages, PG shows, and I really liked that," Matt Belliston noted in a video on the Playhouse's Facebook page, the station said.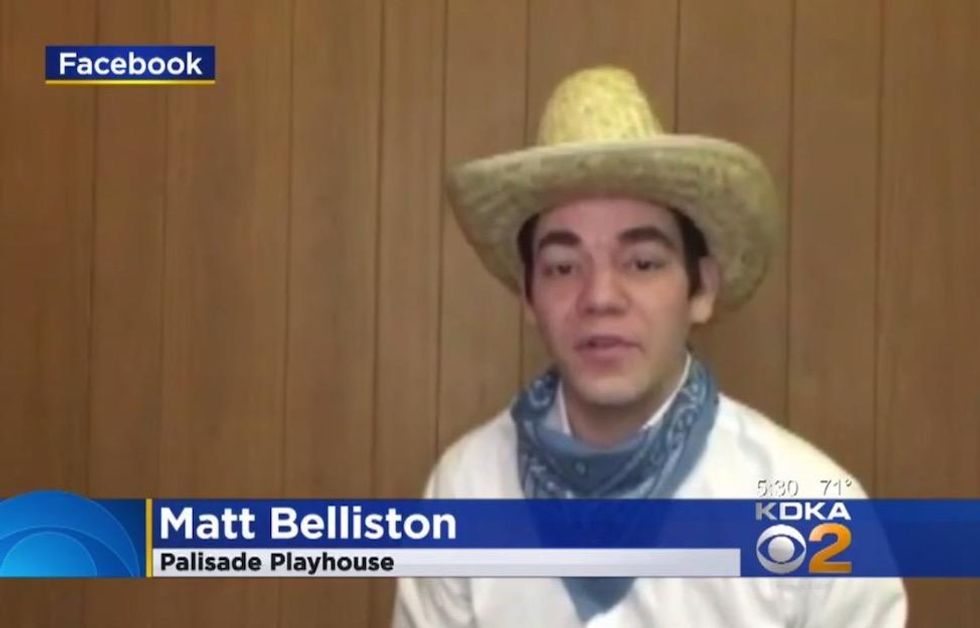 Image source: KDKA-TV video screenshot
Well, it appears the Bellistons' stand on what is and is not "family-friendly" led to the resignation of a director and some actors — and ultimately the cancellation earlier this month of the musical, "Big Fish."
And the flap was all over the portrayal of a pair of gay characters.
What happened, according to the Bellistons?
A statement on Palisade Playhouse's website said the "Big Fish" director and the Bellistons — the theater's founding producers — agreed to add a same-sex couple holding a baby in a scene.
But the director subsequently wanted the scene enhanced by "singling out the gay couple" and having a character sing to the same-sex couple as "an important political statement," the Playhouse website continued.
"For us, the point of the scene was not to make a political statement but focus on the main character's wonder over becoming a father," the Playhouse statement noted. "We would have objected to that blocking of the scene had the lead character focused on any couple heterosexual or same-sex or an individual. And we would have objected to politicizing the scene, regardless of the issue. That is not what the scene called for."
The Playhouse added on its Facebook page that this "added moment of focus created [a] question about whether the director's addition would convey a message about gay marriage in a way that would be seen as inclusive to some but exclusive to others."
More from the Playhouse's website statement:
This was a creative difference that the director used as an opportunity to slander us, lead a campaign to dissuade the actors and stage-hands from participating in the production. Unless the scene was performed exactly as he wanted, he threatened to go to the press. He did all this to seek to raise his profile and sympathy from other theaters toward his personal brand. In fact, the national theatre community, including Broadway, has been fed false facts about the creative difference and, as a result, there is now a national campaign against our tiny theatre.
Indeed, after the dispute, director Nik Nemec and some cast members resigned, KDKA reported, and the Bellistons decided to cancel the musical, which was scheduled to run from June 15 to June 30. Nemec had no comment, the station reported.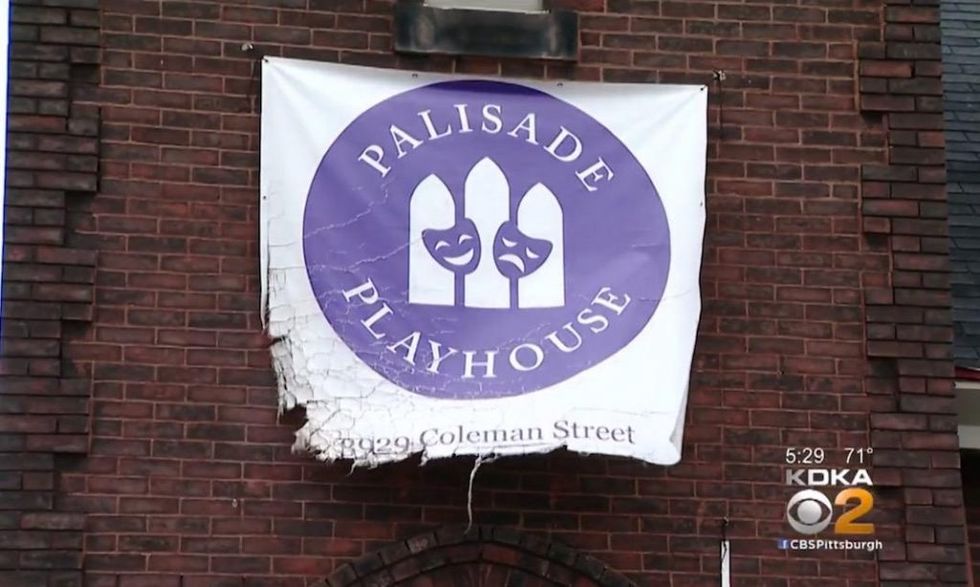 Image source: KDKA-TV video screenshot
What did the creators of 'Big Fish' have to say?
John August and Andrew Lippa — the creators of the musical — said in a statement to BroadwayWorld that they support what the "Big Fish" director wanted to do in the scene at Palisade Playhouse.
But it isn't clear if August and Lippa understood that the Bellistons said they weren't against having gay characters — only the alleged "political" enhancement of it:
This week we learned that an upcoming production of BIG FISH at the Palisade Playhouse in Pittsburgh has been canceled over a disagreement between the director and the theatre. Specifically, the director planned to include a same-sex couple as part of the background action during the song "Stranger."

In defending their decision, the theatre argues that, "the script did not include any reference to the LGBT+ community." That's correct; nowhere in the script does it say that any character is gay or lesbian or trans. But nor does it say they aren't. A director's decision to signal that two silent characters are same-sex parents isn't changing the text. It's providing context and framing. It's directing.

BIG FISH is a musical about parenthood, family and love. These are shared experiences of all human beings.

The theatre continues: "This added moment of focus created questions about whether the director's addition would convey a message about gay marriage in a way that would be seen as inclusive to some but exclusive to others."

Which feels another way of saying, "We didn't want to risk offending anyone."

And look, we get it. BIG FISH has been produced hundreds of times in the U.S. in part because it's so family-friendly and unlikely to offend. There's no sex or violence. In some cases, we will allow for words to be changed or omitted. We do this because we want as many people as possible to get to experience it — both as an audience and as part of a production.

But "family-friendly" shouldn't mean ignoring reality. Let's remember that in America there are all kinds of families, including ones with two dads, two moms, people of all gender identity, color and creed. Family-friendly is something bigger than it once was.
TheBlaze reached out to August asking if he and Lippa understood that the Bellistons said they weren't against having gay characters in the scene, just what they termed as the director's added politics, but August has not replied.
How are other observers reacting?
The Playhouse's Facebook page statement about the "Big Fish" cancellation — which August and Lippa referenced — isn't as clear about the Bellistons' misgivings regarding the scene as what their website statement spells out, as it doesn't mention the director's alleged political motivations.
The result on the Playhouse's Facebook page? Over 100 comments, many decidedly against the theater:
"This is so shameful. Bigotry, homophobia abound here. You should close your theater."

"Homophobia and bigotry have no place here!"

"How friendly is it to discredit families that aren't exactly like yours? Your bigotry is transparent. Why can't you just admit it. God doesn't like liars."

"

Palisade Playhouse should be boycotted until they can get whomever is running it and involved in this debacle to resign and issue a new statement that doesn't attempt to rationalize the barely-veiled homophobia."
What else did the Bellistons have to say?
"Destroying our tiny theatre which only has a 175-person capacity and blacklisting our LGBT+ volunteers and staff and anyone who works with us — including the two actors who had agreed to portray a gay couple — does not help the cause of artistic diversity and certainly does not help our community," the Playhouse website statement also said.
The Bellistons have not responded to TheBlaze's request for comment on the matter.