Amid the media and other folks losing their minds over President Donald Trump calling the notorious MS-13 gang "animals," wouldn't you know one of them who bragged about killing a teen boy goes by that very nickname?
Joel "Animal" Martinez, 23 — who was fully inducted into the MS-13 gang after slaying the 15-year-old — earned himself 40 years behind bars for the crime, The Associated Press reported.
Martinez — a native of El Salvador who lived in Boston — was sentenced Tuesday, the outlet said, citing federal prosecutors in Massachusetts.
He pleaded guilty in December to a racketeering conspiracy, which included the September 2015 killing of 15-year-old Irvin Javier de Paz Castro, the AP added.
Prosecutors said Martinez admitted being associated with MS-13 and bragged about the stabbing in a secretly recorded conversation, the outlet reported.
"I stabbed the culero three times," Martinez said in the recording, Fox News reported, citing the U.S. Attorney's Office. "He stared at me and he asked me if I was going to, if I was going to stab him. I told him, 'Yes, the Mara rules you.'"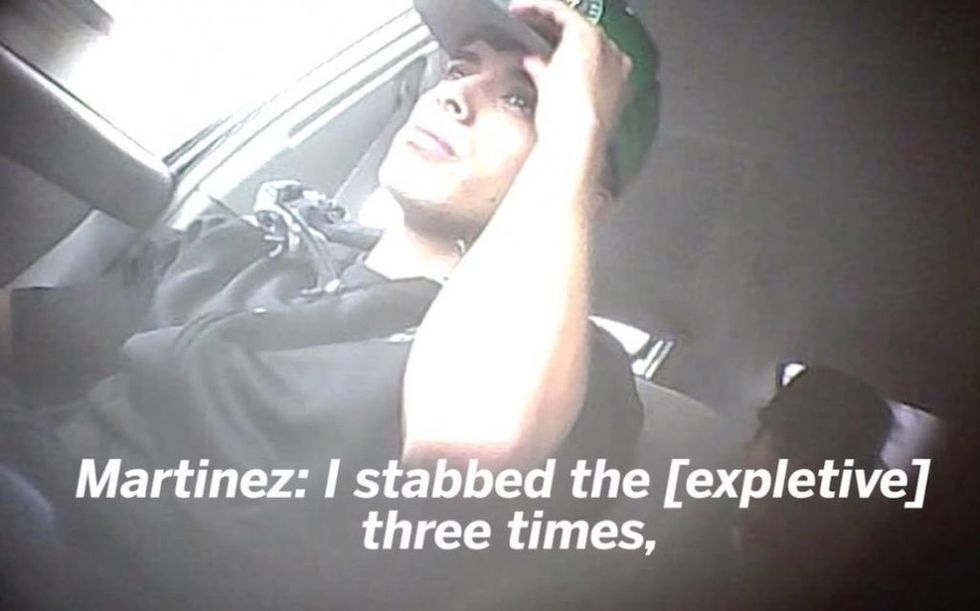 Joel "Animal" Martinez (Image source: Boston Globe video screenshot)
"Mara" refers to Mara Salvatrucha, the long-form name for MS-13, Fox News added. "Culero" is an offensive term for homosexual in El Salvador, where Martinez is from.
Martinez's lawyer argued for less prison time, the AP reported, saying his client was forced to join MS-13.
"In order to survive within MS-13 it is vital to brag and puff oneself up," attorney Peter L. Ettenberg wrote, Fox News reported. "Many of the other defendants did the same. The defendant's 'braggadocio' is just that. ... It is counsel's belief that Joel Martinez was the sacrifice to the threats of MS-13 towards his family that compelled him to join. If he did not join, family members would be killed."
Martinez will be subject to deportation once he's released from federal prison, Fox News noted.
How are local folks reacting?
Many comments about the verdict on the MassLive news site, which published the AP account, weren't too sympathetic toward Martinez — or those who ripped Trump for calling MS-13 members "animals":
"Didn't we learn last week it's not proper to refer to MS-13 as 'animals.' Now one uses it as his nickname. Too funny."

"Trump right again surprise, surprise."

"Send him to Nancy Pelosi's house so she can bring out the good from this animal."

"I am sure the parents of this murdered boy feel the punishment does not fit this horrendous crime. Trump is 100% accurate — these filth ARE animals."

"Why waste time with jails, these 'ANIMALS' should be executed and then thrown into a unmarked ditch in the ground and covered over!"

"It's time to close the border. It should have been a life sentence."
The Boston Globe published the below secretly recorded video of Martinez confessing to the murder: