After more than 200 gravestones were spray-painted with swastikas at a cemetery shortly before Memorial Day, volunteers from the Illinois village where the vandalism took place rose above the act, helping to clean the damage as well as remembering military members Monday who gave their lives defending America's freedom.
Swastikas were spray-painted in black on nearly 200 headstones just before an Illinois cemetery's annual Memorial D… https://t.co/3hzAWyEFJu

— Stars and Stripes (@Stars and Stripes)1527601147.0
Workers and their families began cleaning the gravestones shortly after the swastikas were discovered at Sunset Hills Cemetery in Glen Carbon, KTVI-TV reported, and more than double the usual number of volunteers came out Monday morning to decorate the cemetery grounds with over 1,300 American flags for a Memorial Day ceremony.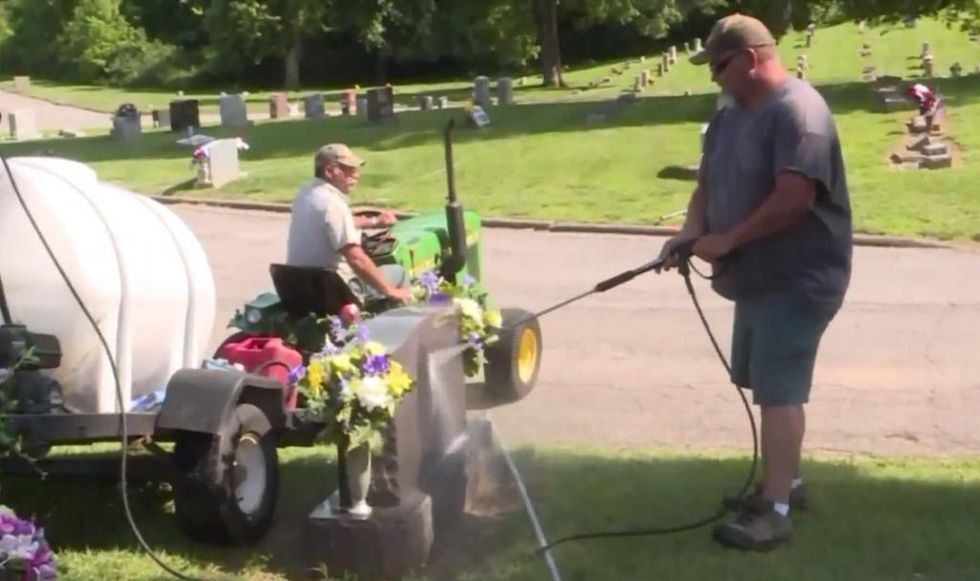 Image source: KTVI-TV video screenshot
"I think it's awesome seeing everyone out here together putting up the flags, just making friends with everyone for a common purpose," volunteer Sarah Smith — who's also in the Army — told the station.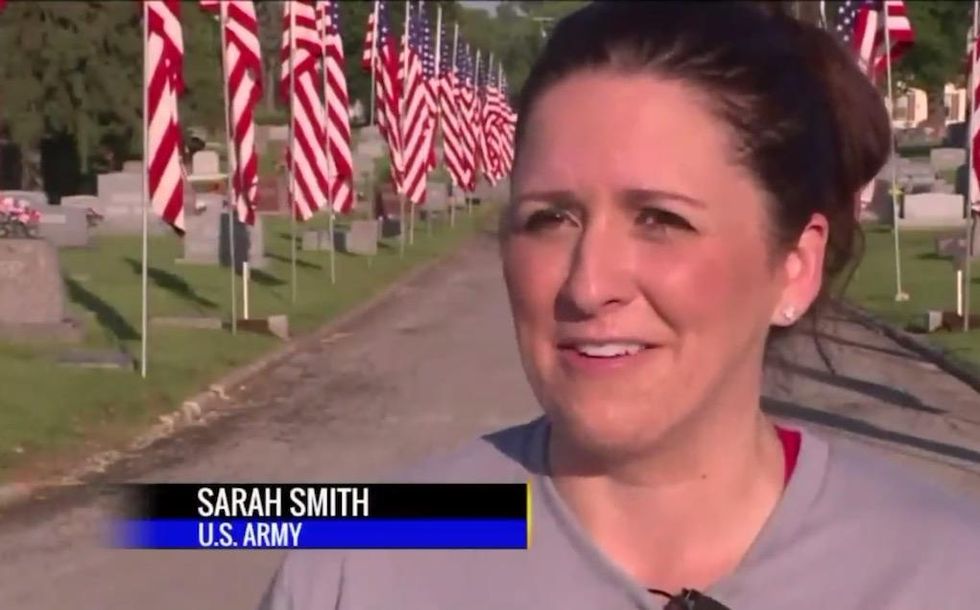 Image source: KTVI-TV video screenshot
Bob Herr told KTVI about 75 people typically gather to place the flags for the Memorial Day event, which has been taking place in the community just north of St. Louis for over a quarter century. But over 175 volunteers showed up Monday, the station said.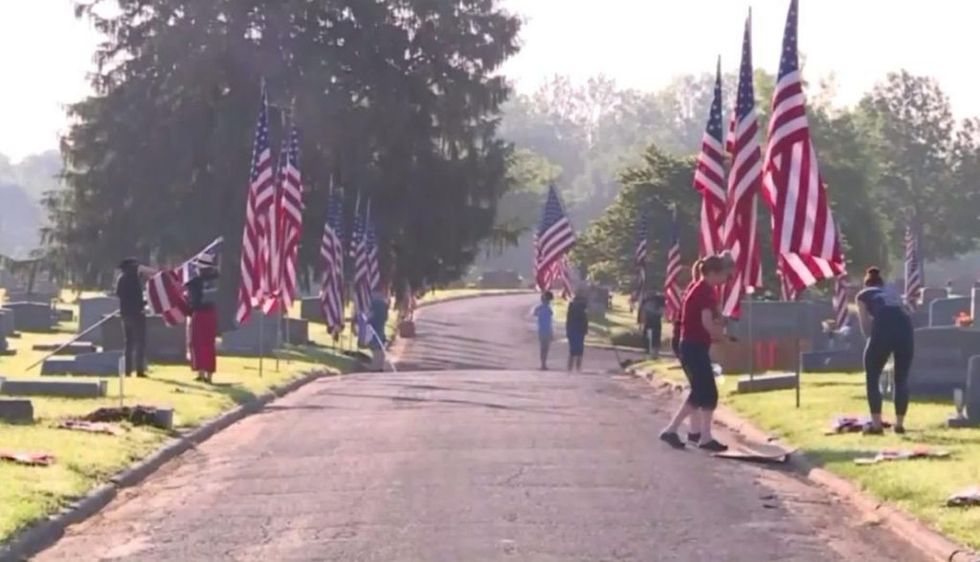 Image source: KTVI-TV video screenshot
'Hard to stop crying'
"This morning when I came in it was hard to stop crying because I looked at all the cars and all the people who wanted to help," he told KTVI, adding that he believes folks wanted to show support after the vandalism.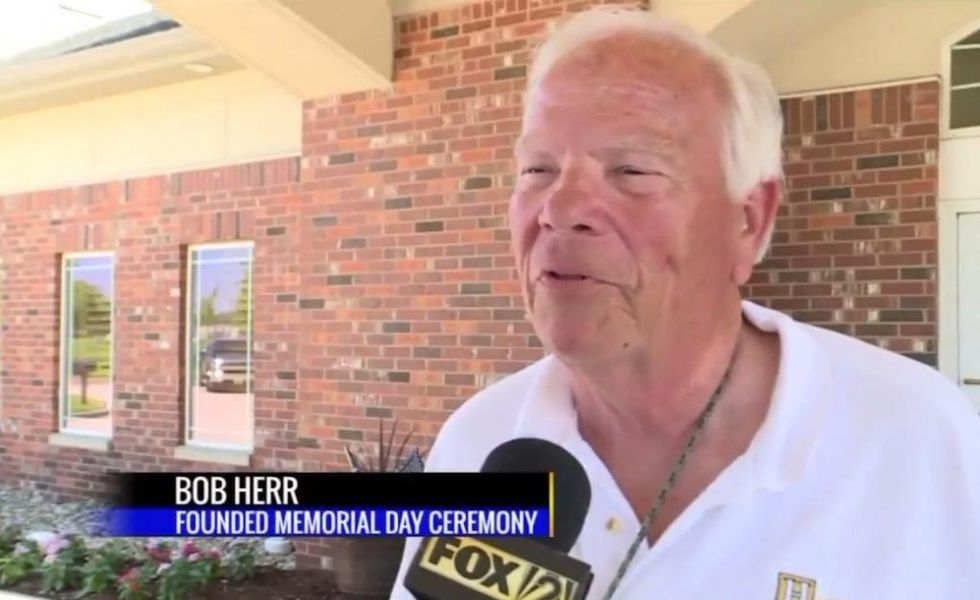 Image source: KTVI-TV video screenshot
"Adversity brings out the best in people," cemetery manager Ryan Zinke added to the station. "It really showed this weekend. People care about each other in this community. It was so overwhelmingly positive to see that."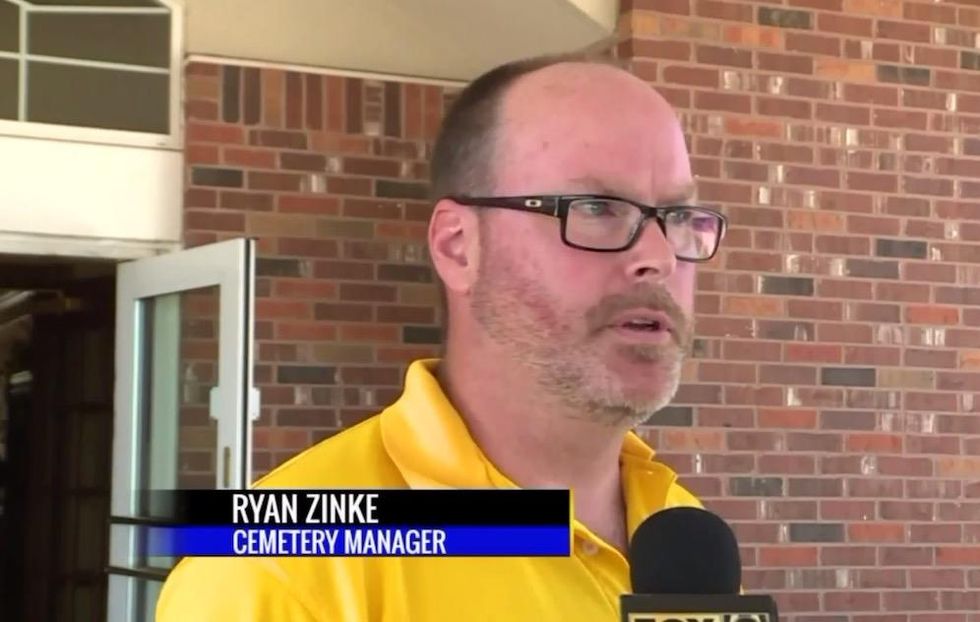 Image source: KTVI-TV video screenshot
Among those honored at Monday's ceremony was Airman Bradley Smith, who was killed in Afghanistan eight years ago, KTVI said, adding that he left behind a wife and baby daughter.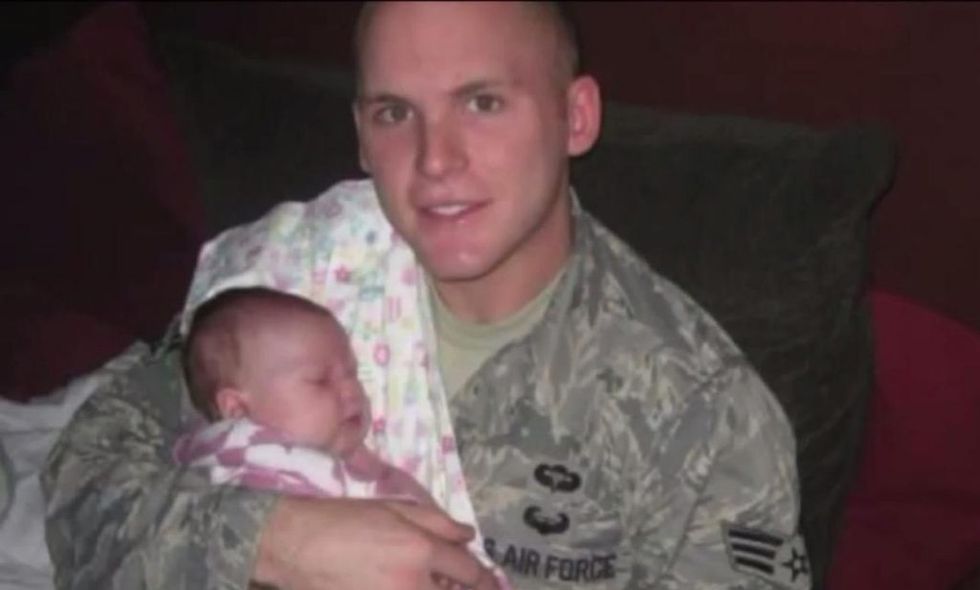 Image source: KTVI-TV video screenshot
"I just want people to think about the freedoms they have today — freedoms they have in America that other countries don't have," Smith's mother, Paula Smith, told the station.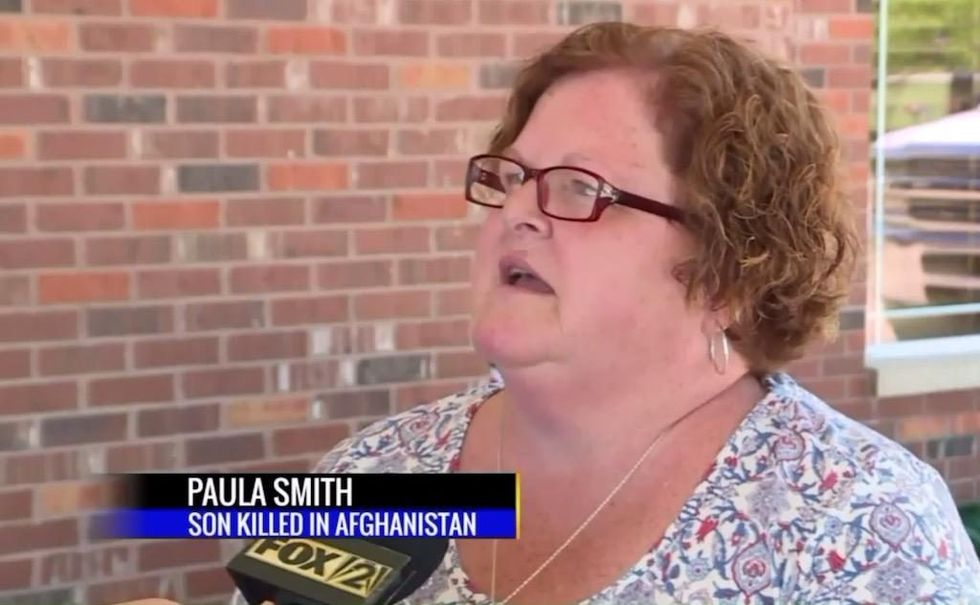 Image source: KTVI-TV video screenshot
Vandalism suspect awaiting charges
Timothy V.A. McLean, 34, of Glen Carbon is in jail and awaiting formal charges in connection with the gravestone vandalism, the Alton Telegraph reported, which took place late Friday or early Saturday.
He's expected to be charged with a hate crime and institutional vandalism, the paper said, citing a police news release. Madison County State's Attorney Tom Gibbons said charges could be filed Tuesday, the Telegraph noted.
Besides the gravestones, spray-painted swastikas also were found on an office building and other fixtures in the cemetery as well as homes, vehicles and mailboxes in the Sunset Hills Estates subdivision, the paper reported.
"What happened in Sunset Hill is not reflective at all of Glen Carbon residents," Glen Carbon Mayor Rob Jackstadt told the Telegraph on Monday. "Glen Carbon was a mining town that acted as sort of a melting pot, including immigrants that care for each other and still do today."