Colorado cops shut down a lemonade stand because the kids running it didn't have a city permit to operate their business, KCNC-TV reported.
What's the story?
The boys' mom, Jennifer Knowles, said it was a "beautiful weekend," so she thought, "Why not have a lemonade stand?" Knowles believed it would be a good opportunity for her young boys to learn about entrepreneurship and giving to charity.
"The boys decided they wanted to help a less fortunate child in another country," Knowles told the news station.
But the fun and learning all came to an end when Denver police showed up and closed the operation.
Someone had filed a complaint against the stand.
It turns out the stand, which was set up in the Stapleton neighborhood of Denver, was near  another lemonade vendor working at the Denver Arts Festival.
The Knowles brothers were letting their lemonade go at a bargain rate of two for $1, while the nearby competitor was selling its drink for $7 a glass.
"We had never thought that the other lemonade vendor could feel threatened by our little kid lemonade stand," said Knowles, who was unaware they needed a permit. "I can understand why someone would get upset."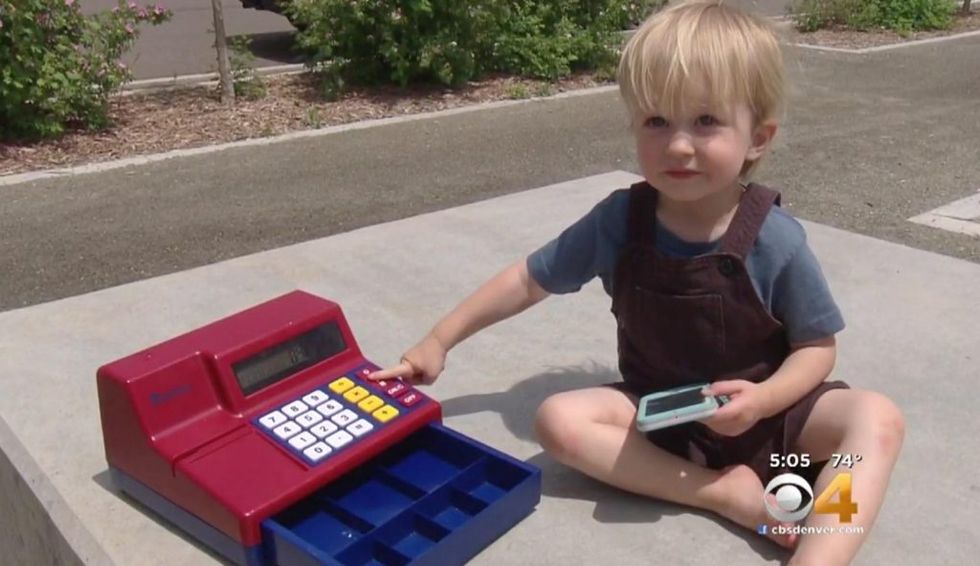 The youngest Knowles brother worked his cash register at the lemonade stand. (Image source: Video screenshot)
What are the permit laws?
The city requires all food peddlers, as they're called, to purchase a permit or license to operate. Insurance is also needed.
And the laws even apply to children who are running lemonade stands.
A permit in Denver would have set the kids back $125 a day.
So, how much money did they raise?
They ended up making about $200, which their mom said will be donated to a 5-year-old boy in Indonesia through Charity International in Colorado Springs.
"In hindsight, we would have never set up where we did, when we did, and we would have just done it another time," Knowles said. "Lesson learned."
The boys' mom plans to request that the city waive permits for kids' lemonade stands in the future, as long as there isn't another nearby stand.