Philadelphia Eagles tight end Zach Ertz blasted Fox News on Tuesday for depicting him and his teammates taking a knee in protest of the national anthem when they actually were praying.
The images — which included shots of star quarterback Carson Wentz taking a knee in prayer — were part of a Fox News video that aired Monday on President Donald Trump rescinding his invitation to the reigning Super Bowl champs to visit the White House, which would have taken place Tuesday.

"This can't be serious… Praying before games with my teammates, well before the anthem, is being used for your propaganda?!" Ertz tweeted. "Just sad, I feel like you guys should have to be better than this."
This can't be serious.... Praying before games with my teammates, well before the anthem, is being used for your pr… https://t.co/DHzRb3Fzk8

— Zach Ertz (@Zach Ertz) 1528200249.0
Brittany Hughes, managing editor of the conservative Media Research Center TV, didn't care for Fox News' segment, either:
This is a deceptive photo montage showing Eagles players praying before games, not kneeling for the anthem. Truth m… https://t.co/uDpQBOu3UN

— Brittany Hughes (@Brittany Hughes) 1528208966.0
While one of the images in the Fox News segment showed Eagles' safeties Malcolm Jenkins and Rodney McLeod raising their fists in protest during the anthem — as defensive end Chris Long placed one hand over his heart and the other on Jenkins' back, supporting him — no Eagles' players protested by taking a knee during "The Star-Spangled Banner" last season.
Additionally, the Eagles' prominent contingent of Christian players was a frequently cited topic during last season's news cycle, with numerous images and videos of praying players — even one getting baptized in a hotel pool — making the rounds.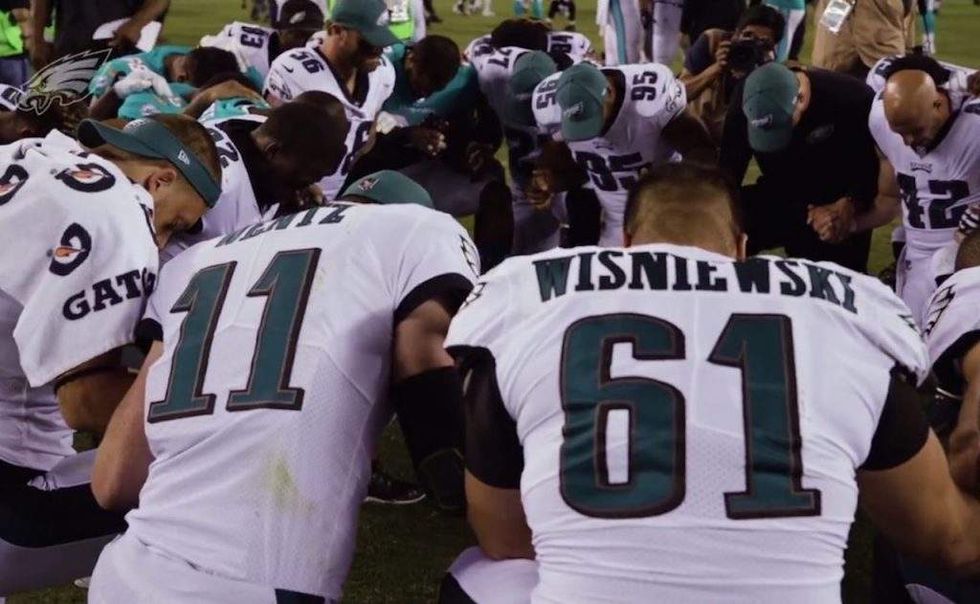 Image source: PhiladelphiaEagles.com screenshot)
What is Fox News saying in the wake of the backlash?
CNN's Jake Tapper reported that Fox News apologized for the misleading images:
Regarding that misleading @Eagles b-roll here's a statement and apology from Christopher Wallace, EP of FOX News @… https://t.co/MG9iaZqKG0

— Jake Tapper (@Jake Tapper) 1528211277.0
Shannon Bream, who anchored the segment, echoed the apology:
I hope you'll accept our humble apology. https://t.co/NRSH2UTB8y

— Shannon Bream (@Shannon Bream) 1528215116.0
How did this all start?
Trump cancelled the Eagles' visit after learning the full team wasn't showing up. The Hill said only about 10 players were planning on going to the White House ceremony; Politico White House reporter Annie Karni tweeted that only two or three players — plus the owner and mascot — were heading to Washington, D.C.
"They disagree with their President because he insists that they proudly stand for the National Anthem, hand on heart, in honor of the great men and women of our military and the people of our country," Trump noted.
"The Eagles wanted to send a smaller delegation, but the 1,000 fans planning to attend the event deserve better," he added. "These fans are still invited to the White House to be a part of a different type of ceremony – one that will honor our great country, pay tribute to the heroes who fight to protect it, and loudly and proudly play the National Anthem."
Trump blasted anthem protesters in the NFL last fall and lauded the league's new policy requiring players to stand during the anthem. Players can also remain inside locker rooms during the anthem as part of the new rule.
The president also said those who don't respect the flag or anthem perhaps should choose a different country to live in: "You have to stand proudly for the national anthem or you shouldn't be playing. You shouldn't be there," Trump said on "Fox & Friends" recently. "Maybe you shouldn't be in the country."
This story has been updated.