When the Super Bowl champion Philadelphia Eagles make big news, you can be sure elected officials in the team's home state will jump in and offer their takes.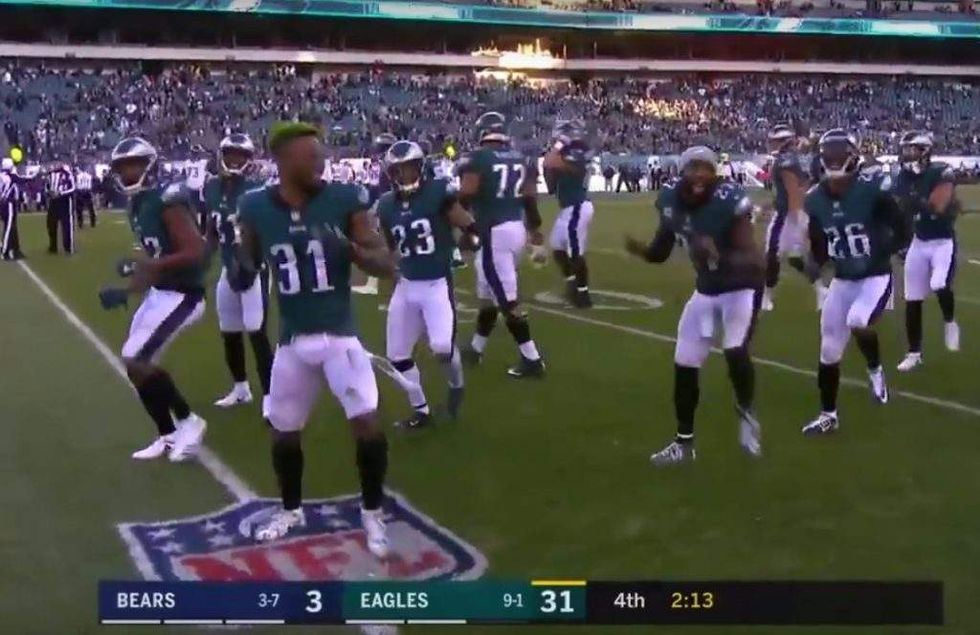 Eagles in dance mode during 2017 season. (Image source: YouTube screenshot)
And the two Pennsylvania candidates vying for a U.S. Senate seat, of course, are no exceptions.
While Republican U.S. Rep. Lou Barletta said he planned to attend the White House ceremony Tuesday without the Eagles squad after President Donald Trump canceled the team's visit, his opponent Democratic U.S. Sen. Bob Casey said he'd skip the shindig and invited the Eagles to visit Capitol Hill instead, The Associated Press reported.
Barletta added that he would be at the White House "representing the proud Pennsylvanians who stand for our flag," the AP reported. But Casey called Trump's alternate plan to hold a White House ceremony Tuesday to honor veterans and the nation a "political stunt," the outlet added.
How is the race between Barletta and Casey shaping up?
Casey is one of 10 Democratic senators vying for re-election in states that Trump won in the 2016 presidential election — which the AP said puts a "target" on Casey's back for Republicans.
But CNBC said Casey — the incumbent who ran unopposed in the primary — is considered one of the safer senators in the group of 10, as Trump only narrowly won the Keystone State over Hillary Clinton.
In addition, Casey also sported nearly $10 million in campaign funds in late April as opposed to Barletta's $1.3 million, and a Muhlenberg College poll found Casey had a 16-percentage-point edge over Barletta in a hypothetical matchup, CNBC said
What did Pennsylvania's candidates for governor have to say about the Eagles and Trump?
Scott Wagner, Pennsylvania's Republican candidate for governor, is a Trump supporter and took a middle road in regard the Eagles-Trump dust-up, the AP said.
"Scott believes it's unfortunate that politics have invaded everything we do and thinks we should be able to put political differences aside long enough to celebrate a team winning the Super Bowl," his campaign told the outlet.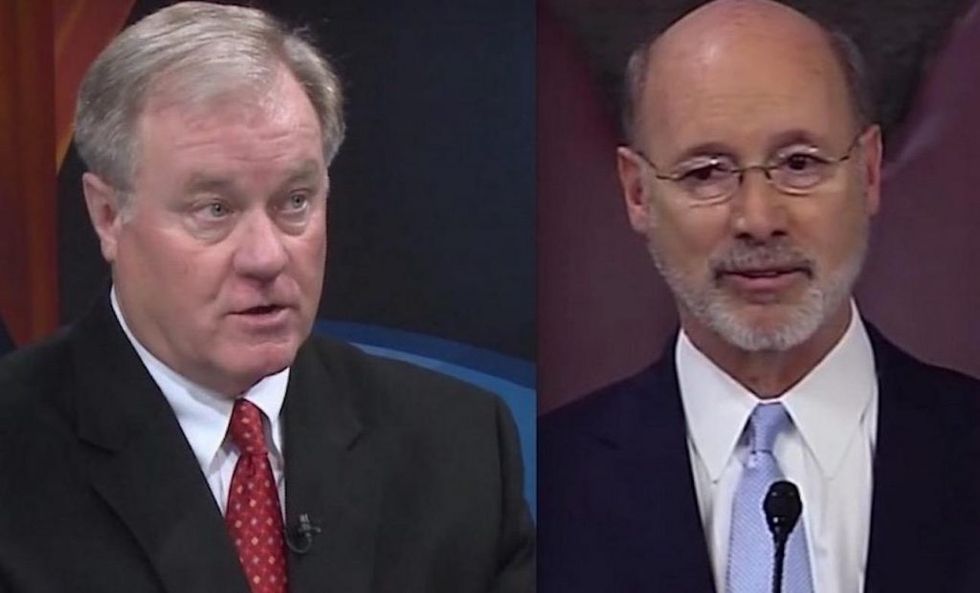 Scott Wagner (left), the Republican nominee for Pennsylvania governor, and incumbent Democratic Gov. Tom Wolf (right). (Image source: YouTube screenshot, composite)
Democratic Gov. Tom Wolf — a Trump critic — said through his office that "no amount of political silliness in Washington will damper our enthusiasm or take away the victory for the Eagles or their fans," the AP reported.