The Alaska state gubernatorial election is set for Nov. 6. Incumbent Gov. Bill Walker (I) is running for his second term.
According to an April Morning Consult Poll, Walker's approval rating dropped below 30 percent, which could lead to a Republican victory, or a successful primary challenge from Democrat Mark Begich, a former U.S. senator.
Also, the general election will likely be a three-way race between Walker (who was elected with Democratic support), a Democrat, and a Republican, which seems likely to help the eventual Republican nominee.
The filing deadline for candidates was June 1. The primary election is Aug. 21.
Who is the likely
Democratic candidate

?

● Former Sen. Mark Begich
Who are the Republican candidates?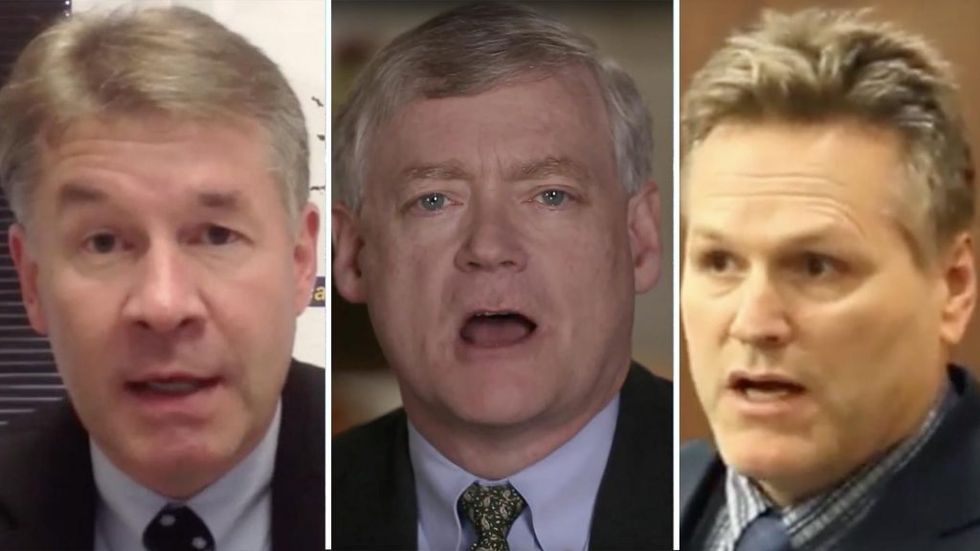 From left: Scott Hawkins, Mead Treadwell, and Mike Dunleavy. (Getty Images)
● Businessman and Chairman of BIPAC Scott Hawkins
● Former Lt. Gov. Mead Treadwell
● Former Republican state Sen. Mike Dunleavy
What else do we need to know?
Dunleavy resigned from the state Senate in January in order to focus on his bid for governor.
In a statement announcing his resignation, Dunleavy said:
I've come to the conclusion that without new leadership in the Governor's office, there is a practical limit to what any individual or caucus in the Legislature can achieve to turn this state around. I believe the best way I can effectively advocate for my constituents' values is to devote 100 percent of my time and energy to the cause of ensuring that Alaska elects a new Governor in 2018. I am accordingly resigning from my seat in the State Senate.
According to a 2017 report in the Anchorage Daily News, Treadwell wasn't the most enthusiastic Trump supporter initially, but "said he's hopeful that the new administration will have offerings for Alaska, particularly in terms of allowing and encouraging more offshore drilling."
Treadwell also said that he believed that the Trump administration would be "sympathetic" to the state's desire to export more goods to Asia, the report added.
In addition to being former lieutenant governor of Alaska, Treadwell ran for Senate in 2014.
Will Walker face off against Begich in the Democratic primary?
No.
Prior to Begich's campaign announcement, Walker — who was elected in 2014 with Democratic support — said he would not participate in the Democratic primary, and instead, would gather signatures to appear on November's general election ballot.
In May, Walker announced that he would be running for re-election as an independent.
A recent ruling permitted independents to run in the Democratic primary if they want to be backed by the party, which could have cleared the way for a two-way general election in November rather than a three-way election.
John-Henry Heckendorn, Walker's campaign manager, said, "The Democratic Party has provided [Walker] a path to run as [independents] with no strings attached, and they've decided to take that path."
On Friday, Walker issued a statement about his position.
A portion of it read:
This election will present Alaskans with a historically unique choice. Our political system is not supposed to allow for three credible, well-financed, well-known candidates to run for office in the same general election. I appreciate the folks who worked hard to try to find a way to make this a two-way race. I understand that made things simpler from a strategic and technical perspective.

But I can tell you that I am as excited as I've ever been. I am an Alaskan before I am anything else. Serving as the governor of the state where [Alaska Lieutenant Governor Byron Mallott] and I both were born has been the honor of my life. We were never supposed to be here. When I ran for Governor I started at two percent in the polls. But here we stand. My team and I are ready to show the world that here in Alaska, we don't do things the way they do them in the lower 48. We are practical, we are proud, and we are independent.

In short: I like our odds, I couldn't be more proud of our team and of this state, and I'm ready to run and win.
So who's going to win?
A June prediction from the far-left Daily Kos reported that a Republican will likely unseat Walker.
A June Inside Elections prediction said the election would "tilt Republican."
A March Ivan Moore Research poll showed Walker leading Dunleavy in a hypothetical head-to-head matchup by a margin of 51-44.
A March poll by the same firm showed Begich leading Dunleavy in a hypothetical head-to-head matchup by a margin of 53-42. Polling is not yet available regarding the other Republican candidates.