Legendary actor Robert De Niro walked onstage at the Tony Awards Sunday night and delivered perhaps his most pointed salvos yet at President Donald Trump.
"I'm gonna say one thing: F*** Trump," De Niro told the crowd as he raised both of his fists. "It's no longer, 'Down with Trump, it's 'F*** Trump.'"
As you might expect at the Tonys, the smiling, laughing audience responded to De Niro's words with a thunderous standing ovation.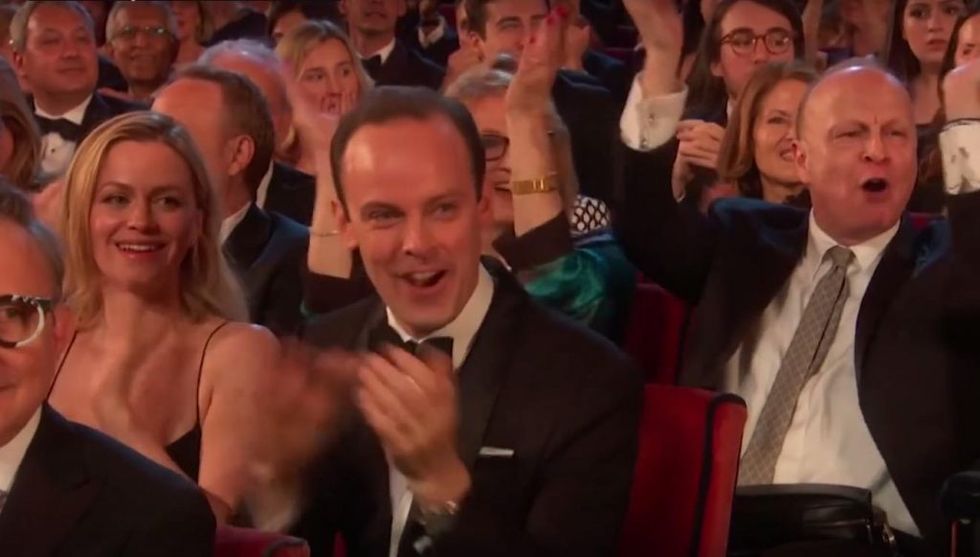 Image source: YouTube screenshot
De Niro was at the mic to introduce Bruce Springsteen's performance of "My Hometown," Deadline reported, but one might say De Niro pretty much stole the moment.
Not that Springsteen — also an outspoken anti-Trump devotee — likely took issue with perhaps being upstaged.
"Mr. De Niro's comments were unscripted and unexpected," CBS said in a statement, Deadline reported. "The offensive language was deleted from the broadcast."
Deadline added that while De Niro's F-bombs were bleeped out, the live feed of the broadcast in the press room was uncensored — and several Tony winners were asked about his comments during backstage news conferences.
"He's Robert De Niro. Who's going to argue with him?" Tony Kushner, "Angels in America" playwright, joked before offering his agreement with De Niro about Trump, the outlet said. "This person should not be anywhere near the seat of power."
Here's an uncensored clip. (Content warning: F-bombs await you):
De Niro has taken Trump to task before on numerous occasions:
He said last month that the president is banned from his sushi restaurants around the world.

De Niro took the stage on the closing night of his Tribeca Film Festival in April and blasted Trump — as well as Republicans — with expletives.

"I'm not so much concerned about Republicans believing Trump's bellowing bulls**t about fake news," De Niro said, according to The Hollywood Reporter. "They're not that stupid, most of them, but they're pretty f***ing stupid."

At the start of the film festival, De Niro told journalists that "America is being run by a mad man" and compared Trump to "Colonel Sanders' fried chicken," IndieWire reported.

He added to the gathered media representatives that "your job is difficult enough without being attacked by our low-life-in-chief. That's the new name I have for him," IndieWire reported.

De Niro also called Trump a "scumbag" earlier in April during an interview about the festival.

And most notable of all, a month prior to the 2016 presidential election De Niro called Trump "a punk, he's a dog, he's a pig, he's a con, a bulls**t artist, a mutt who doesn't know what he's talking about."

"It makes me so angry that this country has gotten to this point that this fool, this bozo, has wound up where he has," De Niro added at the time. "He talks how he'd like to punch people in the face? Well, I'd like to punch him in the face."
What did Parkland drama students do at the Tonys?
Drama students from Marjory Stoneman Douglas High School in Parkland, Florida — where 17 people were massacred in February — gave a surprise onstage performance at the Tonys to the stunned, emotional crowd, the New York Times said.
When the students finished singing "Seasons of Love" from the musical "Rent," the tearful audience at Radio City Music Hall in New York City rose for a standing ovation, CBS News reported.
The students appeared onstage moments after their teacher Melody Herzfeld — also from Marjory Stoneman Douglas — received the 2018 Excellence in Theatre Education Award, CBS News said, citing the Tonys, adding that she was recognized for saving dozens of lives during the massacre.
Here are her remarks: