Rutgers professor James Livingston is tripling-down on his remarks that his anti-white child rant wasn't at all racist — and he even went as far as to meet someone from the internet who had reportedly been sending him death threats.
What's a brief history?
Livingston went on a racist Facebook rant against white kids and their parents after visiting the  restaurant, Harlem Shake, on May 31 in Harlem. The rant has since been deleted from his page.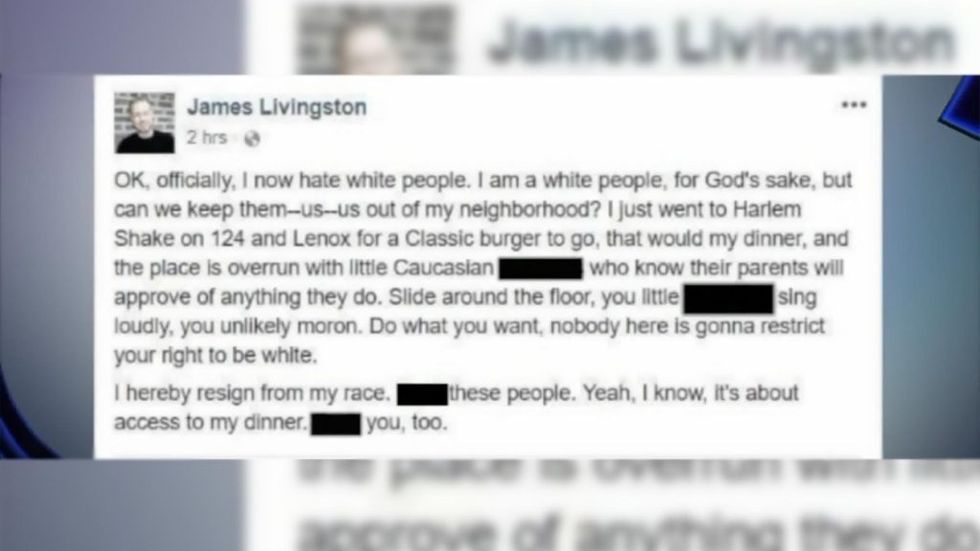 (Image source: WPIX-TV video screenshot)
Livingston would later reveal that he received death threats as a result of his posting.
Days after his initial remarks, Rutgers University announced that it would be launching an investigation of the professor and his remarks.
A statement from the Rutgers University Media Relations department said, "There is no place for racial intolerance at Rutgers. This matter has been referred to the appropriate leaders at the Rutgers-New Brunswick campus, where Dr. Livingston teaches, to determine whether his comments violate university policies prohibiting discrimination and harassment."
The owners of Harlem Shake condemned Livingston's remarks in a scathing statement provided to TheBlaze, noting that he is no longer welcome in their restaurant.
Jelena Pasic and Dardra Coaxum told TheBlaze, "For five years and counting, we built our business on a prerogative [of] cherishing diversity within our ownership, staff and customers in our beloved Harlem COMMUNITY. We refuse to be sucked into your racist rants, so if you wish to name drop, please use names of those with similar views."
"We ask that our name is removed from your rant because we do not want to have anything to do with you," the women added. "And yeah, we ask that you get your burgers somewhere else. We do not tolerate 'racism' either. We thrive on equality and fairness and have full intentions to keep it that way!"
He initially tried to explain his comments in a blog post by saying that they were just a joke, and said that he believes "reverse racism" doesn't exist.
Livingston concluded the post by writing, "I don't want to be black. I just don't want to be white."
What did he say in a recent Facebook post?
In a Facebook post Wednesday, Livingston explained that he returned to the same restaurant — whose owners asked him not to come back — to meet with an online critic who'd reportedly served him with death threats.
"I spent an hour at Harlem Shake today, waiting to meet with one of the morons who have threatened me with bodily harm," Livingston wrote. "'Beefy tips,' he called himself, and promised to f*** me up."
"It was his idea to meet in person, I just took him up on it," the professor explained. "But look, I knew he'd never show — these people are cowards as well as morons."
"Besides," he added, "I brought back-up in the form of a former student, armed with a camera. 'Beefy' never arrived, of course, but a TV camera crew was there all the while to record my thoughts on reverse racism, of which I stand accused."
"No such thing as far as I'm concerned," Livingston concluded. "Racism is about power, not hatred, although the two can go together."
What is he saying now?
Livingston spoke to WPIX-TV, where he further expounded on his remarks.
"Why am I doing this? This is the question," Livingston told WPIX.
Calling his Facebook post "ironic" and "facetious," Livingston explained that he was trying to "be funny," but added that "there's a serious intent behind every satirical statement."
"It was my way of ... making fun of gentrification," Livingston said, "but it's not very funny."
Of "Beefy Tips," Livingston said, "F*** him. That's why I showed up here for that a**hole who threatened me via email. He threatened my life, that f***head."
"There's no such thing as reverse racism," he told WPIX. "Racism is about power. It's not about hate. If you have power over [someone] and you're a white person, that's racism."
"White people have exercised power over black people for, what, four centuries?" the professor added.
"So when I say I hate white people," Livingston concluded, "all I'm saying is, 'Enough already.'"