Republican U.S. Rep. Lou Barletta — who's running for the Pennsylvania seat held by incumbent Democratic U.S. Sen. Bob Casey — made a name for himself with a tough stance on illegal immigration.
And with the nationwide controversy over the administration of President Donald Trump deciding to prosecute all illegal border crossers — which has forced the separation of children from their parents per federal law and longstanding DHS policy — Barletta was asked the inevitable question when he sat down for a Friday interview with Pittsburgh's KDKA-TV: "Congressman, should children be separated from their parents when they enter this country illegally?"
Barletta pulls no punches
"In America, we have laws," Barletta told the station. "Should you or I commit a criminal act this afternoon after we're done with this interview, we're going to be separated from our families. So the laws of the country state that when you commit a criminal offense, 'Children, you will be separated during the custody.' I don't think we should have separate laws for people who come in the country illegally and other laws for American citizens."
A deterrent
Barletta added to KDKA that separating the children from parents or guardians also can act as a deterrent to illegal immigrants.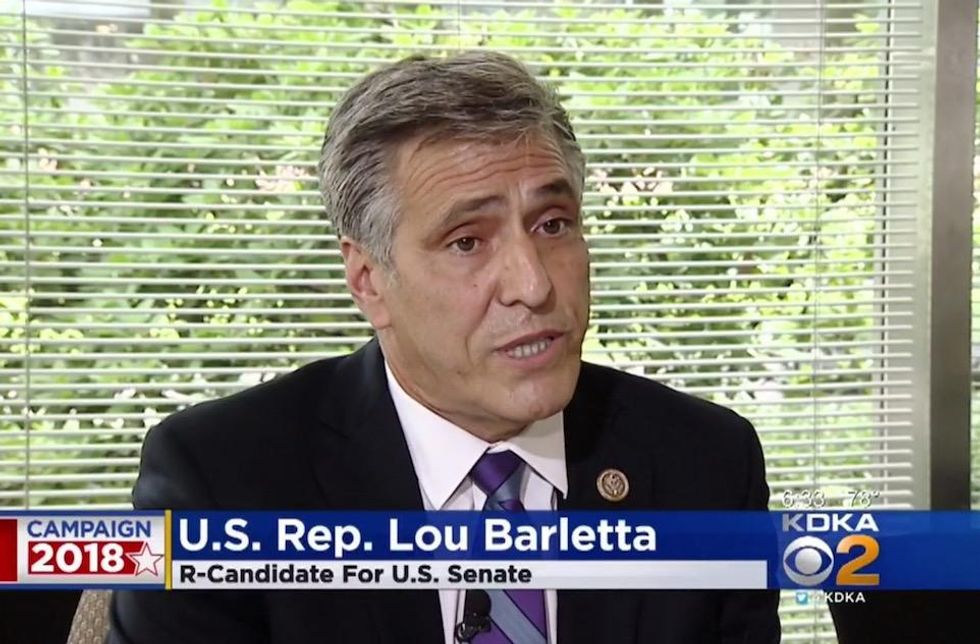 Image source: KDKA-TV video screenshot
"Remember," he added to the station. "Why people come to the country illegally is because we're not enforcing the laws. So if people knew when they came here what would happen, we would not have this situation."
What did Barletta have to say about his U.S. Senate opponent?
"He doesn't represent the people of Pennsylvania any longer," Barletta told KDKA regarding Casey. "He did when he was first elected, but he has moved so far left that his voting record is the same as [left-wing U.S. Sen.] Elizabeth Warren's."
He added to the station that Casey "no longer represents people here. He represents liberal California, liberal Massachusetts. He was a moderate. He's [become] a radical left senator."
What does Casey have to say about the issue of illegal immigrant children getting separated from parents?
As you might expect, the Democratic U.S. senator is up in arms over the controversy — and sees things from the opposite end of the spectrum compared to Barletta.
Casey, in fact, has been discussing little else on his Twitter page of late:
I have cosponsored legislation to end the practice of separating migrant children from their parents. Only… https://t.co/Uk1sNyqwhP

— Senator Bob Casey (@Senator Bob Casey) 1528922508.0
Even as we celebrate Father's Day, vulnerable migrant children are being ripped away from their parents by this Adm… https://t.co/AlhSMX9coT

— Senator Bob Casey (@Senator Bob Casey) 1529253594.0
.@realDonaldTrump and @SecNielsen are not telling you the truth. There is no law requiring the Administration to ri… https://t.co/C4exEJAbRC

— Senator Bob Casey (@Senator Bob Casey) 1529334945.0
Here's the Barletta interview: