Sen. Heidi Heitkamp, the Democratic first-term senator from North Dakota who is at-risk of losing her seat in November, just received more unwelcome news.
What's going on?
According to Inside Elections, the race for Heitkamp's seat just went from "toss up" to "tilt Republican." The nonpartisan analysis center, which tracks presidential, gubernatorial, U.S. House and Senate campaigns, adjusted the race last week in favor of Rep. Kevin Cramer (R-N.D.).
Roll Call explains:
We're changing the Inside Elections rating of the race from Toss-up to Tilts  Republican. Democrats will point out that a majority of the polling data in 2012 pointed to a [2012 GOP challenger Rick] Berg victory and The Rothenberg Political Report rated the race as Tilts Republican before Heitkamp's win. But that doesn't mean history will repeat itself nor is it reason to ignore the current situation.

Of course, Heitkamp can still win re-election, and our ratings will reflect fundamental changes in the race in the months ahead. But she is in a more vulnerable position than her colleagues right now, in a difficult state for any Democrat.
The North Dakota seat is the first contestable Senate seat to show signs of potentially switching political parties in November.
The classification increases the pressure on Heitkamp, who has been busy forging herself as a moderate Democrat not afraid to work with President Donald Trump and Republicans while fighting for the interests of North Dakotans.
Heitkamp has been forced to move toward the center because she's defending a seat in a state that Trump won by more than 30 points over Hillary Clinton in 2016. To make matters worse, Heitkamp endorsed Clinton during the 2016 presidential race, an endorsement she has since rescinded.
When Supreme Court Justice Anthony Kennedy announced his retirement, Heitkamp's plate became even fuller. To appease North Dakota voters and help herself in November, Heitkamp will likely be forced to vote against her party and in favor of whoever Trump nominates to the Supreme Court.
To put it kindly, Heitkamp is vulnerable and Inside Elections' analysis only confirms what political observers predicted about the race.
What do the polls show?
Still months removed from the general election, polling has yet to heat up. But the latest major survey, from Mason-Dixon polling, found Cramer currently commands a 4-point lead over Heitkamp, 48 percent to 44 percent.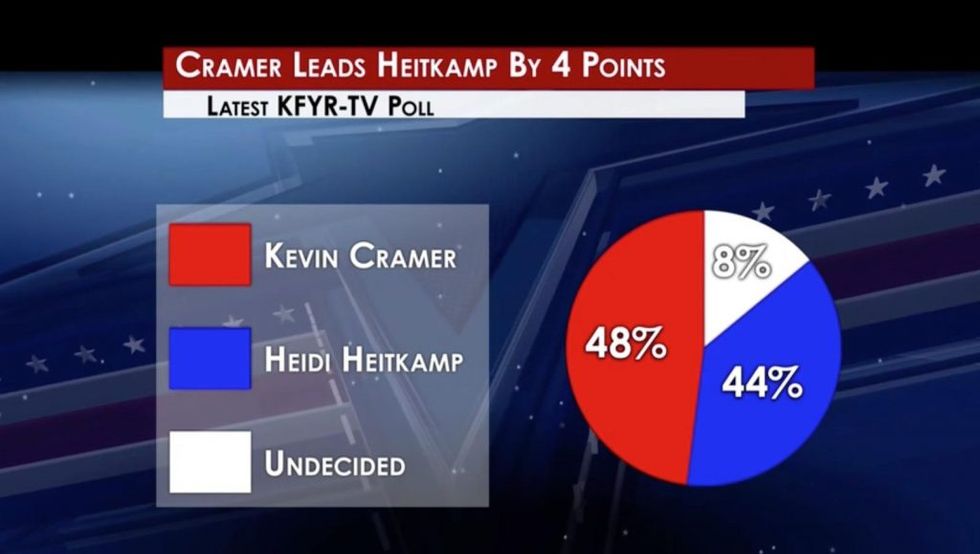 Image source: KFYR-TV screenshot
The Heitkamp campaign did not return a request for comment from TheBlaze.
What did the Cramer campaign say?
Tim Rasmussen, campaign spokesman for Cramer, told TheBlaze in a statement that Inside Elections' re-classification is a reflection of the momentum Cramer is building in North Dakota.
We take nothing for granted and our campaign is working hard to communicate the differences between Kevin Cramer and his opponent in the Senate race. While Kevin has voted to support the robust economic growth created by the Trump tax cuts, stronger borders, the dignity of human life, and an all-of-the-above energy strategy, Heidi Heitkamp consistently votes against these positions to stand with Washington liberals. The momentum and the excitement the campaign is generating from North Dakotans all over the state is definitely making a difference and we looking forward to continuing to build that ahead of Election Day.