A Texas public school district is investigating a teacher over a tweet lambasting the teen boys who were seated at a Whataburger table last week when a man was caught on video throwing a drink in one of their faces and walking off with his "Make America Great Again" hat after allegedly ripping it from his head.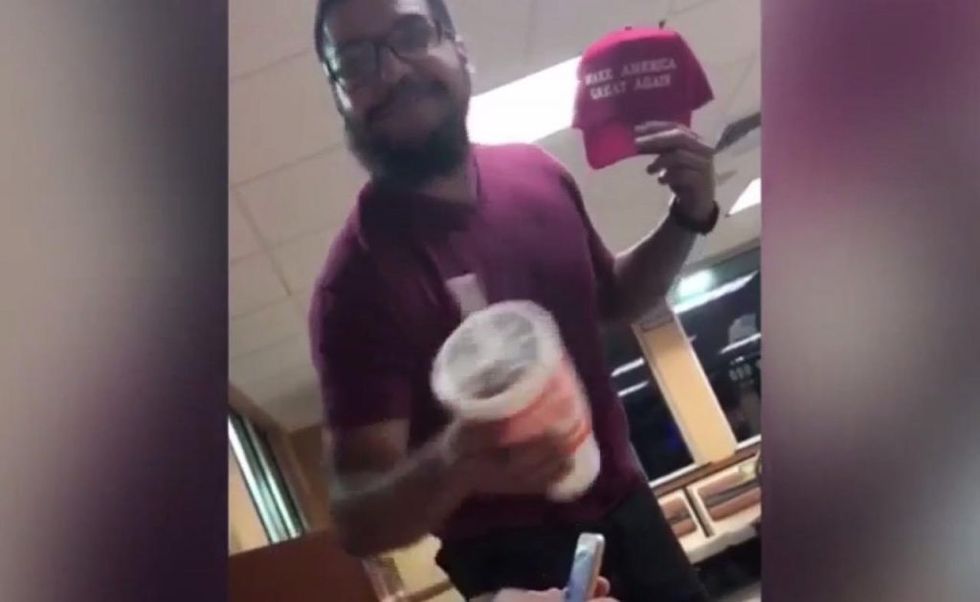 Image source: WOAI-TV video screenshot
"These s**tcake kids r the same type to wear a MAGA hat to the African American museum," read a July 4 tweet apparently from Anthony Aguirre Junior High social studies teacher Jogi Pattisapu's account, the Houston Chronicle reported. "The same douchebag kids who do a Nazi salute in a class picture then claim it was a joke. F*** EM."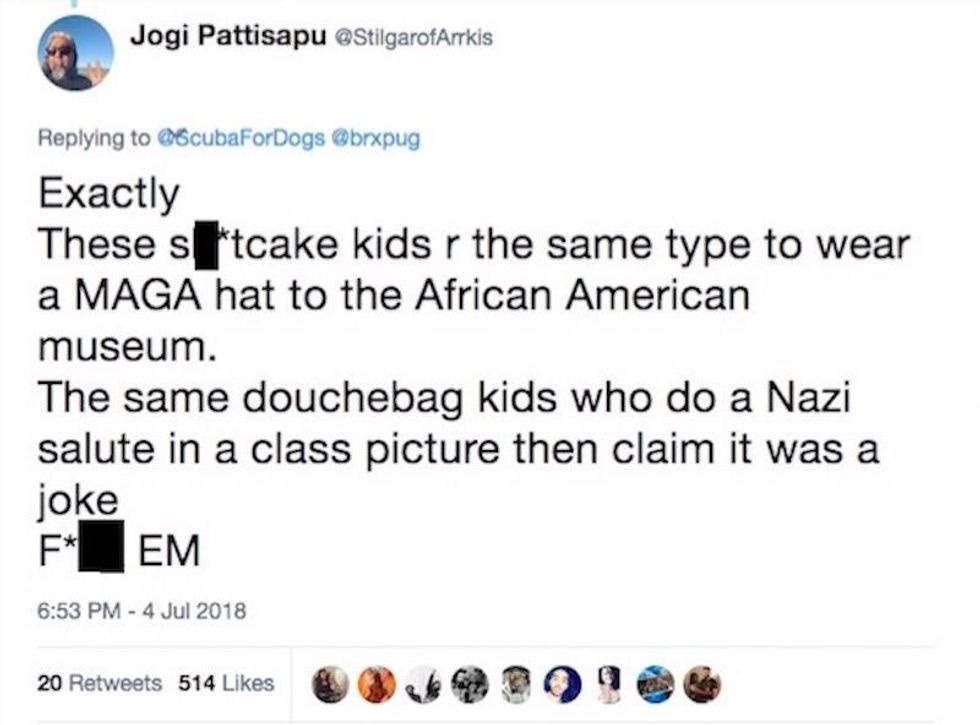 Image source: Twitter via Archive.Today
Channelview Independent School District spokeswoman LaKeisha LeBlanc told KSAT-TV that Pattisapu "is a teacher" in the district and that officials "are aware of the comments made on social media" and that the "district is taking this matter seriously and we are conducting an investigation."
LeBlanc told the Chronicle on Tuesday she couldn't comment on whether disciplinary action will be taken.
What's the background?
Hunter Richard, 16, and his friends were sitting at a Whataburger in San Antonio after midnight July 4 when a man allegedly ripped the cap off Richard's head — pulling out some of his hair in the process, the teen told WOAI-TV — and then picked up a drink from the table and threw it in Richard's face.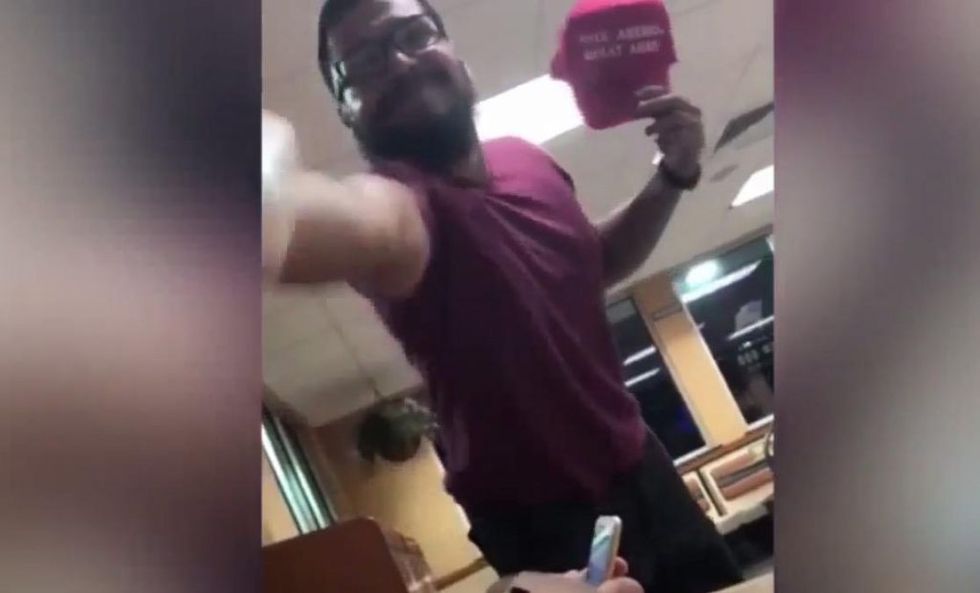 Image source: WOAI-TV video screenshot
"You ain't supportin' s**t, n*****," the man is heard saying in cellphone video of the incident.
The grinning man is then seen walking from the restaurant with Richard's cap, calling the teen a "b***h ass, motherf***er" and informing Richard that his cap "is going right in my f***in' fireplace, b***h."
Richard and his two friends, both also 16, told the station the attack was unprovoked.
Here's a clip of the incident. (Content warning: Profanity and racial slur):
Kino Jimenez, 30, was located by robbery task force detectives, police told the paper, and was taken into custody on a warrant for theft of person in connection with the incident.
Jimenez characterized his actions as a "lapse of judgment" and "out of character," adding that he became enraged when he saw the teen's MAGA hat, likening it to hooded caps worn by the Ku Klux Klan.
As for the tweet in question, a bit more apparently was expressed in the thread
When a Twitter user asked — in regard to the tweet in question — how support for the attack could be justified, here was the response: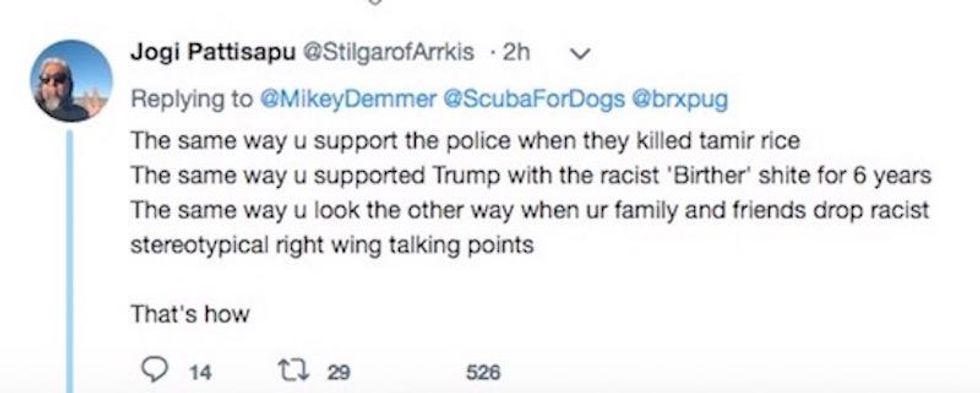 Image source: Twitter via Archive.Today
There's an archive of other posts in the thread. Some of the highlights: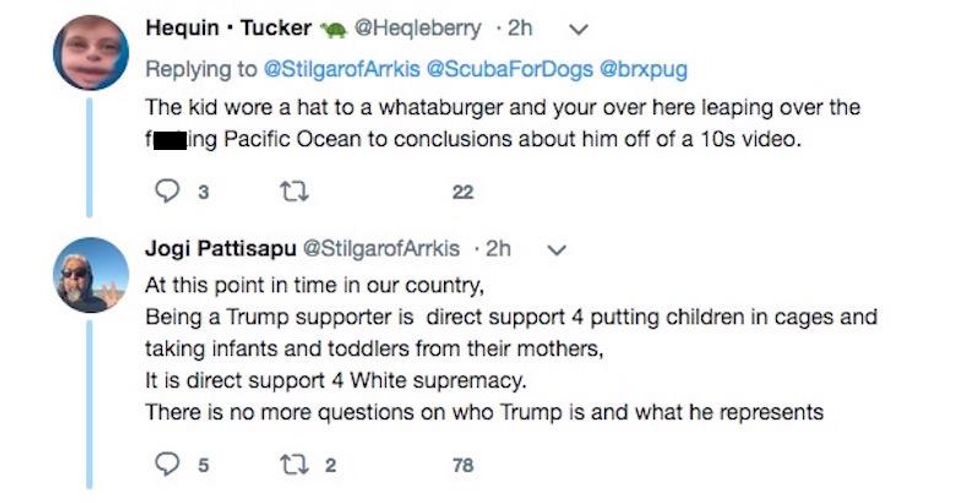 Image source: Twitter via Archive.Today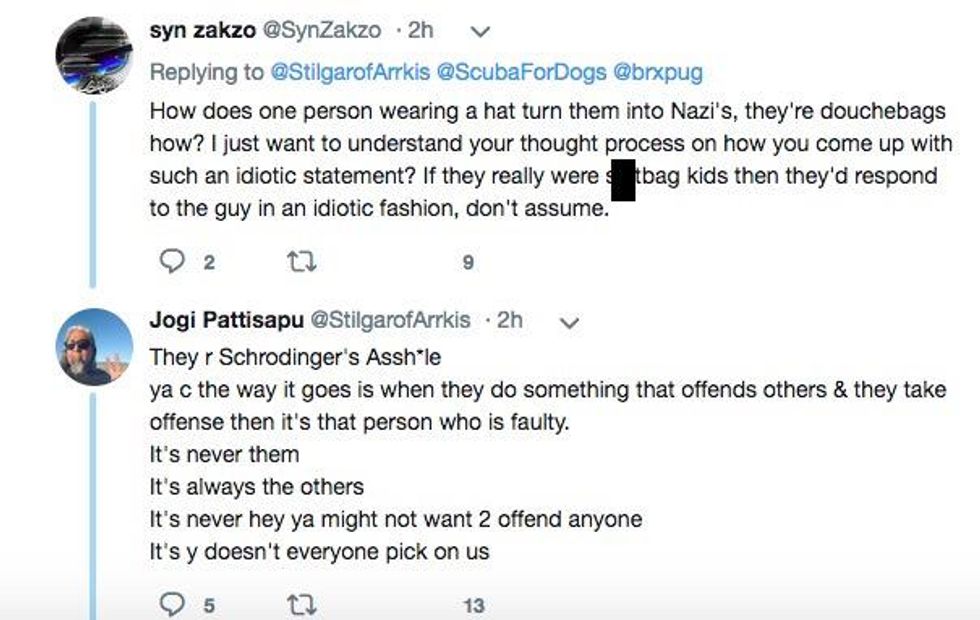 Image source: Twitter via Archive.Today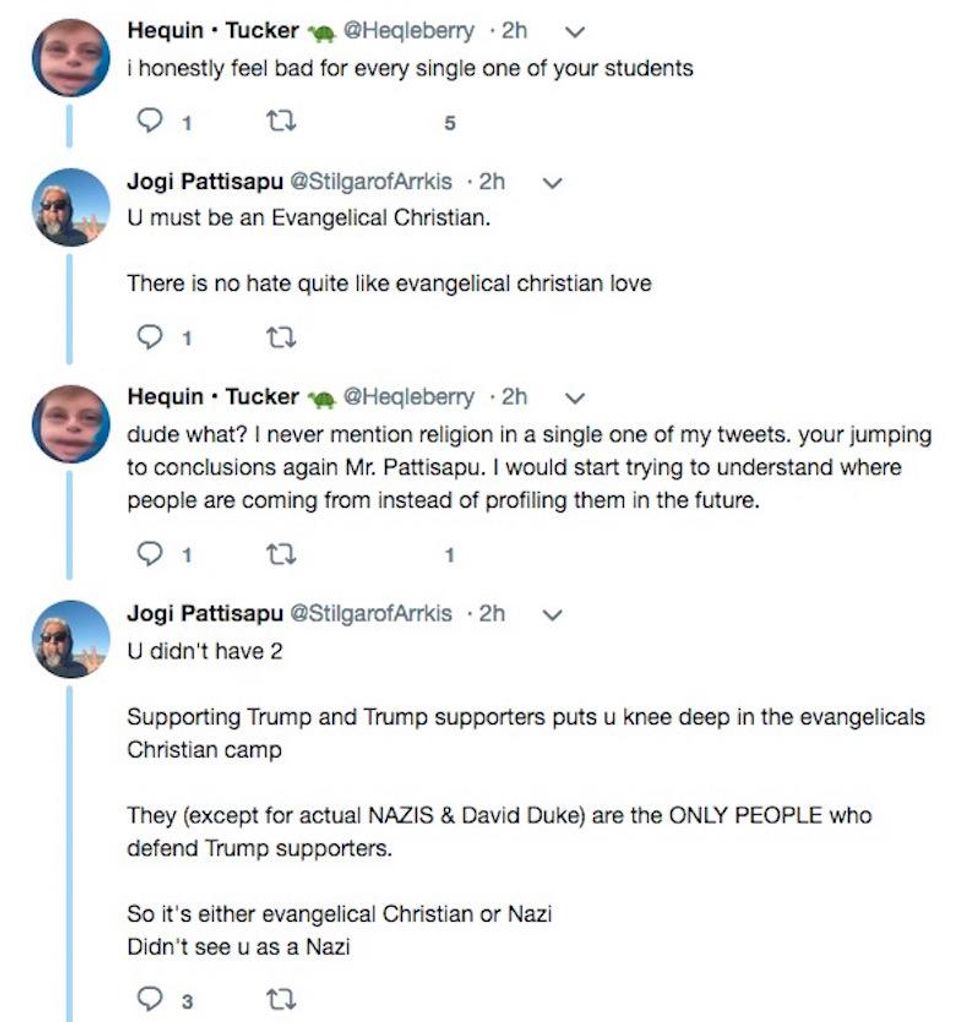 Image source: Twitter via Archive.Today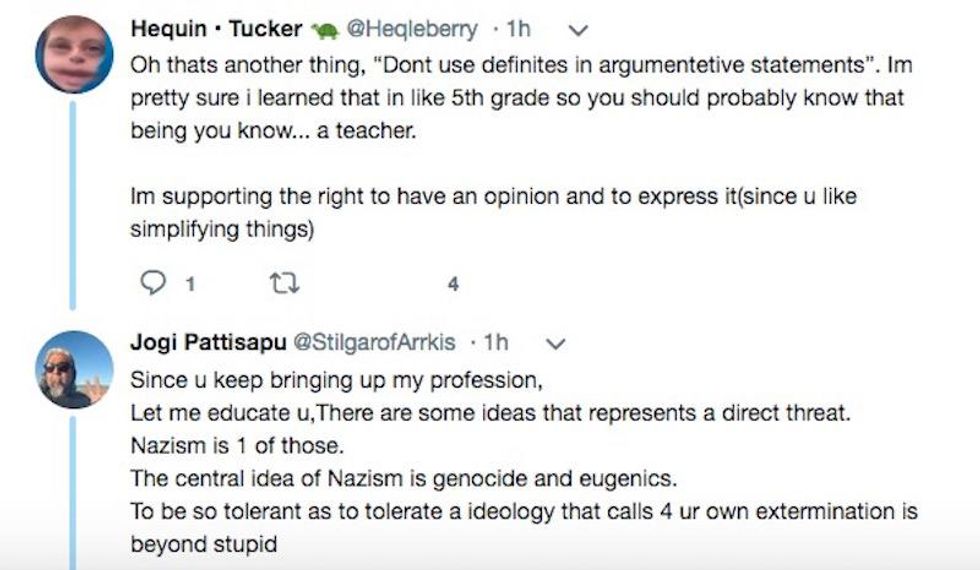 Image source: Twitter via Archive.Today
Pattisapu declined to provide more information to the Chronicle when reached by phone Tuesday.
What does the school district have to say about electronic communication for personal use?
The district's electronic communication policy doesn't specifically address social media but does offer general guidelines for electronic communication for personal use, the Chronicle said.
"All employees shall be held to the same professional standards in their public use of electronic communication as for any other public conduct," the policy states, according to the paper. "If an employee's use of electronic communication violates state or federal law or district policy, or interferes with the employee's ability to effectively perform his or her job duties, the employee is subject to disciplinary action, up to and including termination of employment."