Tim Allen just can't help himself — but can you blame him?
The openly conservative actor this week appeared in a teaser clip for the return his popular show "Last Man Standing" this fall on Fox. And while Allen didn't mention his previous network's name, it seems quite apparent he took the opportunity to skewer ABC given it dropped his show last year.
Allen, who stars as Mike Baxter, sits by a campfire with Nancy Travis, who plays his wife Vanessa on "Last Man Standing" — and she notices a certain furry creature nearby.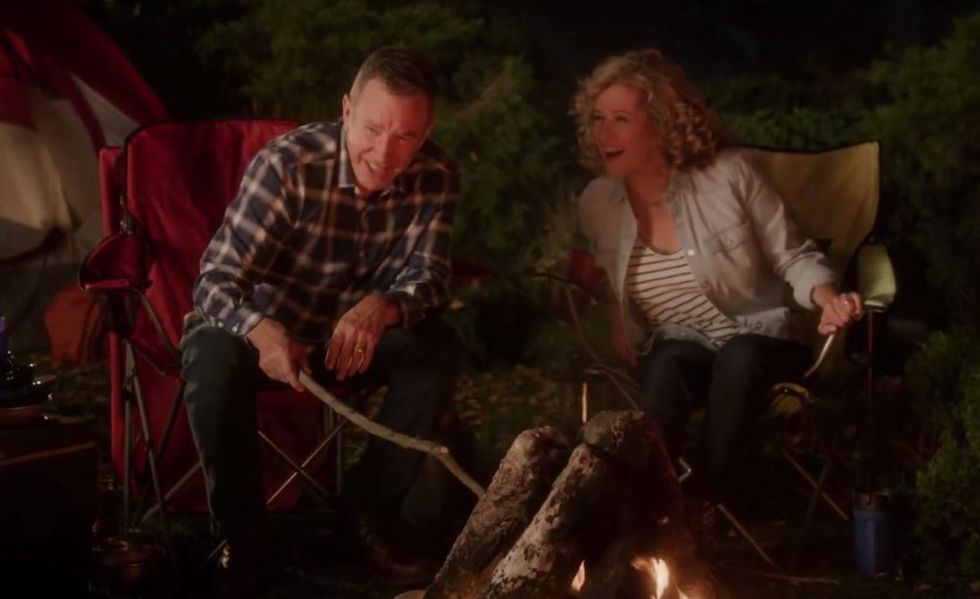 Image source: YouTube screenshot
"Look at that, look, it's a fox!" she says.
Allen's Baxter replies, "What is it?"
"Yeah, a fox!" she repeats.
"I'm sorry, I didn't hear you," he answers. "What is that?"
"A fox!" she says again, with a hint of annoyance in her voice.
Then the camera focuses on Allen's character, who cracks a smile after saying, "I know somebody's gonna be happy you said that three times."

What's the background?
A year ago, ABC canceled "Last Man Standing" after six highly rated seasons — fueling speculation that the network dropped the show because of its conservative content. But ABC denied that politics was reason, saying instead that production costs and Allen's salary triggered its demise.

After the cancellation, Allen tweeted that he was "stunned and blindsided by the network I called home for the last six years." Although a couple of months before "Last Man Standing" got the boot, Allen ripped Hollywood for its ideological intolerance — and on ABC's "Jimmy Kimmel Live."

"You've gotta be real careful around here. You get beat up if you don't believe what everybody believes," Allen told Kimmel. "This is like '30s Germany. I don't know what happened."

Fox picked up "Last Man Standing" in May and slated it for its fall lineup. It will return to a Friday time slot at 8 p.m. starting Sept. 28.

Since the announcement of the show's return, Allen blasted political correctness with regard to the program's content — with a wink and a nudge: "I'm going to identify as an Asian woman that wants to be a European man…"

Allen also said the hot topic of guns will be addressed, noting that his character, Mike Baxter, "owns a sporting goods store that has firearms ... so we're going to have to deal with that somehow."