Candace Owens — a black supporter of President Donald Trump and communications director for Turning Point USA — tried a little experiment over the weekend.
On the heels of the New York Times defending its hiring of editorial board member Sarah Jeong who had posted numerous anti-white tweets in past years, Owens decided on Saturday to post tweets using Jeong's words but swapping in "black" and "Jewish."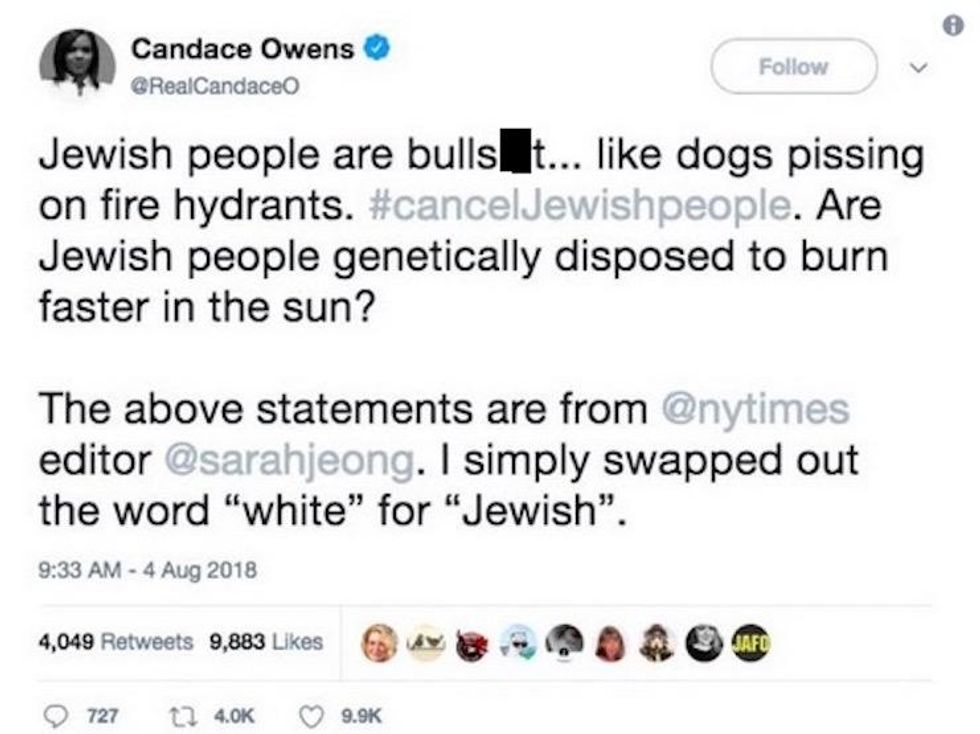 Image source: Twitter, redacted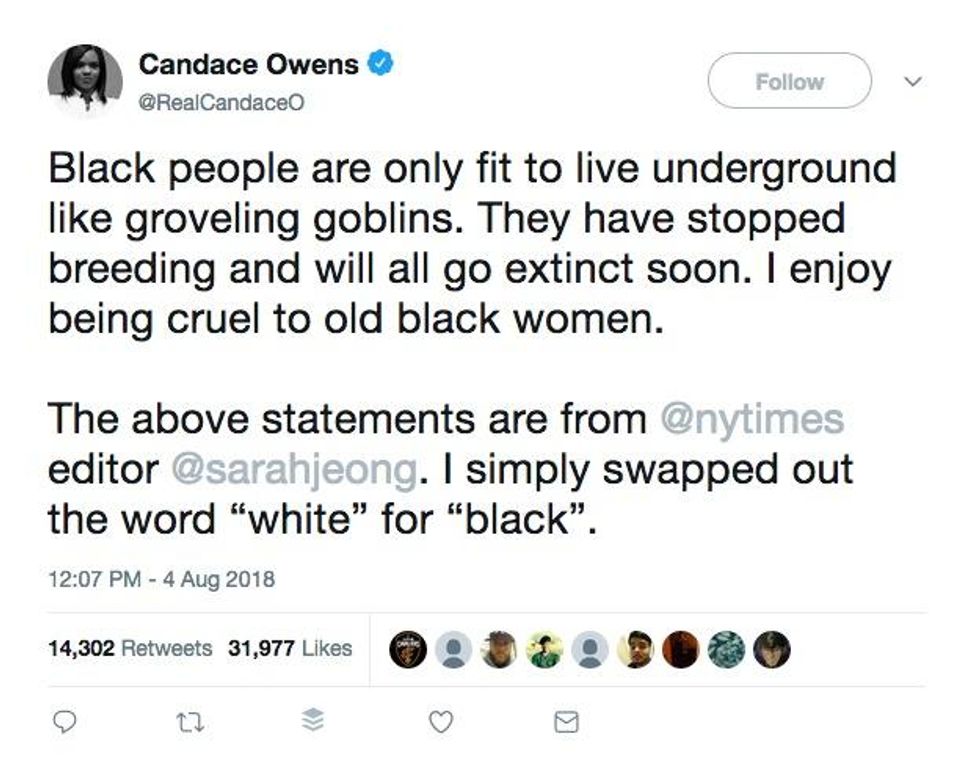 Image source: Twitter
The following are comparable Jeong tweets: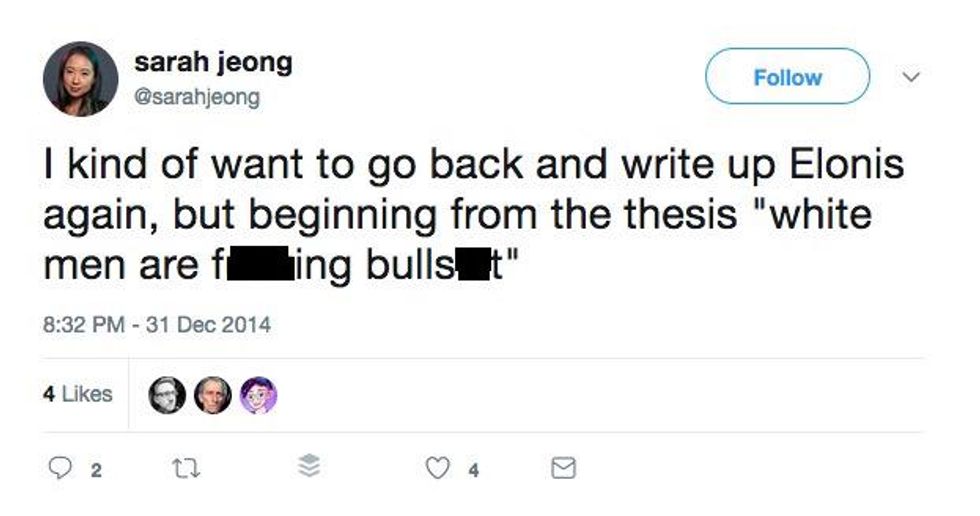 Image source: Twitter, redacted

Image source: Twitter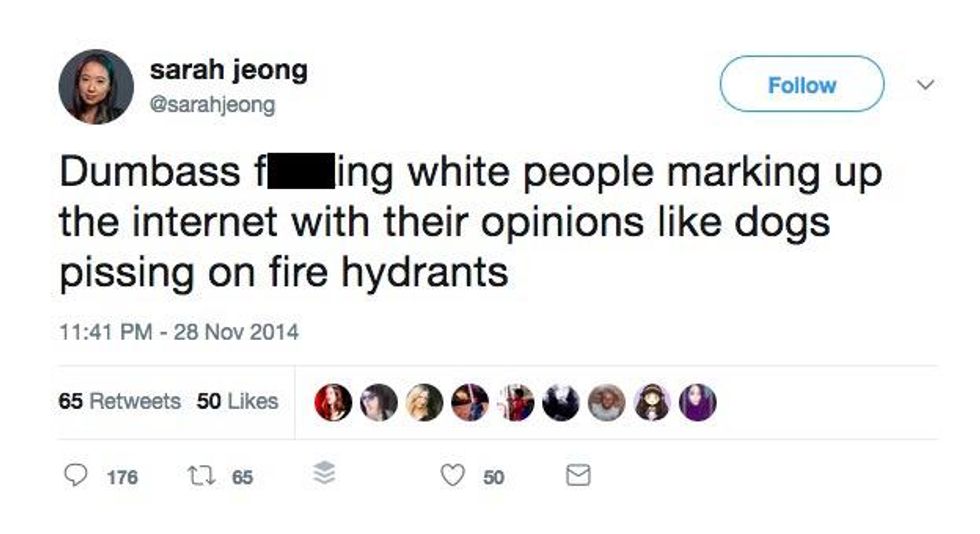 Image source: Twitter, redacted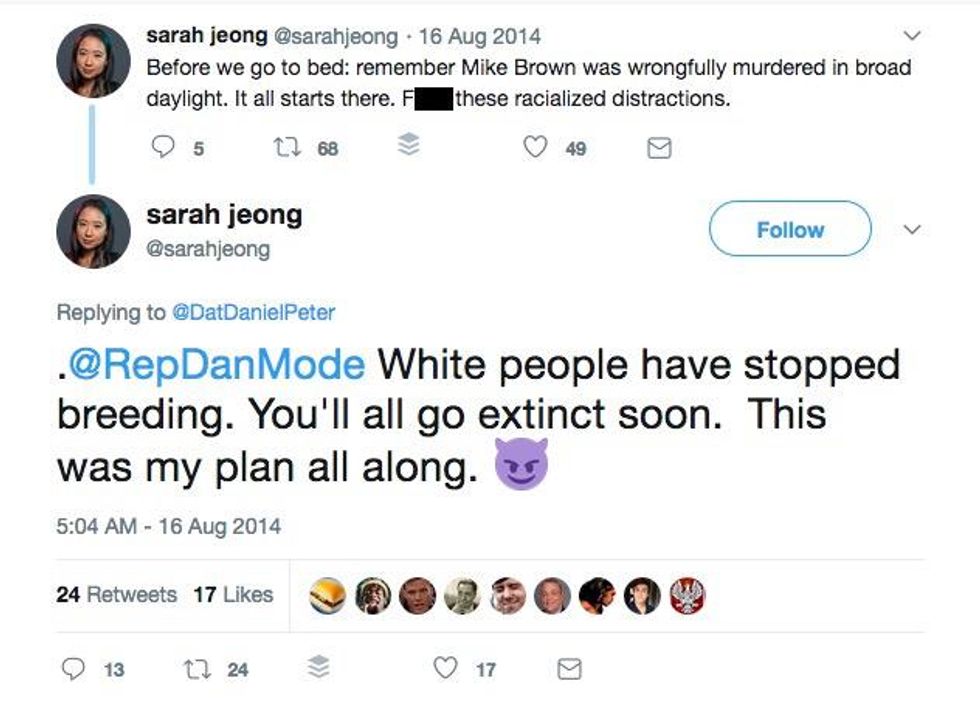 Image source: Twitter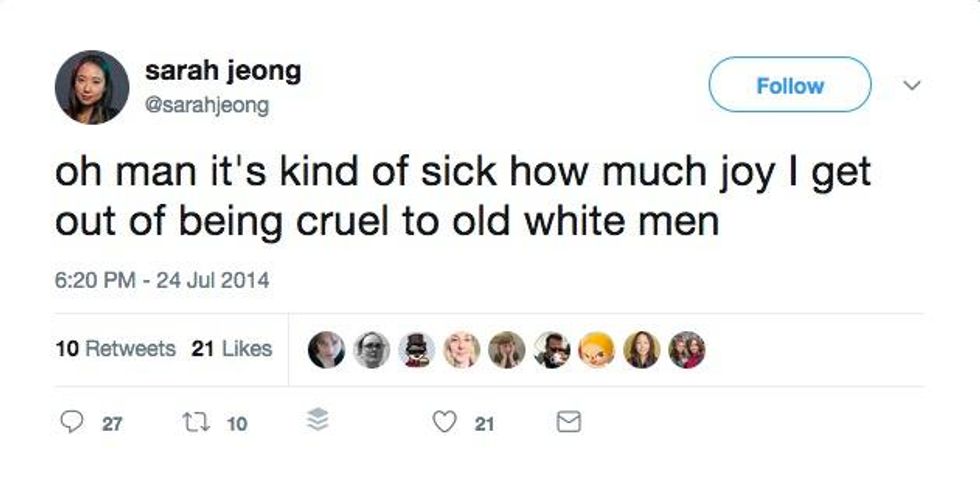 Image source: Twitter

Image source: Twitter
What happened next?
After Owens posted her tweets swapping in the words "black" and "Jewish," she said Twitter blocked her account because she was "inciting hate."
Then backlash hit
But after an outcry from Owens' supporters, Twitter reversed itself and apologized to Owens for its "error":
BLOWN AWAY by the amount of patriots that just came to my side to make this happen. I will be periscoping LIVE abo… https://t.co/IkxkFN20xI

— Candace Owens (@Candace Owens)1533489007.0
Owens didn't indicate which of her posts Twitter called out, but her post subbing in the word "black" was still active Monday while her post subbing in the word "Jewish" was apparently deleted. It isn't clear why, and neither Twitter nor Turning Point USA on Monday immediately responded to TheBlaze's request for comment on the matter.
It's worth it to note that 30 minutes after her post subbing in the word "black," Owens posted the following: "No matter which way you slice it, [Jeong] is a racist. It is ABHORRENT that the failing [New York Times] has decided to stand by her. Hoping for the extermination of ANY race is indefensible behavior."
What's the background?
Both the Times and Jeong in separate statements Thursday said Jeong's tweets were reactions to online harassment she endured and that she was actually imitating her harassers:
Our statement in response to criticism of the hiring of Sarah Jeong. https://t.co/WryIgbaoqg

— NYTimes Communications (@NYTimes Communications)1533225645.0
The Times added that it doesn't condone Jeong's tweets and is "confident" that "she will be an important voice for the editorial board moving forward."
Jeong, in her Thursday statement on the matter, called her tweets "counter-trolling" and said they were "intended as satire":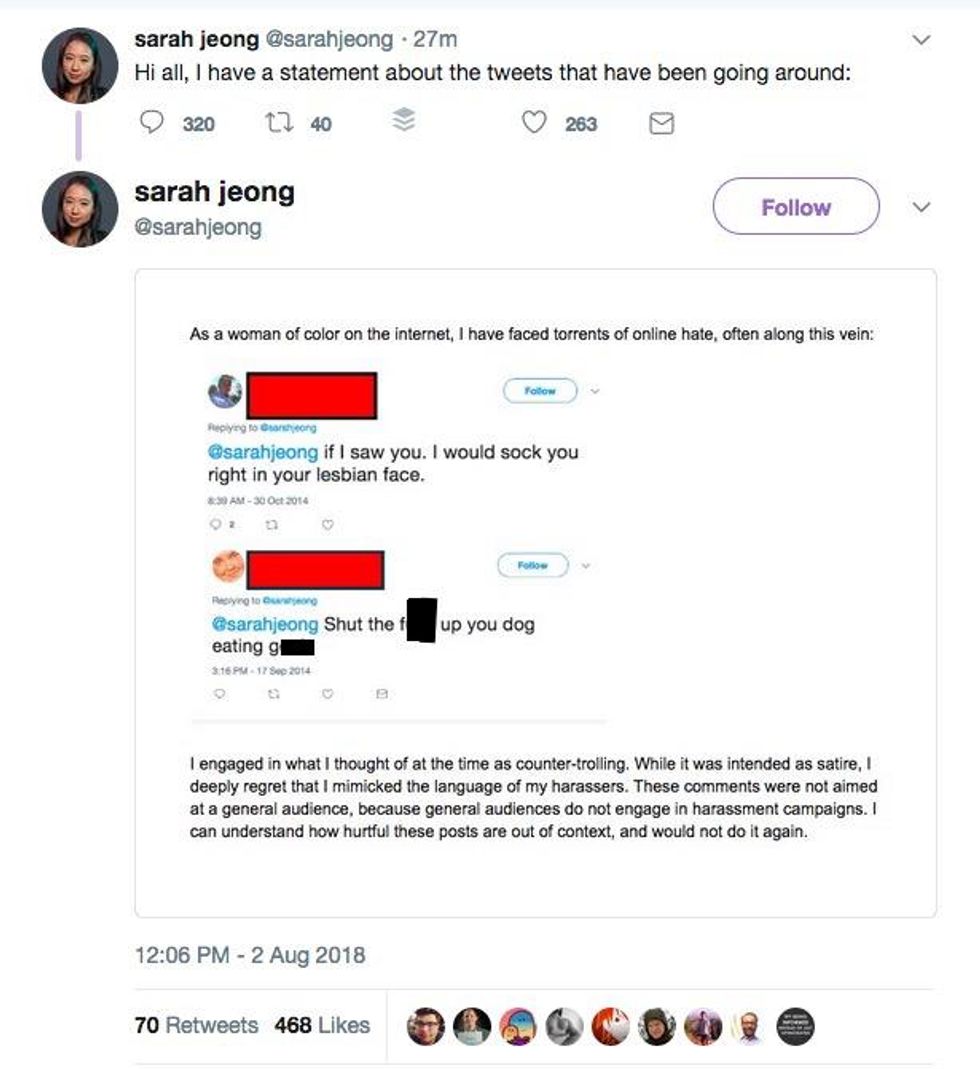 Image source: Twitter screenshot, redacted
"I deeply regret mimicking the language of my harassers," Jeong wrote, adding that she "would not do it again."
Jeong also posted tweets against police, including one "f*** the police" outburst. It isn't clear if the following constituted "satire" or "counter-trolling" or "mimicking the language of [her] harassers":

Image source: Twitter via the Washington Times, redacted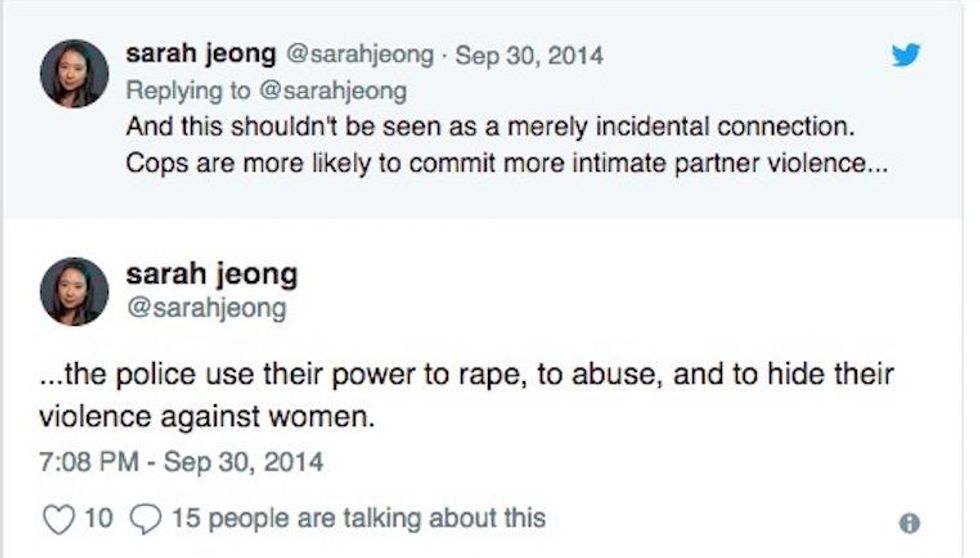 Image source: Twitter via the Washington Times
What else do we know about Jeong?
According to the Times' announcement, Jeong will join the paper in September as its lead writer on technology.
More from Jeong's hiring announcement:
She arrives most recently from the Verge, where she's a senior writer. She also authored the book, "The Internet of Garbage," which examines the many forms of online harassment, free speech, and the challenges of moderating platforms and social media networks.

Born in South Korea, Sarah grew up in North Carolina and California. She's both a journalist and a lawyer. As a student at Harvard Law School, she edited the Journal of Law & Gender and worked at the Berkman Klein Center for Internet & Society. She was a Poynter Fellow in Journalism at Yale for 2016 and was named to Forbes 30 under 30 for Media in 2017. She's written for The Atlantic, Vice's Motherboard, The Washington Post, and The New York Times Magazine.