Surjit Malhi said he was wearing a turban signifying his Sikh faith while placing signs supporting a Republican U.S. congressman when two men physically attacked him and shouted, "Go back to your country!"
And police are treating last Tuesday's alleged attack outside Modesto, California, as a hate crime, KOVR-TV reported.
What did he say happened?
Malhi, 50, said he'd been placing signs supporting GOP Rep. Jeff Denham and other Stanislaus County Republicans when he saw two men waiting for him as he returned to his truck, the station reported.
"As soon as I saw them, they threw sand in my eyes," Malhi told KOVR.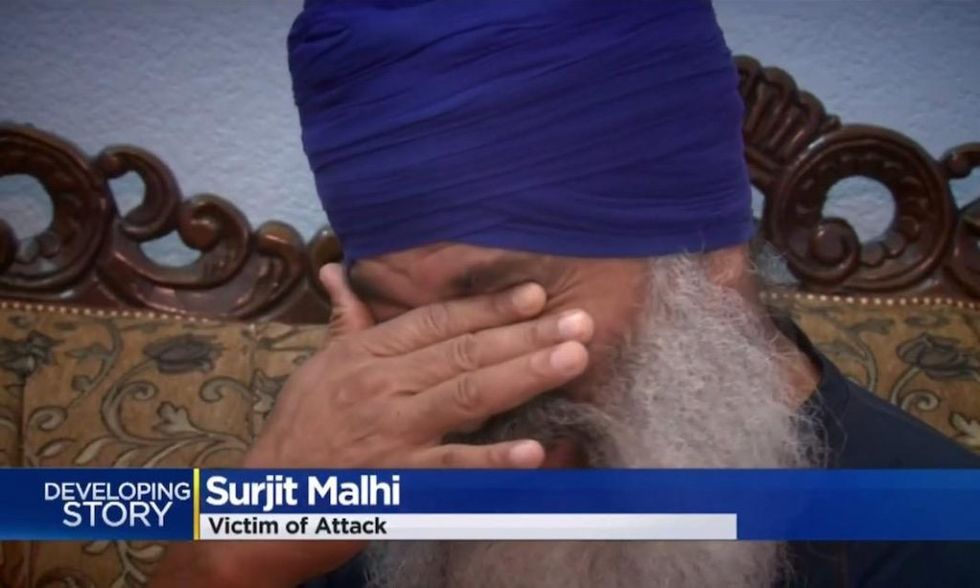 Image source: KOVR-TV video screenshot
He added to the station that the pair — described as having blue eyes and wearing black hoodies — beat him in the head, shoulders, and neck.
The attackers shouted, "Go back to your country!" he recalled to the station — a message that was repeated, with hate symbols, with spray paint on his truck.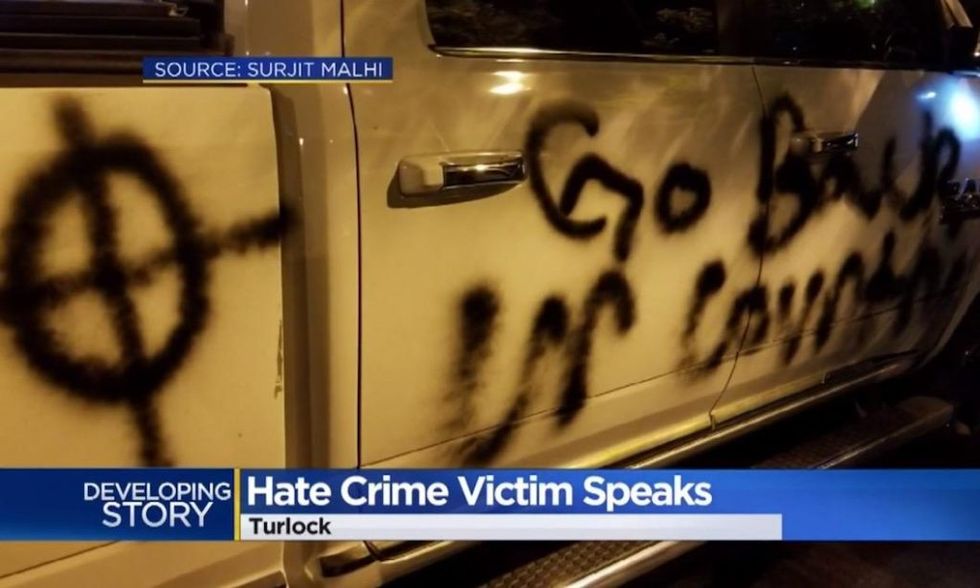 Image source: KOVR-TV video screenshot
"It's very scary you know," Malhi told KOVR, adding he thought they were going to "shoot" him.
"The way they were hitting me, [I thought] maybe I would die," he added to KCRA-TV.
Malhi told KOVR that his turban — which may have instigated the pair's alleged actions — softened the blows: "My turban saved me," he told the station.
What did the sheriff's office have to say?
Stanislaus County Sheriff's Deputy Royjindar Singh told KCRA that the "only reason, as far as we can tell" for the attack was "because he was wearing a turban and he was Middle Eastern."
What else do we know about Malhi?
Malhi is described as a longtime, active member of the Turlock community, raising thousands of dollars for homeless people and fire victims and using his company's trucks to deliver supplies, KOVR said.
"I'm American 100 percent, no doubt," he added to the station. "So they say, go back to my country? This is my country. If you are a real American, you love America, you should not do that. That is not American way."
Malhi said people in the community have reached out to him in support, including a group from his CrossFit gym that spent Sunday afternoon cleaning the paint off his truck, KCRA said.
"I have a lot of friends," Malhi told the station. "I have no problem. I don't feel any racism against me ever. I have friends who are standing for me. They love me and I love them."
It should be noted that similar reports often have turned out to be hoaxes.
Malhi told KCRA everything happened quickly, and he didn't get a good look at the attackers, noting they were wearing black sweatshirts.
The sheriff's office — which is looking for suspects, KOVR said — on Monday told TheBlaze that Malhi was treated at the scene by emergency medical personnel for cuts. KOVR said Malhi still has headaches and dizzy spells, but it isn't clear if he's receiving medical attention for the headaches and dizzy spells.
This story has been updated.