The Rev. Simeon Spencer — pastor of Union Baptist Church in Trenton, New Jersey — told NJ.com he's been "annoyed" over the whole Colin Kaepernick controversy.
But not at the former San Francisco 49ers quarterback, mind you, whose kneeling protests over police brutality and racial injustice during the national anthem two seasons ago sparked controversy and a movement among some players and fans.
No, Spencer told the outlet he's tired of "this whole conflation of patriotism with religion and the idea that what Colin Kaepernick was doing was unpatriotic, or that it was somehow irreverent and disrespectful to veterans."
Things heated up even more in the wake of Nike using Kaepernick for its 30th anniversary "Just Do It" campaign, as some reacted by dumping, banning, returning, and destroying Nike gear.
So, Spencer decided to tell his congregation something different, NJ.com noted: Wear your Nike sneakers to church.
'Walking Shoes'
Spencer's sermon on Sunday went by the theme "Walking Shoes" — and he told the outlet it was inspired not only by Kaepernick and Nike but also by a New Testament verse: "Shod your feet with the preparation of the gospel of peace" (Ephesians 6:15).
"I thank God today for walking shoes — not the preparation of Nike, or Puma, Adidas or anything made by human hands — but the walking shoes of faith," Spencer told his congregation Sunday morning, NJ.com said, adding that he wore Nikes.
"Paul talks about shoes of the Roman military, durable shoes that could go long distances," he added, according to the outlet. "We don't know how long we have to ... fight these battles, but we have the assurance and hope of our faith.
"We have so many walls, but Jesus wants to see bridges," Spencer said, NJ.com reported. "When we wear walking shoes of faith, we find peace in challenging circumstances."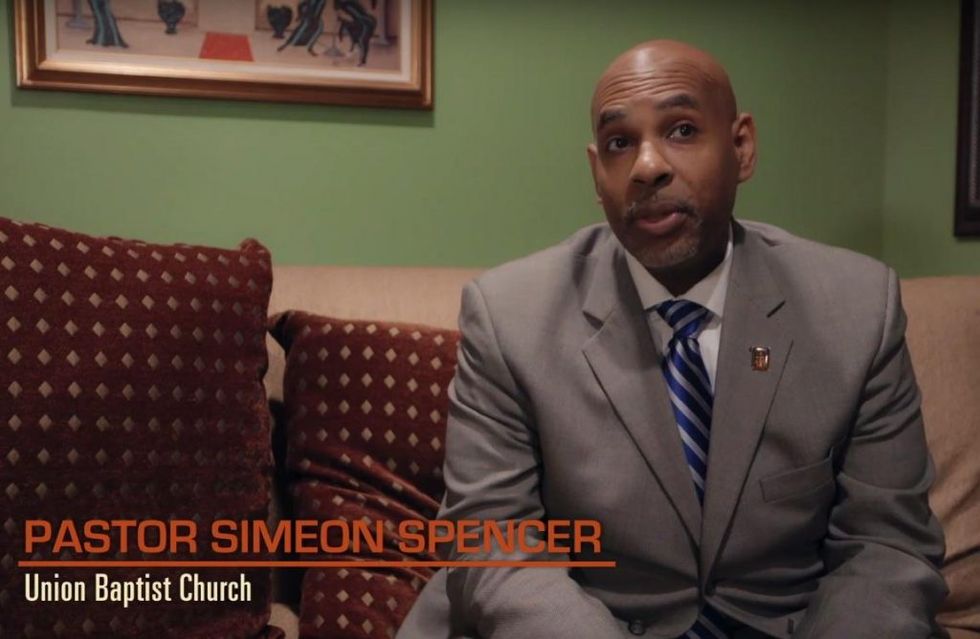 Image source: YouTube screenshot
He added that Kaepernick's Nike contract isn't the problem — but rather our day-to-day "contracts with evil," the outlet noted.
"I hope people begin to listen and understand protests aren't to suggest we don't live in a great nation," he said. "But we are a country filled with contradictions. I hope people can learn and understand that what Kaepernick is talking about is a reality of life for so many African-American people."
This wasn't the first time Spencer took a stand at church over a cultural issue. In 2012, he encouraged churchgoers to come to an 8 a.m. service in black hoodies, NJ.com said, which is what 17-year-old Trayvon Martin wore when he was fatally shot in Florida.
Other churches did likewise
Other churches around the U.S. Sunday also supported the Nike-Kaepernick theme:
What else did Spencer say?
Spencer also told NJ.com he likes the theme of the Nike-Kaepernick ad campaign — "Believe in something, even if it means sacrificing everything" — but with a slight caveat.
"I don't know if he really sacrificed everything," the pastor acknowledged to the outlet, referring to the former pro quarterback, "but he had enough courage to put himself on the line, and he did more than a lot of people would."