Given that Nevada's popular GOP Gov. Brian Sandoval stated he won't endorse any candidate for November's election — which will determine who takes his seat when Sandoval's limit of two terms expires — the new attack ad from Democratic gubernatorial nominee Steve Sisolak makes sense.
See, in the ad ripping GOP nominee Adam Laxalt — Nevada's attorney general — Sisolak actually aligns himself with Sandoval.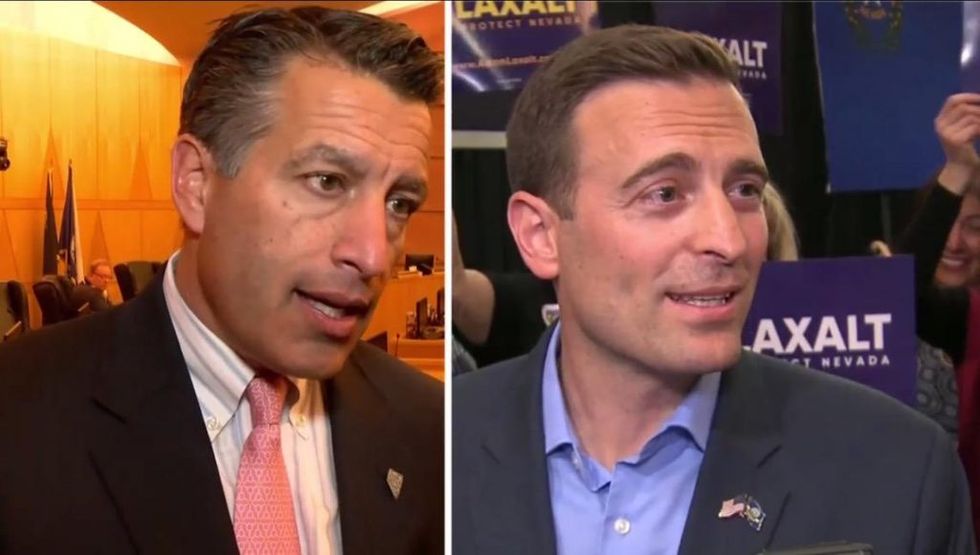 Nevada Republican Gov. Brian Sandoval (left); Nevada's GOP gubernatorial nominee Adam Laxalt (right). (Image source: KSNV-TV video screenshot)
What does the ad say?
Sisolak praises Sandoval for expanding Medicaid, saying he "did the right thing" and noting the move gave health care coverage to 200,000 Nevada residents. He then tells viewers that Laxalt opposed expanding Medicaid — and that as governor he wouldn't do such a thing.
"I'll protect Medicaid, not end it," Sisolak said in the ad. "And big insurance companies better think twice before jacking up prices. Because your next governor should make health care more affordable, not less."
The Nevada Current remarked that while Sandoval snubbed Laxalt, the governor didn't endorse Sisolak, either — "but that subtlety may be lost on voters if they see Sisolak and Sandoval in the same ad enough times." The Current said Sisolak spent six figures on the ad.
TheBlaze on Wednesday reached out to Laxalt's campaign for comment on the ad but didn't immediately receive a response.

What else has been going on in the Laxalt-Sisolak race?
In regard to Sandoval's decision to not endorse Laxalt, it's been explained that the pair were never close politically, given Sandoval is more moderate while Laxalt is much more conservative — and that Laxalt said he'd repeal Sandoval's 2015 tax increase that poured billions into Nevada schools, KSNV-TV reported.
Sandoval also wasn't on board with Laxalt joining 25 other state attorneys general in a lawsuit against then-President Barack Obama's executive orders on immigration, the Las Vegas Sun said.
And amid all the chatter over who Sandoval would endorse, Sisolak managed to climb in the polls. He was holding a slight lead — 2 points — over Laxalt, according to poll numbers released earlier this month. And that was after the Democrat trailed Laxalt by less that a point in the same poll conducted in late July.
While both candidates lost ground among likely voters between the two polls, the early September poll indicated that Sisolak fared better, favored by 37.4 percent of likely voters compared to Laxalt finding support from 35.4 percent of likely voters. Just over 15 percent of likely voters said they were undecided, the poll said.