Republican Sen. Jeff Flake on Tuesday characterized the testimony of Supreme Court nominee Brett Kavanaugh to U.S. senators last week as "sharp and partisan."
The Arizona lawmaker's words were reported early on by The Atlantic, which then quoted Flake as saying, "We can't have that on the court" and added that the senator didn't explain what he meant.
Flake was speaking at the time with Jeffrey Rosen, president of the Constitution Center, and Sen. Chris Coons (D-Del.) at The Atlantic Festival in Washington, D.C.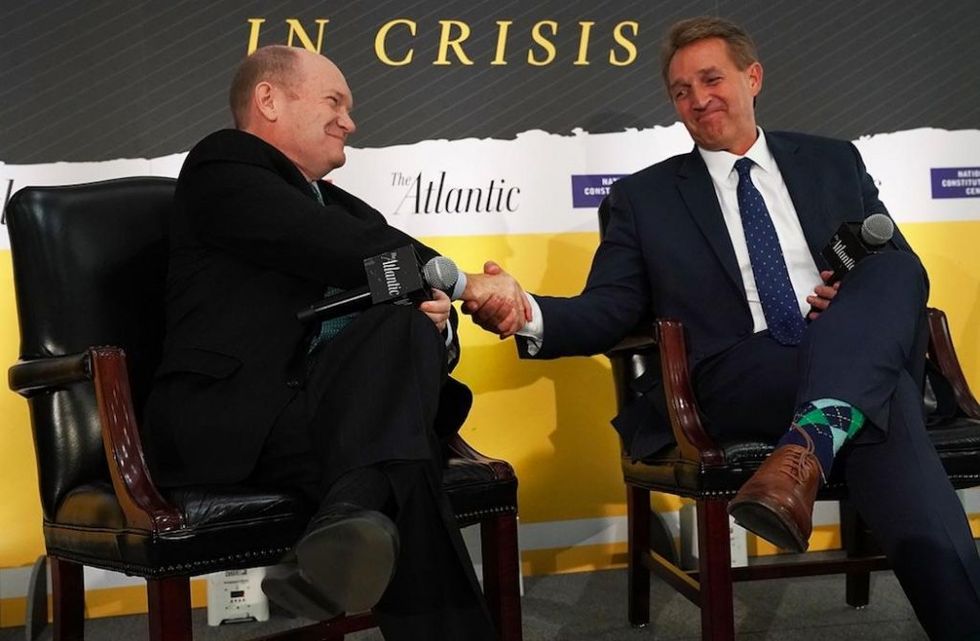 U.S. Sen. Chris Coons (D-Del.) (left) and Sen. Jeff Flake (R-Ariz.) (right) shake hands during a discussion at the 2018 Atlantic Festival on Tuesday, in Washington, D.C. (Photo by Alex Wong/Getty Images)
Elaina Plott, who wrote The Atlantic piece, said she asked Flake later about his comments. Here's how she put it:
I caught up with Flake briefly as he left the event, and asked if this meant he would not vote to confirm Kavanaugh, even if the FBI cleared him by week's end. He appeared rattled, and his handlers rushed him into the stairwell. "I didn't say that …" he stammered. "I wasn't referring to him."
The broader context
Flake prefaced his aforementioned statements by discussing the Supreme Court in general and expressing his desire that it remain an objective, nonpartisan body. He then specifically addressed Kavanaugh's testimony last Thursday before the Senate Judiciary Committee, in which Kavanaugh denied Christine Blasey Ford's accusations that he sexually assaulted her over 35 years ago when they were teenagers.
Flake noted that he hoped he would sound as "indignant" as Kavanaugh if he were ever "unjustly maligned." He then added, referring to Kavanaugh's tone, "But then it went on, and the interaction with the members was sharp and partisan, and that concerns me." But Flake added that he wanted to give Kavanaugh "a little leeway because of what he's been through."
"But, on the other hand, we can't have this on the court," Flake continued. "We simply can't. And talk of impeachment or stacking the court — it's going the wrong direction. And this dysfunction has many fathers. ... The truth is both parties have engaged in it and have made the situation worse."
Here's a clip of Flake's comments. The relevant portion starts at about the 1:20 mark:
Sen. @JeffFlake on Judge #Kavanaugh: "The interaction with the members was sharp and partisan and that concerns me.… https://t.co/ECtoYXvARg

— CSPAN (@CSPAN) 1538494691.0
It should be noted that The Atlantic story as of Tuesday afternoon quoted Flake as saying "we can't have that on the court" as opposed to "this."
What did Flake's office have to say?
Flake press secretary Elizabeth Jones on Tuesday confirmed to TheBlaze that "Sen. Flake was referring to political tribalism when he said that 'we can't have this.'"
Flake ended up in the center of the Kavanaugh controversy Friday when he requested a postponement of the full Senate vote on the judge's confirmation until after the FBI conducts a one-week investigation into sexual assault allegations against Kavanaugh.
That was the same day a woman who said she was a sexual assault survivor confronted Flake on an elevator as cameras rolled: "You're telling all women that they don't matter. Look at me when I'm talking to you! You're telling me that my assault doesn't matter."
UltraViolet, a women's activist group, claimed in a news release that Flake was "potentially pressing charges" against the women who confronted him, which the organization claimed are UltraViolet members. The claim turned out to false.