A left-wing black pastor warned "white women" who kneel during the national anthem to protest "rape culture" that they're "highjacking [sic] a movement" they "took no risks for."
Bishop Talbert W. Swan II added the following in a tweet Saturday: "You didn't kneel in solidarity to protest the murder of black people, don't co opt & make it about your victimization. That's white supremacy in the name of feminism"
White women kneeling during the anthem to protest "rape culture" is highjacking a movement you took no risks for. Y… https://t.co/hKykKHGYAi

— Bishop Talbert Swan (@Bishop Talbert Swan) 1538827053.0
Kneeling during the national anthem began with former NFL quarterback Colin Kaepernick in the 2016 season, who said he was protesting police brutality and oppression of people of color. Kaepernick hasn't played since the end of that season but has become a left-wing icon and landed a spot on Nike's 30th anniversary "Just Do It" campaign.
The impetus for Swan's declaration about white women may have been a tweet from actress Molly Ringwald the previous day:
I am calling on either Beyonce, Ariana Grande or Christine Aguilera to sing the National Anthem on bended knee #JustDoIt

— Molly Ringwald (@Molly Ringwald) 1538776828.0
Ringwald made no distinction between the three singers' ethnicities in her tweet — and it followed her post the same day in which she called Sen. Susan Collins of Maine a "betrayer of women," presumably for the Republican's announcement that she would vote to confirm Judge Brett Kavanaugh to the U.S. Supreme Court after Christine Blasey Ford's allegation he sexually assaulted her when they were teenagers over 35 years ago.
What else did Swan have to say?
Swan — who in June tweeted that "if heaven is going to be full of American evangelicals, I'll take my chances on hell" — also ripped "liberal white women":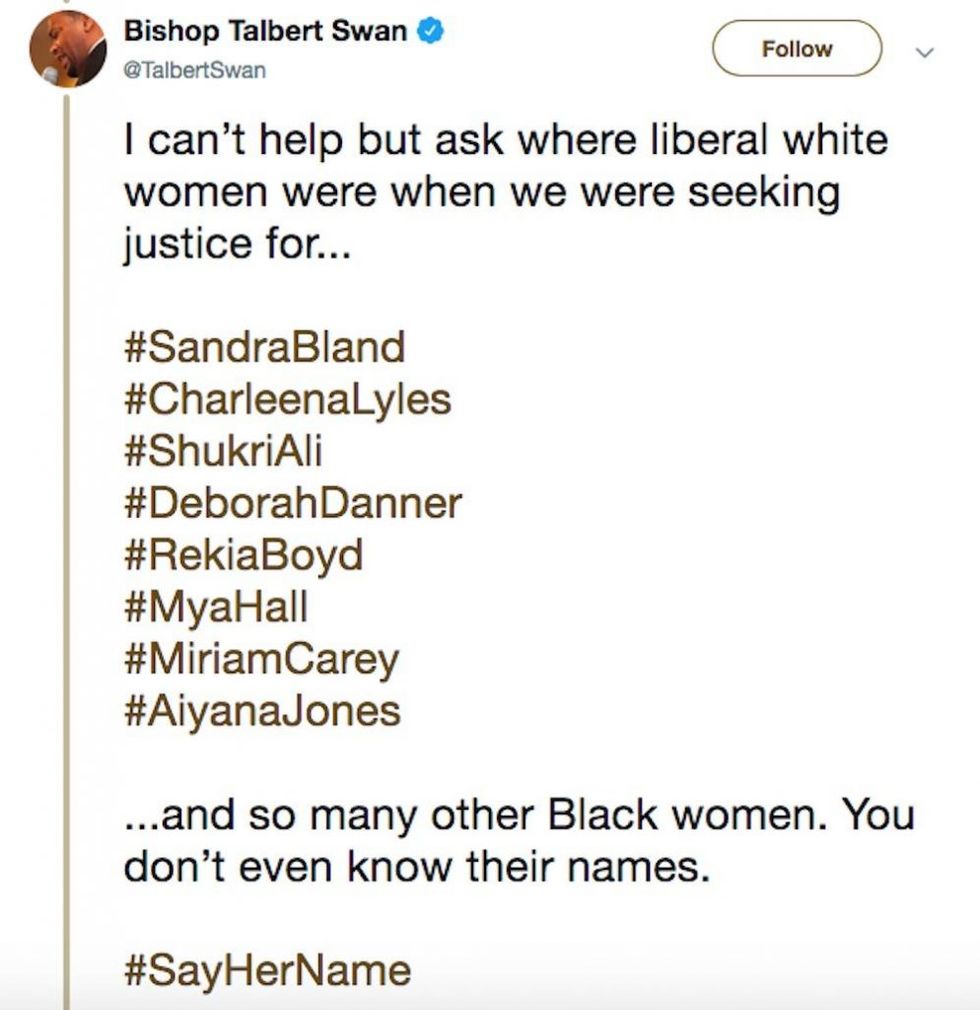 Image source: Twitter
He also said "white women participate in our oppression, yet try to appropriate the language & movements associated with it" after calling out those who are "randomly calling cops on black people for no reason":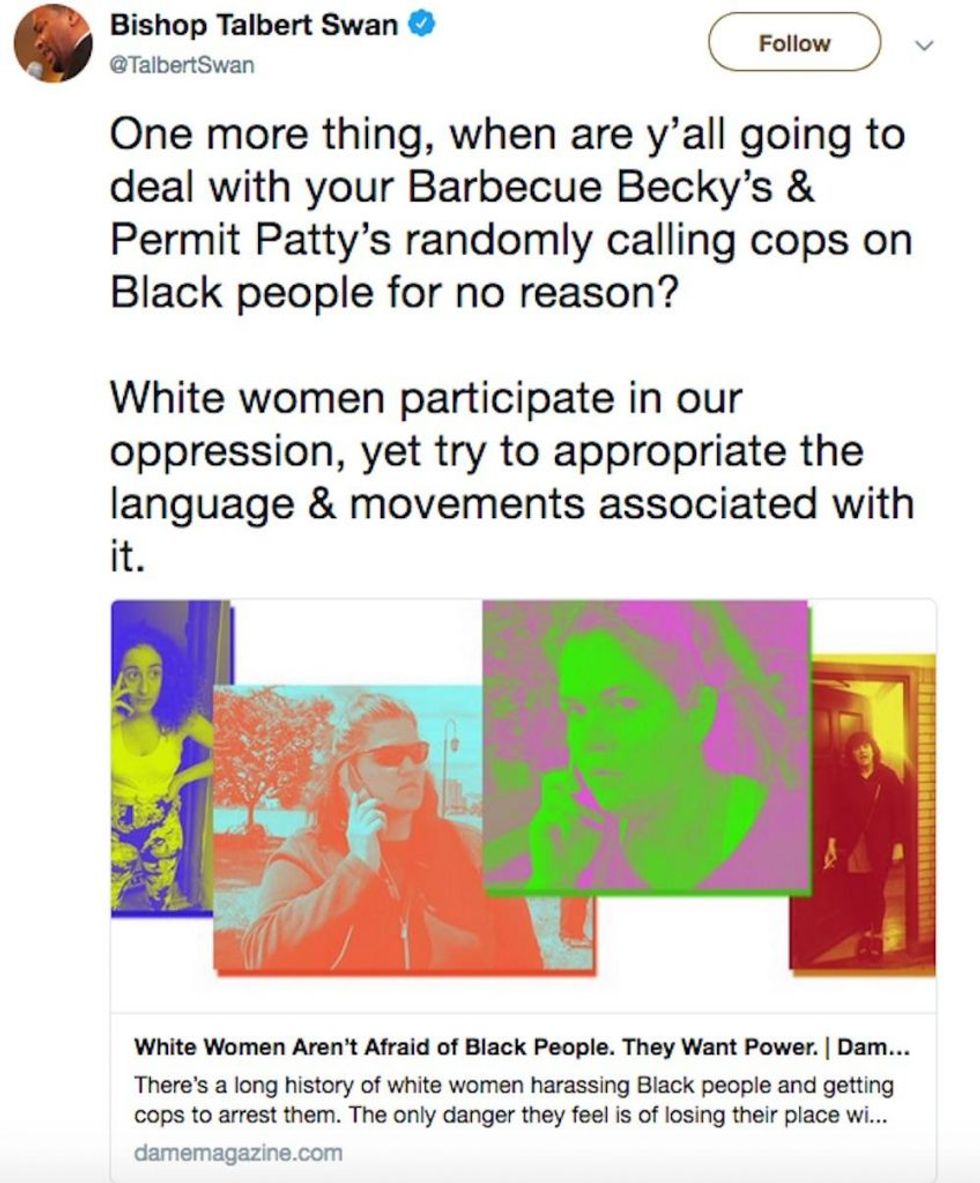 Image source: Twitter
Swan — senior pastor of Spring of Hope Church of God in Christ in Springfield, Massachusetts, and assistant general secretary with the politically liberal Church of God in Christ denomination — took the following folks to task when they challenged him: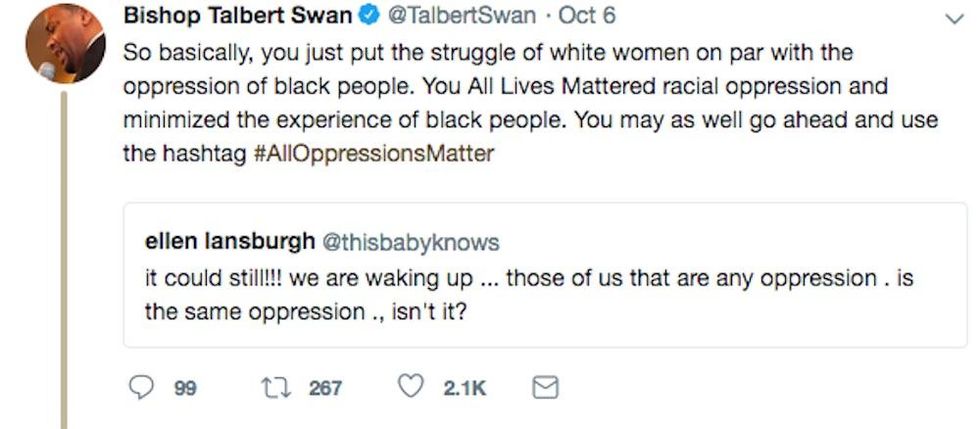 Image source: Twitter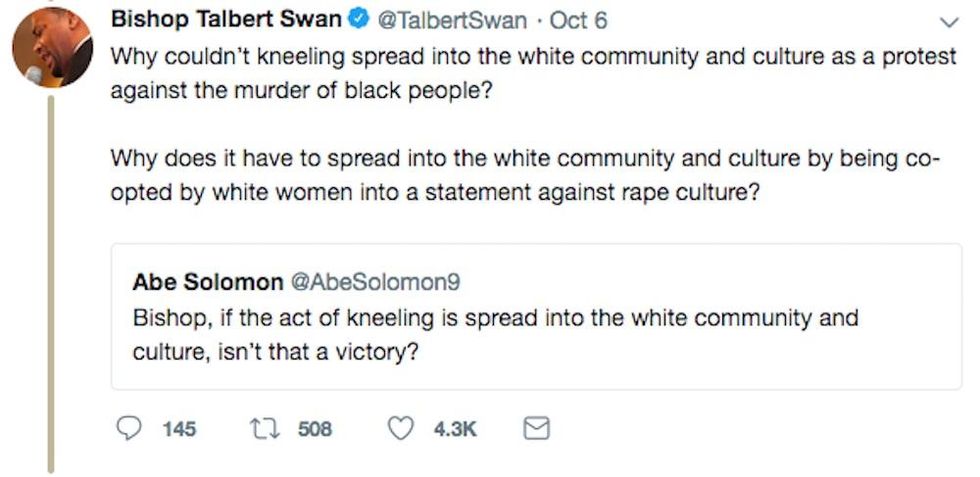 Image source: Twitter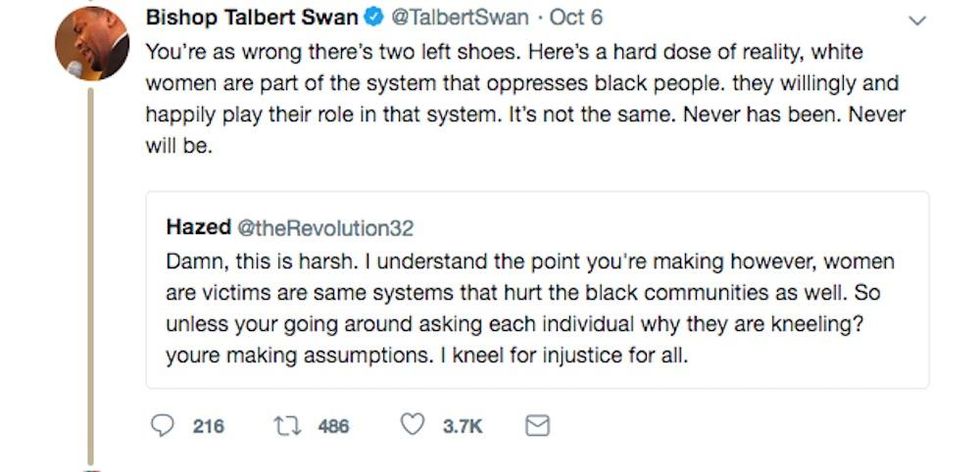 Image source: Twitter
UPDATE: Tuesday, 7:46 a.m.:
Swan noted on Twitter Monday night that he never saw Ringwald's tweet and is not a left-wing pastor.
(H/T: Twitchy)