A standoff between Mexican police and a thousands-strong migrant caravan attempting to reach the United States lasted through Friday night into Saturday morning at Mexico's southern border, CBS News reported.
Members of the caravan — numbering about 3,000 migrants — broke through a Guatemalan border fence Friday and rushed onto the bridge over the Suchiate River, the network said. But police on the Mexican side of the bridge pepper sprayed and pushed them back, CBS News said, adding that about 50 managed to get through.

Many in the retreating caravan slept overnight on the bridge linking two countries, the network said, adding that police and immigration agents let small groups of 10, 20, or 30 people through if they wanted to apply for refugee status. They can spend the night at a shelter once they file claims, CBS News said.
But some migrants jumped off the bridge into the river instead, the network reported, adding that one 16-year-old jumper said "there are no jobs here."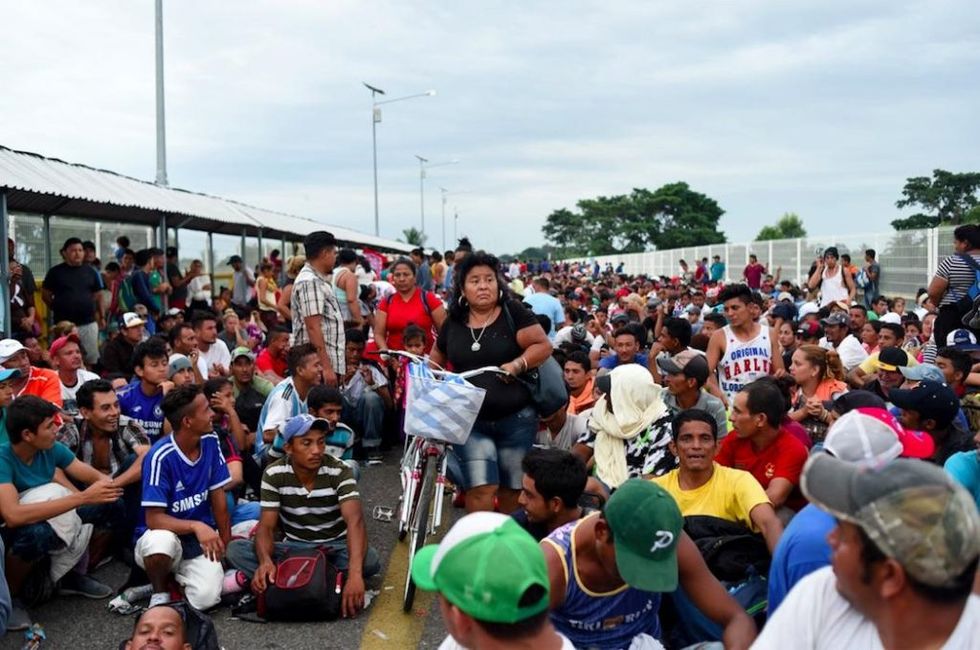 Honduran migrants taking part in a caravan heading to the U.S. rest as they arrive at the border crossing point with Mexico, in Ciudad Tecun Uman, Guatemala, on October 19, 2018. (JOHAN ORDONEZ/AFP/Getty Images)
What have officials been saying?
Mexican President Enrique Pena Nieto said in a late Friday night address to his fellow citizens that a large group of migrants had "tried to enter Mexican territory irregularly, attacking and even hurting some elements of the Federal Police," CBS News said.
Nieto added, "Mexico does not permit and will not permit entry into its territory in an irregular fashion, much less in a violent fashion," the network noted.
Geronimo Gutierrez, Mexico's ambassador to the U.S., said his country had reason to believe that the migrant caravan from Honduras was not the result of a grassroots effort but was "politically motivated."
Honduran President Juan Orlando Hernandez and Guatemalan President Jimmy Morales are expected to meet in Guatemala early Saturday to discuss the situation, CBS News reported.
U.S. President Donald Trump on Thursday threatened to close the U.S. border if Mexico didn't stop the caravan, the network added, noting that later that day he tweeted a video of Mexican federal police deploying at the Guatemalan border and wrote: "Thank you Mexico, we look forward to working with you!"