House Majority Whip Steve Scalise (R-La.) — who was seriously wounded last year by a gunman who supported Democratic Sen. Bernie Sanders' progressive politics — called on the New York Times to remove a short story about an assassination attempt on President Donald Trump it published earlier this week.
"The media needs to take accountability for the role they are playing in promoting dangerous rhetoric and division in this country, particularly against President Trump and his supporters," Scalise said in a statement to The Daily Caller News Foundation. "The decision by The New York Times to run this piece is irresponsible and offensive, and they should remove it and apologize."
Zoe Sharp's short story "How It Ends" is about a Russian who tries to assassinate Trump when his gun misfires. But a Secret Service agent steps in and offers the hit man his own gun: "'Here,' the agent said politely. 'Use mine. …'"
That's how the story ends; it's unclear what happens next. Sharp's short story is grouped under the headline, "Five Novelists Imagine Trump's Next Chapter." (Note: A paywall may prevent user access.)
How did the Times reportedly respond to Scalise's statement?
"This is a bad faith inquiry, part of an attempt to manufacture a story," a Times spokesperson said in response to Scalise's statement directed at the paper, the Daily Caller said. "It's very clear what this is: a work of fiction, commissioned by editors of the Book Review as part of a package of five stories penned by a range of spy and crime novelists — in the Halloween edition."
TheBlaze on Thursday received an identical response from the Times after asking for the paper's rationale for publishing the short story, particularly given the volatile political climate in America at present. TheBlaze also asked the Times if it would ever publish — or if it has ever published — a similar story with a Democratic president at its center.
A look at what the Times said about Scalise's shooting and what it's said about the mail bomb suspect
The Times was criticized over its editorial on the Scalise shooting, "America's Lethal Politics," saying that while Republicans were right to "demand forceful condemnation of hate speech and crimes by anti-Trump liberals," there was "no sign of incitement" in the Scalise shooting "as direct" as compared to the shooting of Rep. Gabby Giffords (D-Ariz.) by Jared Lee Loughner in 2011.
Why? The Times editorial pointed at Sarah Palin's map of electoral districts that put Giffords and 19 other Democrats behind crosshairs.
The paper was savaged for the editorial. Even MSNBC host Chris Hayes, no fan of the GOP, took issue with the Times' comparison in a Twitter response to the National Review's David French: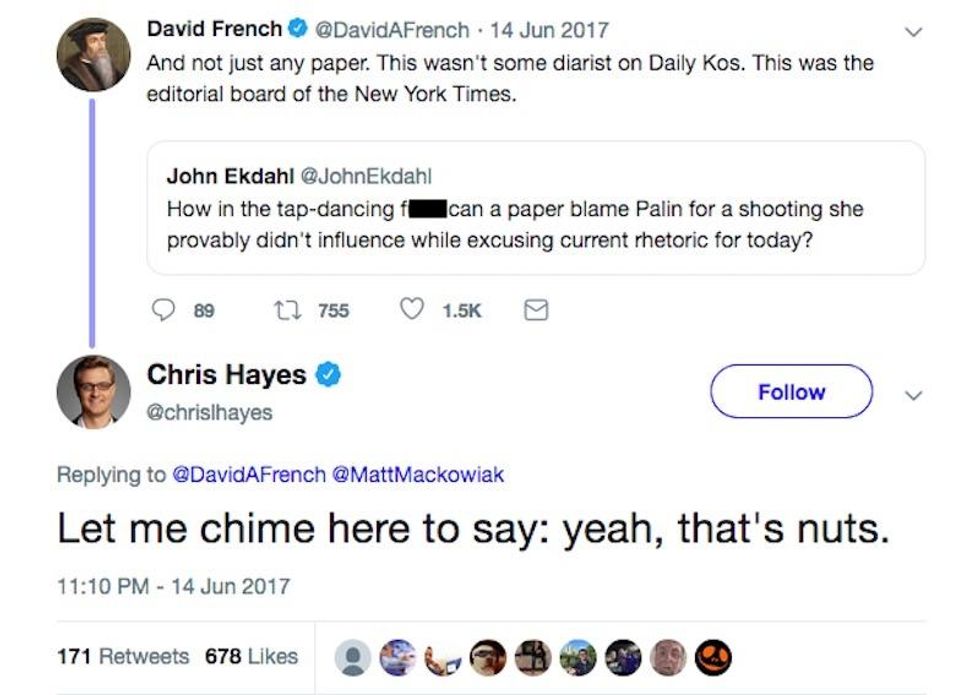 Image source: Twitter, redacted
But a Times story Wednesday titled "Explosive Devices Add to Climate of Overheated Partisan Rancor" — in regard to suspicious packages mailed to prominent Democrats this week — notes that "regardless of the culprit's identity or political sympathies, there is no dispute that the people on the receiving end of the packages have all been targets of the kind of insults, threats and wild theories that often originate on right‐wing websites and message boards, and then spread after others on the right, and sometimes the president himself, elevate them to legitimacy."
Here's a screenshot of a pair of stories the Times highlighted in a notification emailed Saturday in the wake of the mail bomb suspect's arrest: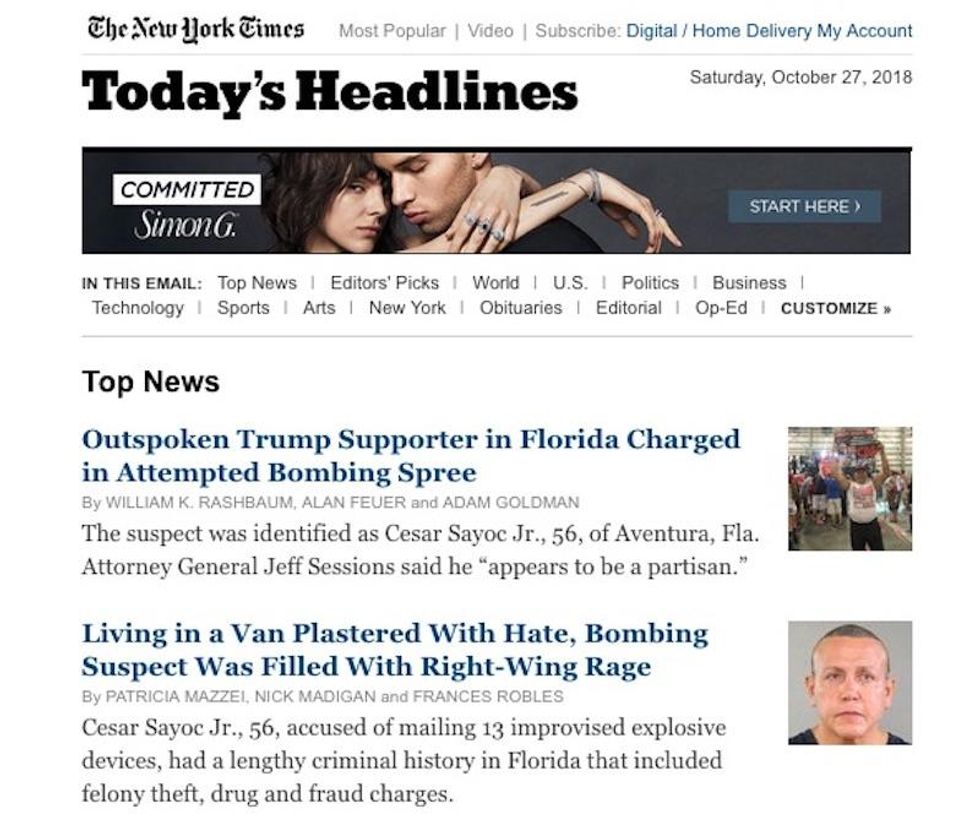 Image source: New York Times email
What else has Scalise said?
Scalise said in an interview Thursday that "the left shouldn't just be angry about [explosive devices mailed to prominent Democrats] while remaining silent when threats are made against conservatives."
The Left shouldn't just be angry about these attacks while remaining silent when threats are made against conservat… https://t.co/RU30PfroFi

— Steve Scalise (@Steve Scalise) 1540521415.0